May 30, 2019
Entrepreneur and Futurist will.i.am
and Accenture's Omar Abbosh Co-Host Podcast Series About Continuous Business Re-invention

Fortune 500 CEOs discuss their strategies for thriving in a world changed by
technology-fueled disruption

SAN FRANCISCO; May 30, 2019 – Accenture (NYSE: ACN) today launched a podcast series with multi-faceted tech entrepreneur, futurist and investor will.i.am about how successful businesses are harnessing disruption to prosper.
Titled "Pivot to the Future," the new series — co-hosted by Omar Abbosh, Accenture's group chief executive of Communications, Media & Technology — features interviews with some of the world's most innovative CEOs, who will discuss their pivots and share tips on how leaders can help their own organizations transform and thrive during epic disruption.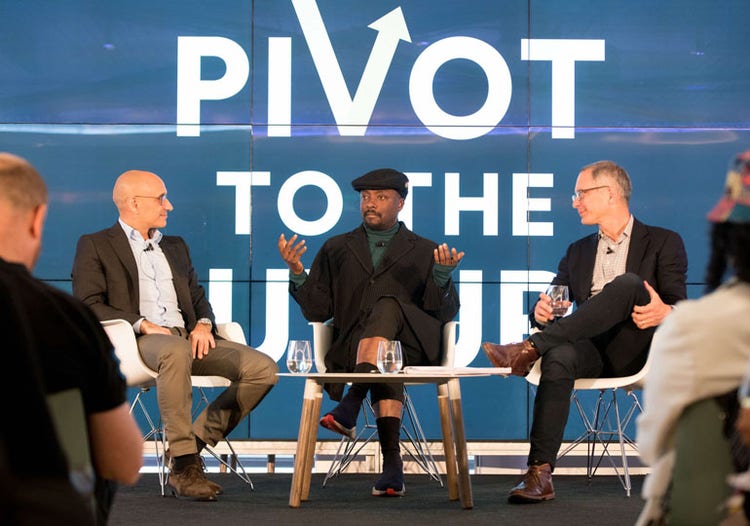 Artist and tech entrepreneur will.i.am, center, and Omar Abbosh, left, Accenture's group chief executive
of Communications, Media & Technology, are interviewed by Adam Lashinsky, executive editor of
Fortuneat the Pivot to the Future podcast launch at Accenture's San Francisco Innovation Hub on
Thursday May 30, 2019. (Photo by Peter Barreras/Invision for Accenture/AP Images)
"The world will never again change as slowly as it is changing today," said Abbosh. "That's why successful businesses are shedding old, unworkable business theories and adopting radically new thinking to perpetually innovate. It's a real pleasure to speak with these fascinating leaders and to collaborate with will.i.am, who brings massive energy, tough questions and creative insights to the show. I think the real-world stories about personal challenges, bold moves and big commitments to improving society will be incredibly inspirational."

Entrepreneur and futurist will.i.am and Accenture's Omar Abbosh launch their global podcast, Pivot to the Future, i
n San Francisco. For b-roll of event, please click here. (AP Images)
The podcast series will draw from Accenture's new book "Pivot to the Future: Discovering Value and Creating Growth in a Disrupted World." The book illustrates that emerging technologies — including artificial intelligence, virtual and augmented reality, 5G and quantum computing — require organizations to adopt a new approach to strategy. It offers proven, practical approaches and hundreds of case studies to help leaders grow their core businesses while simultaneously investing in innovation and creating cultures of continuous reinvention.

"Simply trying to survive disruption is not the ticket to success," said will.i.am, founder & CEO of i.am+ and tech investor. "Accenture definitely gets that. We are simpatico: It's about applying technology in new ways, adapting, constantly looking ahead and connecting your pivots to your people and community engagement. Conversations with our guests who are driving internal transformation will spark imaginations across every industry."

The first episode is available now for download on iTunes/Apple Podcasts, GooglePlay and wherever podcasts are available. Future episodes will feature the following Fortune 500 business leaders:
Hans Vestberg — CEO, Verizon
Jean-Pascal Tricoire — Chairman & CEO, Schneider Electric
The "Pivot to the Future" podcast series was produced Entertainment One's (eOne) Podcast Network in association with producer Stuart Coxe. It is sponsored by Accenture.

About Accenture
Accenture is a leading global professional services company, providing a broad range of services and solutions in strategy, consulting, digital, technology and operations. Combining unmatched experience and specialized skills across more than 40 industries and all business functions — underpinned by the world's largest delivery network — Accenture works at the intersection of business and technology to help clients improve their performance and create sustainable value for their stakeholders. With 477,000 people serving clients in more than 120 countries, Accenture drives innovation to improve the way the world works and lives. Visit us at www.accenture.com.
# # #


Contact:

Sean Conway
Accenture
+1 917 592 5744
sean.k.conway@accenture.com

Copyright © 2019 Accenture. All rights reserved. Accenture and its logo are trademarks of Accenture.