December 07, 2016
Accenture Named Overall Leader and Star Performer in Everest Group 2016 PEAK Matrix™ Report for Digital Services


Ability to tackle core business challenges at scale cited as driver in strengthening Accenture's leadership position

NEW YORK; Dec. 7, 2016 – Accenture (NYSE: ACN) has strengthened its leadership position in digital services in the last year, ranking highest across the market success and delivery capability axes of the Everest Group 2016 PEAK Matrix™ Report for Digital Services. Accenture was also identified as a star performer based on its strong year-on-year revenue growth and expansion of both its talent pool and offering portfolio.
For the Digital Services report, Everest Group researched 18 systems integrators with digital portfolios, including analytics, interactive marketing, mobility, cloud and Internet of Things capabilities, amongst others. The report assessed service offerings, investments, design studios and innovation as well as ecosystems, focusing on four key areas: performance, experience, ability and knowledge (PEAK). Service providers were then positioned on the PEAK Matrix™ based on the evaluation of two key dimensions: market success and delivery capability.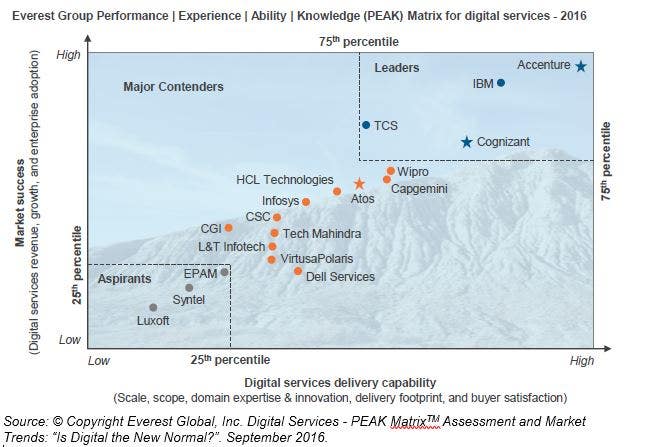 "Enterprises are facing intensifying challenges across industries and markets, and are leveraging digital technologies to not only tackle them, but to stay ahead of the competition, both current and potential," said Chirajeet Sengupta, Everest Group. "Accenture has used its industry-focused consulting heritage to grow its lead in the digital services space, capitalizing on its global scale and broad service portfolio to tackle clients' core business challenges, and to drive their digital transformation efforts. Through acquisitions such as Fjord and subsequent organic and inorganic growth, Accenture has provided integrated and holistic offerings to help clients take advantage of the opportunities presented by digital disruption."

Supporting Accenture's Leader position and Star Performer title, the report emphasizes that Accenture Digital supports every phase of an enterprise's digital journey, from developing digital strategies to implementing digital technologies and running digital processes. With a global network of over 30 design studios and a clear focus on innovation, Accenture is also recognized for its growing base of design talent globally, and the inorganic expansion of its digital service portfolio.

"In the last six months alone Accenture has announced the acquisition of five digital service companies1," said Mike Sutcliff, group chief executive of Accenture Digital. "Multiple advanced technologies are coming of age at the same time – from IoT to Blockchain to Artificial Intelligence –and our aggressive investment in both new and existing talent means we can help clients ride the massive waves of disruption caused by their convergence. Businesses are having to rethink not only how they do things, but also the core of what it is they do. This report recognizes that Accenture's broad partner ecosystem, and ability to offer integrated digital solutions at scale are key to our ability to help clients take advantage of the opportunities for growth presented by this fast-paced digital environment."

About Accenture
Accenture is a leading global professional services company, providing a broad range of services and solutions in strategy, consulting, digital, technology and operations. Combining unmatched experience and specialized skills across more than 40 industries and all business functions – underpinned by the world's largest delivery network – Accenture works at the intersection of business and technology to help clients improve their performance and create sustainable value for their stakeholders. With approximately 384,000 people serving clients in more than 120 countries, Accenture drives innovation to improve the way the world works and lives. Visit us at www.accenture.com.

Accenture Digital , comprised of Accenture Analytics, Accenture Interactive and Accenture Mobility, offers a comprehensive portfolio of business and technology services across digital marketing, mobility and analytics. From developing digital strategies to implementing digital technologies and running digital processes on their behalf, Accenture Digital helps clients leverage connected and mobile devices; extract insights from data using analytics; and enrich end-customer experiences and interactions, delivering tangible results from the virtual world and driving growth. To learn more about Accenture Digital, follow us @AccentureDigi and visit www.accenture.com/digital.

# # #

Contact:

Joanna Vos
Accenture
+ 44 7500 835588
Joanna.r.vos@accenture.com

Copyright © 2016 Accenture. All rights reserved. Accenture, its logo, and High Performance Delivered are trademarks of Accenture.

This document makes descriptive reference to trademarks that may be owned by others. The use of such trademarks herein is not an assertion of ownership of such trademarks by Accenture and is not intended to represent or imply the existence of an association between Accenture and the lawful owners of such trademarks.