January 17, 2023
World Economic Forum Establishes Purpose-driven Metaverse to Tackle World's Most Pressing Challenges
The World Economic Forum, in partnership with Accenture and Microsoft, continues its ambitious journey into the metaverse with the launch of its Global Collaboration Village.
80 leading organizations have joined as Village Partners in the Forum's purpose-driven metaverse to bolster more diverse global collaboration and large-scale action.
The first-ever multilateral session in the metaverse will be hosted in the Village at the Annual Meeting 2023 in Davos.
For more information on the Annual Meeting 2023, visit www.wef.ch/wef23 or use #wef23 on social media.
Geneva, Switzerland, Jan. 17, 2023 – The World Economic Forum, in partnership with Accenture and Microsoft, today unveiled at its Annual Meeting 2023 a working prototype of its Global Collaboration Village, a purpose-driven metaverse where organizations can convene to learn about, create solutions for, and take action on the world's most pressing challenges.
With partners from 80 leading organizations helping to shape the village's development, participants from around the world joined the Forum in its first-ever interactive, multilateral session in the metaverse.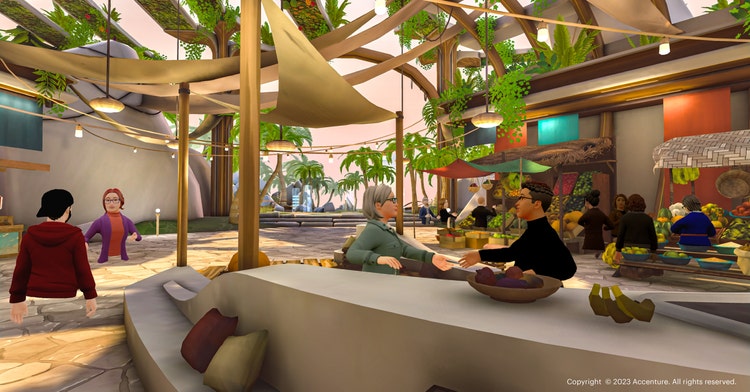 The Food Innovation Hub explores sustainable food production practices and mirrors seven of its physical hubs around the globe

"With the Global Collaboration Village, we are creating the first public purpose-oriented application of the metaverse technology, building a true global village in the virtual space. Supported by a unique range of partners from the public and private sectors, the Village will use the frontier capabilities of the metaverse to find solutions for addressing the big issues of our time in a more open, inclusive and sustained way," said Klaus Schwab, Founder and Executive Chairman of the World Economic Forum.

Julie Sweet, Chair and Chief Executive Officer of Accenture, added: "The metaverse will profoundly change every part of every business, bridging our physical and digital worlds, and over time will enable companies to create innovative new consumer products and services, transform their manufacturing and operations, and reimagine the way we collaborate and work."

Brad Smith, Vice-Chair and President, Microsoft Corporation, said, "We believe the metaverse has the potential to fundamentally change the way we communicate and collaborate, overcoming limitations of the physical world to deliver enhanced connections for everyone. The Global Collaboration Village, powered by Microsoft Mesh, is a prime example of how we can use metaverse technology to bring people and communities together in new ways."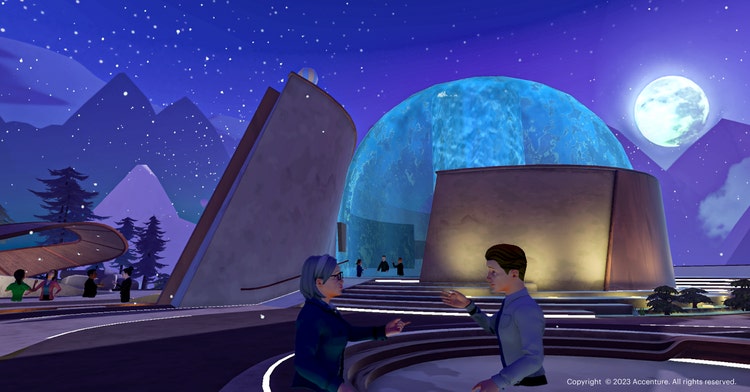 A town hall convenes participants for events and meetings in the heart of the Global Collaboration Village

About the Global Collaboration Village
The Global Collaboration Village harnesses the power of the metaverse to create co-presence and connection for a more diverse and physically dispersed audience. Building on the proof of concept introduced in May 2022, this innovative project, built on the mixed reality platform Microsoft Mesh, includes a set of initial immersive spaces that can be accessed by VR headset or laptop device. These include:
A town hall: The Forum's "Virtual Congress Centre" for future sessions or meetings, such as plenaries, workshops and bilaterals.
Collaborative centres: Virtual collaboration spaces for immersive storytelling and the Forum's thought leadership, intended to inspire collaboration, experiential learning and real-world impact on global issues. For example, in a virtual ocean hub, participants can dive into the ocean's depths and explore why and how marine ecosystems must be protected to preserve both life on land and in water.
Stakeholder campuses: Forum Partners can shape their presence, convene their stakeholders and partner with others to innovate and find solutions to global challenges.
Over the next year, the Forum will invite organizations to build in these immersive spaces to further bolster learning, collaboration and partnership. The initiative's aim to strengthen and re-energize international cooperation is guided by four principles: global cooperation toward shared solutions; interactive immersion to foster better understanding; broad participation enabled by inclusive discussions; and individual and collective action as a catalyst for maximum impact.

About the World Economic Forum Annual Meeting 2023
The World Economic Forum Annual Meeting 2023 will convene the world's foremost leaders under the theme Cooperation in a Fragmented World. Find out more about the Annual Meeting 2023.

About Accenture
Accenture is a leading global professional services company that helps the world's leading businesses, governments and other organizations build their digital core, optimize their operations, accelerate revenue growth and enhance citizen services—creating tangible value at speed and scale. We are a talent and innovation led company with 738,000 people serving clients in more than 120 countries. Technology is at the core of change today, and we are one of the world's leaders in helping drive that change, with strong ecosystem relationships. We combine our strength in technology with unmatched industry experience, functional expertise and global delivery capability. We are uniquely able to deliver tangible outcomes because of our broad range of services, solutions and assets across Strategy & Consulting, Technology, Operations, Industry X and Accenture Song. These capabilities, together with our culture of shared success and commitment to creating 360° value, enable us to help our clients succeed and build trusted, lasting relationships. We measure our success by the 360° value we create for our clients, each other, our shareholders, partners and communities. Visit us at www.accenture.com.

# # #

Contacts:

Jenn Francis
Accenture
+1 312 693 4411
jennifer.francis@accenture.com

Alem Tedeneke,
World Economic Forum
+1 646 204 9191
ated@weforum.org

Cynthia Reynaud
Microsoft
+1 425 538 9142
cyreynau@microsoft.com

Copyright © 2022 Accenture. All rights reserved. Accenture and its logo are trademarks of Accenture.