April 11, 2023
Through New Strategic Partnership, Accenture and Conga Collaborate to Help Companies Transform Revenue Lifecycle Management

NEW YORK; April 11, 2023 – Accenture (NYSE: ACN) and Conga, a global leader in revenue lifecycle management solutions, have formed a strategic partnership to help clients transform their revenue lifecycle management processes—from price quotes and contracts to fulfillment and renewal services. Together, the companies are helping organizations around the world streamline and automate their revenue processes to drive efficiencies and support business growth.
The collaboration brings together Accenture's delivery, advisory and industry experience and Conga's revenue lifecycle management solutions to help global companies drive more predictable revenue. Focused on healthcare, life sciences, financial services, high-tech and industrial industries, Accenture and Conga have collaborated on engagements for dozens of clients.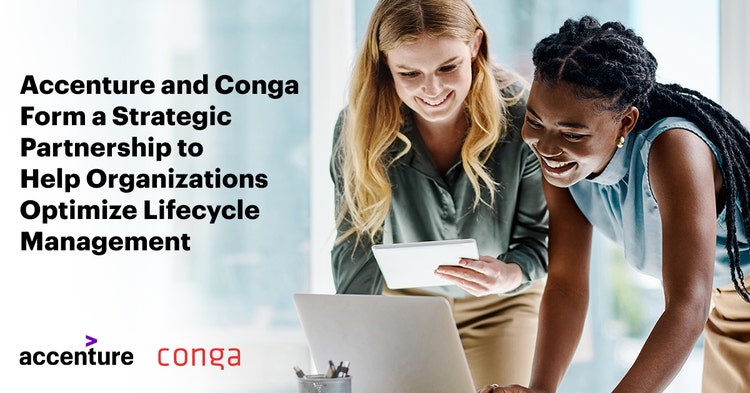 For example, they helped an electrical equipment client standardize its configure price and quote (CPQ) processes—which provide pricing data for thousands of products. Using Conga CPQ on the Salesforce platform, nonstandard, country-specific processes were replaced with a unified, global, cloud-based solution. Sales and finance teams can now create individualized quotes with real-time pricing data, and customers can quickly see the impact of decisions and changes. Offers can be produced in minutes, which has reduced operational and maintenance costs.

Michael Heald, senior managing director and Ecosystem & Growth lead for Accenture Strategy, said, "Managing and predicting revenue, especially in times of rapid change and constant global instability, is essential for organizations to stay competitive in their pricing and sales operations. Together with Conga, we can help organizations optimize their revenue lifecycle management to streamline and increase efficiencies in their operations."

Accenture and Conga also helped an industrial manufacturing client automate and standardize complex contract lifecycle management processes to increase visibility and compliance. With Conga CLM, the company now has a single view of contracts in one place, including versions, approval history and metrics. Users can leverage pre-approved language and track changes to agreements in real time, allowing contracts to be negotiated and executed faster.

"Companies of all sizes and across all industries have a critical need to increase revenue certainty and improve operational efficiencies," said Noel Goggin, chief executive officer and culture leader at Conga. "Together, Conga and Accenture have a unique combination of capabilities and expertise to help organizations and their teams across the globe achieve these business outcomes."

About Accenture
Accenture is a leading global professional services company that helps the world's leading businesses, governments and other organizations build their digital core, optimize their operations, accelerate revenue growth and enhance citizen services—creating tangible value at speed and scale. We are a talent and innovation led company with 738,000 people serving clients in more than 120 countries. Technology is at the core of change today, and we are one of the world's leaders in helping drive that change, with strong ecosystem relationships. We combine our strength in technology with unmatched industry experience, functional expertise and global delivery capability. We are uniquely able to deliver tangible outcomes because of our broad range of services, solutions and assets across Strategy & Consulting, Technology, Operations, Industry X and Accenture Song. These capabilities, together with our culture of shared success and commitment to creating 360° value, enable us to help our clients succeed and build trusted, lasting relationships. We measure our success by the 360° value we create for our clients, each other, our shareholders, partners and communities. Visit us at www.accenture.com.

About Conga
Conga crushes complexity in an increasingly complex world. With our Revenue Lifecycle Management solution, we transform each company's unique complexities for order configuration, execution, fulfillment, and contract renewal processes with a unified data model that adapts to ever-changing business requirements and aligns the understanding and efforts of every team. Our approach is grounded in the Conga Way, a framework of entrepreneurial spirit and achieving together to champion our 11,000+ customers. We're committed to our customers and to removing complexity in an increasingly complex world. Our solutions quickly adapt to changing business models so you can normalize your revenue management processes.

Conga has global operations across North America, Europe, and Asia. Learn more at conga.com or follow Conga on Twitter: @congahq.

# # #

Contacts:

Hannah Unkefer
Accenture
+1 206 839 2172
hannah.m.unkefer@accenture.com

Marney Hatch
Conga
+1 614 315 4174
mhatch@conga.com

Copyright © 2023 Accenture. All rights reserved. Accenture and its logo are trademarks of Accenture.