May 15, 2023
TCL Selects Blue Yonder and Accenture to Transform Supply Chain Planning Capabilities


Global smart device manufacturer will improve organizational efficiency with Blue Yonder in collaboration with Accenture

NEW YORK and SCOTTSDALE, Ariz.; May 15, 2023 – TCL Industries Holding will transform its business with Blue Yonder's supply planning solution, with strategic support from Accenture (NYSE: ACN).
Formerly part of the TCL Group, TCL was spun off as its own business in 2019 and provides a full range of intelligent technology products for global users. To support the company's digital supply chain transformation strategy, TCL needed a more integrated and end-to-end solution. By implementing Blue Yonder's solution, TCL will be able to focus on strategic decisions to help grow its business and expand production; improve its order promising rate to increase customer satisfaction, while supporting its customer sales goals; and reduce inventory by right-sizing production.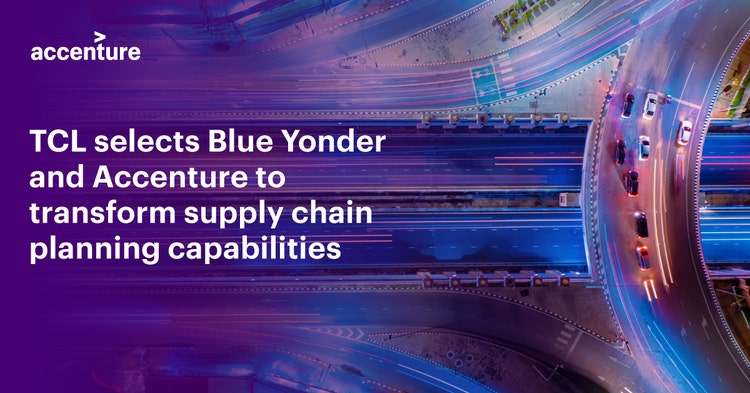 Blue Yonder's supply planning solution, combined with Accenture's technology and industry experience, will help TCL gain a holistic view of its planning process and deploy advanced capabilities to create more accurate and higher quality plans. In addition, TCL will be able to balance its global objectives for demand satisfaction, collaborate on planning scenarios in situations of material shortage and disruptions, and use prescriptive recommendations to make accurate and faster decisions throughout the manufacturing and distribution network. This will allow its supply chain operations to minimize stock-outs, maximize inventory turns, optimize costs, and improve the customer experience.

"Flexible and efficient supply planning capabilities are critical for being able to accurately deliver a wide selection of products to meet customer expectations," said Harvey Kim, managing director, Communications, Media and Technology, Accenture Greater China. "With the combination of Accenture's process, technology and industry experience, coupled with Blue Yonder technology, we can help TCL achieve their business goals and drive tangible value."

Antonio Boccalandro, president, APAC/LATAM, Blue Yonder, said, "TCL was previously an i2 Technologies customer, so we are excited to bring them back into the Blue Yonder family. They have seen significant growth year-over-year in their sales so they needed a solution that could help them plan for their supply needs even in the face of disruptions and challenges. By implementing Blue Yonder's supply planning solution, they will have the ability to share materials across plants, increasing the efficiency of material utilization. In collaboration with Accenture, we are looking forward to helping TCL transform their supply planning capabilities and hope to work with them on future solutions they might need."

About Accenture
Accenture is a leading global professional services company that helps the world's leading businesses, governments and other organizations build their digital core, optimize their operations, accelerate revenue growth and enhance citizen services—creating tangible value at speed and scale. We are a talent and innovation led company with 738,000 people serving clients in more than 120 countries. Technology is at the core of change today, and we are one of the world's leaders in helping drive that change, with strong ecosystem relationships. We combine our strength in technology with unmatched industry experience, functional expertise and global delivery capability. We are uniquely able to deliver tangible outcomes because of our broad range of services, solutions and assets across Strategy & Consulting, Technology, Operations, Industry X and Accenture Song. These capabilities, together with our culture of shared success and commitment to creating 360° value, enable us to help our clients succeed and build trusted, lasting relationships. We measure our success by the 360° value we create for our clients, each other, our shareholders, partners and communities. Visit us at www.accenture.com.

About Blue Yonder
Blue Yonder is the world leader in digital supply chain transformations and omni-channel commerce fulfillment. Our end-to-end, cognitive business platform enables retailers, manufacturers and logistics providers to best fulfill customer demand from planning through delivery. With Blue Yonder, you'll unify your data, supply chain and retail commerce operations to unlock new business opportunities and drive automation, control and orchestration to enable more profitable, sustainable business decisions. Blue Yonder - Fulfill your Potential™ blueyonder.com

# # #

Contacts:


Hannah Unkefer
Accenture
+1 206 839 2172
hannah.m.unkefer@accenture.com

Marina Renneke, APR
Blue Yonder
+1 480 308 3037
marina.renneke@blueyonder.com

Copyright © 2023 Accenture. All rights reserved. Accenture and its logo are trademarks of Accenture.

"Blue Yonder" is a trademark or registered trademark of Blue Yonder Group, Inc. Any trade, product or service name referenced in this document using the name "Blue Yonder" is a trademark and/or property of Blue Yonder Group, Inc. All other company and product names may be trademarks, registered trademarks or service marks of the companies with which they are associated.