February 22, 2023
Qorus and Accenture's Innovation in Insurance Awards Now Open for Applications


Insurers and insurtechs invited to apply for global competition recognizing innovation

PARIS, NEW YORK and HONG KONG; Feb. 22, 2023 – Qorus and Accenture (NYSE: ACN) today launched the eighth edition of the Innovation in Insurance Awards, celebrating the best ideas and projects that are transforming the industry.
Established in 2016, the program provides a forum for organizations to share best practices and continues to bear witness to the evolution of insurance in a changing world. Last year, the awards attracted 398 submissions from 251 institutions in 44 countries.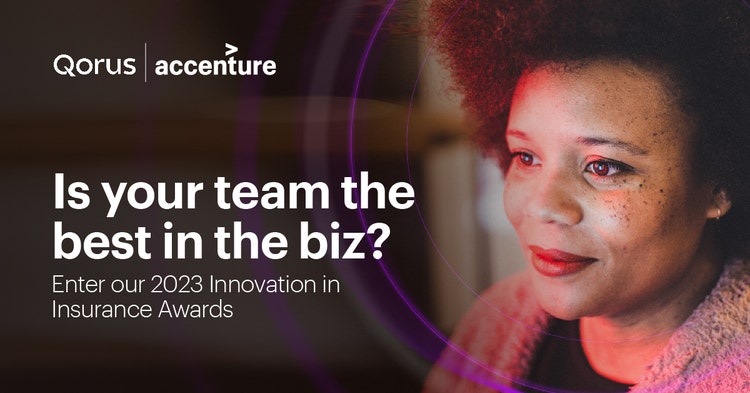 Companies can submit their entries online until 6 April 2023 within the following seven categories:
Global Innovator (overall winner) – the most innovative insurer that displays innovation in their strategic direction, business practices and practical outputs. The winning organization is committed to continuous innovation and transformation, the development of a broad ecosystem of partners extending beyond insurance and the use of emerging technologies for improved customer experience and business performance. To qualify, the entrant must have submitted at least three innovations across the other six categories and be invited to apply.
Connected Ecosystems & Marketplaces – new business models and scalable end-to-end value propositions that capitalize on the power of partnerships, platforms, new technologies and insurtech. Submissions may be made by incumbents, specialized players and other new competitors.
Insurtech – reserved for the insurance start-ups, spin-offs and technology firms that are harnessing technology to reinvent the customer experience whilst driving new value for insurers. This category is for firms specifically targeting the insurance industry, with stage-one funding, a market release proposition and/or have completed a successful proof of concept in the market.
Product & Service Innovation – innovations that extend or replace the traditional insurance offering, creating new revenue pools through expansion into new and existing customer segments and markets.
Re-imagining the Customer Experience – innovations that enhance the way companies engage with new or existing customers via physical and/or digital channels, new customer management models, artificial intelligence-driven advice, and innovative management of customer loyalty and satisfaction.
Social, Sustainable & Responsible – advances in social purpose, and in the insurer's commitment to being a good corporate citizen and a true ally of its customers. This category covers the full definition of sustainability, from environmental and climate interventions and risk management to strategies relating to building communities and fostering inclusive insurance.
Workforce Transformation – bringing together people, culture, leadership, organization and technology, enabling the insurer to realize the full potential of the human and machine workplace.
Each entry will be assessed using three criteria: originality; long-term strategic impact and return on investment; as well as its ability to be applied on a broader scale in other markets and countries.

"Since the Awards' inception, we've highlighted the cutting-edge insurers and innovations that have set inspiring performance levels for others in the field," said John Berry, Qorus CEO. "As demonstrated through last year's program, the industry is continuously shifting to a consumer-centric model. We're confident that this year's awards will again showcase the exceptional solutions that insurers are implementing, as they adapt to new lifestyles, reimagine their role, and drive industry reinvention."

Silvia Milian, a managing director in Accenture's Insurance industry group, said, "Over the past few years, we've seen a rise in entries focused on sustainability, connected ecosystems and the convergence of health and well-being, indicative of broader industry trends. Driving new innovations in products, distribution and process are critical for responding to rapid market shifts, as well as for building a sustainable and responsible insurance industry."

Winners will be selected by a panel of judges comprising senior insurance executives from around the world, and an online vote by Qorus members and non-members from insurance institutions. The winners will be announced at an awards ceremony on 14 June 2023.

To find out more about the awards and how to submit an entry, visit innovationininsurance.qorusglobal.com

About Qorus
A global non-profit association established in 1971 by banks and insurance companies, Qorus (formerly known as Efma) helps its members to reinvent themselves to thrive – to go further, be faster and work together. Its global ecosystem brings valuable insights, inspiring events, rich data, and active global communities all in one place. With over 50 years of experience, Qorus provides a neutral space for best-practice sharing and collaboration, while offering diverse knowledge and a global reach – to more than 1,200 financial groups in 120+ countries. Headquartered in Paris, Qorus serves financial institutions on all continents, with offices in Andorra, Bangkok, Bratislava, Brussels, Dubai, Istanbul, Kuala Lumpur, London, Milan, Seoul, and Tokyo. Learn more at www.qorusglobal.com

About Accenture
Accenture is a leading global professional services company that helps the world's leading businesses, governments and other organizations build their digital core, optimize their operations, accelerate revenue growth and enhance citizen services—creating tangible value at speed and scale. We are a talent and innovation led company with 738,000 people serving clients in more than 120 countries. Technology is at the core of change today, and we are one of the world's leaders in helping drive that change, with strong ecosystem relationships. We combine our strength in technology with unmatched industry experience, functional expertise and global delivery capability. We are uniquely able to deliver tangible outcomes because of our broad range of services, solutions and assets across Strategy & Consulting, Technology, Operations, Industry X and Accenture Song. These capabilities, together with our culture of shared success and commitment to creating 360° value, enable us to help our clients succeed and build trusted, lasting relationships. We measure our success by the 360° value we create for our clients, each other, our shareholders, partners and communities. Visit us at www.accenture.com.

# # #

Contacts:

Jana Lednarova
Qorus
+421 915 225 611
jana@qorusglobal.com

Victoria Holmes
Accenture
+44 7446 277749
victoria.holmes@accenture.com

Copyright © 2023 Accenture. All rights reserved. Accenture and its logo are trademarks of Accenture.