October 23, 2023
Financial Pressures Spurring 'Creative Pragmatism' as U.S. Holiday Shoppers Look to Make Festive Dollars Work Harder, Accenture Survey Finds


17th Annual Holiday Shopping Survey highlights consumers plan to cut back on giving gifts to family and friends this holiday season

NEW YORK; Oct. 23, 2023 – As retailers gear up for the holidays—persistent inflation, high interest rates, and income uncertainties are spurring many consumers to cut back, make trade-offs and get creative with how, where, and what, they spend their money on, according to Accenture's Annual Holiday Shopping Survey.

The survey of more than 1,500 U.S. consumers found that when thinking about their finances ahead of the holiday season, six in 10 consumers are already—or are planning to—cut back on giving gifts to close family and friends due to budget constraints, rising to 69% for extended family and friends. At the same time, just over half (52%) of consumers have already agreed—or are planning to agree—not exchange gifts with other adults.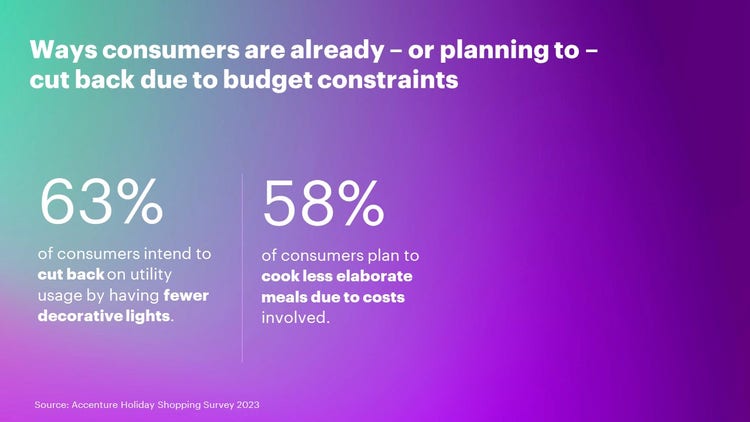 "The current economic environment is having an impact on consumer confidence, resulting in what could be an emergence of far more considered shoppers that might be described as "creative pragmatists"—who, while being grounded in the reality that they may need to cut-back in some areas, are also finding innovative ways to make their festive dollars stretch further, such as buying materials to make homemade gifts," said Jill Standish, a senior managing director at Accenture who leads its Retail industry practice globally. "Retailers must be willing to rethink the tried and tested strategies of the past and focus on gaining a more nuanced, data-driven understanding of each individual consumer, and then using that insight to help reduce complexity of the shopping experience, build trust, and improve brand loyalty."

Financial pressures feed into purchasing decisions
With fewer than 1 in 5 (17%) consumers saying they feel optimistic about their financial situation going into the holiday season, the survey shows that consumers are planning to spend US$591 this season, on average, 5% less than last year. Consumers aged 70+ years anticipate spending US$673, the highest among any age group, closely followed by baby boomers (59-69 years) who expect to spend US$667.

"Our findings suggest that this year, consumers are feeling the squeeze in their personal finances – not helped by emergency SNAP payments, which played a significant role in supporting low-income households during the pandemic, coming to an end," Standish said. "In times like this, delivering consistent and clear communication around the information consumers need when shopping can make all the difference. It means being upfront about cost of returns, product availability and descriptions. Longer term, this is an opportunity to increase brand loyalty, that can endure beyond the holiday season."

Another interesting shift retailers may see this season, is the potential reversal in the elongated holiday shopping season as consumers report they plan to start buying from October to December.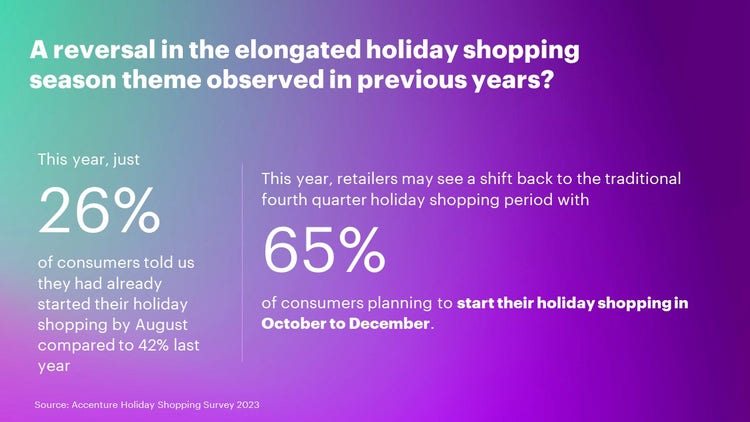 Lori Zumwinkle, a senior managing director at Accenture who leads its Retail industry practice in North America, said, "With consumer behaviors constantly shifting, retailers will need to display ever greater levels of agility and responsiveness as they navigate challenging headwinds. That includes being able to fine-tune marketing and sales strategies on the fly, adapting them in real-time as circumstances evolve. While some retailers are already pressing ahead with marketing campaigns and Black Friday-like sales events, there's a clear risk of a race to the bottom on pricing. Successful retailers will be those paying even closer attention to customer data, ensuring marketing and promotions are targeted to the customers and products for which they'll generate maximum effect."

Creative—yet pragmatic—approach to holiday shopping
The survey also shows that while price (78%) and value for money (60%) tops the list of most important deciding factors in how consumers will shop, and what they will spend money on this season, quality still matters to more than half of consumers (50%).

Many consumers appear to be exploring creative, yet practical, ways to make budgets stretch. For instance, some consumers indicated they are willing to compromise on convenience, with more than a half (53%) opting to collect from store versus doorstep delivery if it saves them money. In addition, more than one-third (39%) of consumers intend to consciously buy items such as boardgames, they can enjoy all year around. This figure increases to 47% among young millennials (25-31 years) and 45% among older millennials (32-39 years).

"In a season that's particularly tied to nostalgia and tradition, retailers can take heart that consumers are still planning to spend this season. However, the way they spend will likely differ from past years. While some are undoubtedly taking steps to organize their seasonal shopping more carefully this year, others are focused on quality and consciously buying items they can enjoy all year around," Standish said. "Regardless of the reason consumers choose how and where they spend this season, retailers can play an active role in creating a deeper connection with consumers, while developing strategies to drive new revenue opportunities. For instance, they could develop strategies that help shoppers extend the life of the items they buy or use past data on shopping habits and purchases to tailor promotions and marketing campaigns to individual customers with much greater precision."

About the Research
The Accenture 17th Annual Holiday Shopping Survey offers insights into consumer buying patterns during the holiday time period, providing an indication of retail performance expectations both on the high street and online at a key time for the sector. For this year's study, Accenture surveyed a representative sample of 1,503 U.S. consumers online, each of whom had purchased an item for personal use either online or in a store within the previous six months. Respondents were split between gender and across age groups, with 15% of Generation Zers (aged 18-24), 13% younger millennials (25-31), 15% older millennials (32-39), 21% Generation Xers (40-55), 21% baby boomers (56-69) and 15% aged 70+.

About Accenture
Accenture is a leading global professional services company that helps the world's leading businesses, governments and other organizations build their digital core, optimize their operations, accelerate revenue growth and enhance citizen services—creating tangible value at speed and scale. We are a talent- and innovation-led company with approximately 733,000 people serving clients in more than 120 countries. Technology is at the core of change today, and we are one of the world's leaders in helping drive that change, with strong ecosystem relationships. We combine our strength in technology and leadership in cloud, data and AI with unmatched industry experience, functional expertise and global delivery capability. We are uniquely able to deliver tangible outcomes because of our broad range of services, solutions and assets across Strategy & Consulting, Technology, Operations, Industry X and Song. These capabilities, together with our culture of shared success and commitment to creating 360° value, enable us to help our clients reinvent and build trusted, lasting relationships. We measure our success by the 360° value we create for our clients, each other, our shareholders, partners and communities. Visit us at www.accenture.com.
# # #


Contact:

Tara Burns
Accenture
+44 7850 435 158
tara.burns@accenture.com

Copyright ©2023 Accenture. All rights reserved. Accenture and its logo are registered trademarks of Accenture.