May 02, 2023
Among C-suite Leaders, AI is Top Digital Priority in the Path to Operational Resilience, Finds Accenture Study

NEW YORK; May 2, 2023 – Nearly three-fourths (73%) of companies are prioritizing AI over all other digital investments and with the immediate focus on improving operational resilience in an unprecedented environment, according to a study by Accenture (NYSE:ACN).
The report, Reinventing Enterprise Operations, found 90% of business leaders are applying AI to tackle aspects of operational resilience, which spans data-driven capabilities, such as finance (89%) and supply chain (88%), to experimentation with generative AI.

The findings assessed organizations across six measures of operational maturity: AI, data, processes, talent, collaboration and stakeholder experiences. While only a few (9%) companies achieved maturity on all fronts, those that did averaged 1.4X higher operating margins over peers, while driving 42% faster innovation, 34% better sustainability and 30% higher satisfaction scores.

"All CEOs are under pressure to digitize faster, put more resilience in the business, and find new pathways to growth," said Yusuf Tayob, group chief executive of Accenture Operations. "The right investments in technology while advancing talent, data and processes is what drives a new performance frontier."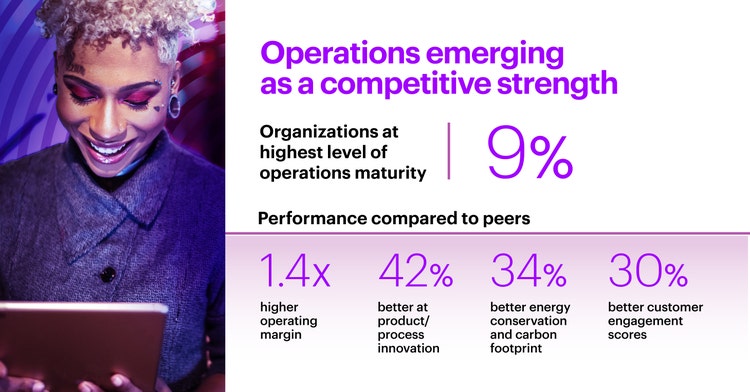 With a talent strategy that mirrors data and digital maturity, enterprises averaged nearly three-times higher productivity when prioritizing training and specialized skills to address talent needs. This was further echoed by investments being made in new ways of working (cited by 94%) and the 90% of (COO, CIO, CHRO) respondents who plan to increase specialized and technical talent over the next three years.

To fully capture the opportunity, leaders should take these five actions to evolve operations and achieve a new performance frontier:
Humanize AI experiences: explore new use cases to enhance experience-related outcomes and simplify relationships with employees and customers.
Data decisiveness: define a clear strategy that governs how data is created, collected and enriched, encouraging debate and removing biases to capture the most effective insights to guide decision-making.
Innovate processes: visualize "as-is" processes, apply AI-driven insights to discover new efficiencies, while simulating scenario changes to optimize business process improvements.
Agile workforce: create agility within workforce strategy; empower employees with a choice of technology tools to meet needs.
Take a 360° approach: drive value creation holistically, building it from the ground up and across all functions by using data-driven insights, from customers, employees and other ecosystem partners.
About the Research
For the report, "Reinventing Enterprise Operations," Accenture surveyed 1,700 executives, 72% of whom were C-suite, across 12 countries and 15 industries. The latest research assessed the progression of business operations maturity —each level underpinned by more advanced ways of working with AI, data and cloud —and (where relevant) compared with 2021 findings. The study then combines survey responses with externally validated data across multiple dimensions of value—from financial to experience, sustainability to talent and inclusion and diversity to innovation and agility.

This research can also be explored in Accenture Foresight, Accenture's new thought leadership app, which provides a personalized feed of all our latest reports, case studies, blogs, interactive data charts, podcasts and more. Visit http://www.accenture.com/foresight.

About Accenture
Accenture is a leading global professional services company that helps the world's leading businesses, governments and other organizations build their digital core, optimize their operations, accelerate revenue growth and enhance citizen services—creating tangible value at speed and scale. We are a talent and innovation led company with 738,000 people serving clients in more than 120 countries. Technology is at the core of change today, and we are one of the world's leaders in helping drive that change, with strong ecosystem relationships. We combine our strength in technology with unmatched industry experience, functional expertise and global delivery capability. We are uniquely able to deliver tangible outcomes because of our broad range of services, solutions and assets across Strategy & Consulting, Technology, Operations, Industry X and Accenture Song. These capabilities, together with our culture of shared success and commitment to creating 360° value, enable us to help our clients succeed and build trusted, lasting relationships. We measure our success by the 360° value we create for our clients, each other, our shareholders, partners and communities. Visit us at www.accenture.com.

# # #

Contacts:

Jenn Francis
Accenture
+1 312 693 4411
jennifer.francis@accenture.com

Samuela Marti
Accenture
+39 329 1595781
samuela.marti@accenture.com