June 13, 2023
Aligning Cybersecurity to Business Objectives Helps Drive Revenue Growth and Lower Costs of Breaches, Accenture Report Finds


Accenture State of Cyber Resilience 2023 report reveals key traits of "cyber transformers," who make cybersecurity the cornerstone of their business transformation efforts

NEW YORK; June 13, 2023 – Organizations that closely align their cybersecurity programs to business objectives are 18% more likely to achieve target revenue growth and market share and improve customer satisfaction, as well as 26% more likely to lower the cost of cybersecurity breaches/incidents, on average, according to new research from Accenture (NYSE: ACN).
Accenture's "State of Cybersecurity Resilience 2023" report is based on a survey of 3,000 security and business executives from large organizations across Europe, North America, South America and Asia-Pacific. The report identifies a group of companies that are leading the way in their cybersecurity efforts. These companies—Ïwhich Accenture calls "cyber transformers" and account for 30% of respondents—strike a balance between excelling at cyber resilience and aligning with the business strategy to achieve better business outcomes.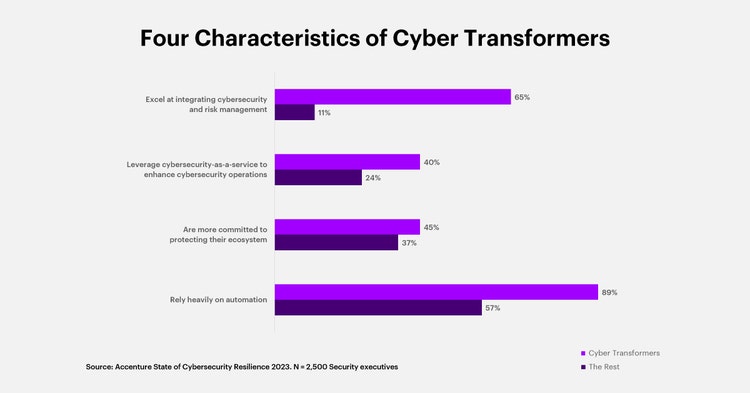 "The accelerated adoption of digital technologies like generative AI—combined with complex regulations, geopolitical tensions and economic uncertainties—is testing organizations' approach to managing cyber risk," said Palo Dal Cin, global lead of Accenture Security. "In this rapidly changing environment, businesses leaders need to embed cybersecurity into the fabric of their digital core transformation efforts to become business resilient. This is one of the key differentiating traits of cyber transformers, who demonstrate that they are better equipped to drive successful business outcomes."

Four characteristics set cyber transformers apart from other companies. They:
Excel at integrating cybersecurity and risk management. Cyber transformers integrate a cyber risk-based framework into their enterprise risk management program; have their cybersecurity operations and executive leadership agree on the priority of assets and operations to be protected; and consider cybersecurity risk to a great extent when evaluating overall enterprise risk (65% vs. 11%).
Leverage cybersecurity-as-a-service to enhance security operations. Cyber transformers are more likely than others to use managed services providers to administer cybersecurity operations (40% vs. 24%).
Are more committed to protecting their ecosystem. Cyber transformers are more likely than others to take such actions as incorporating their ecosystem or supply chain partners into their incident response plan (45% vs. 37%) and to require them to meet strict cybersecurity standards (41% vs. 29%).
Rely heavily on automation. Cyber transformers are far more likely than others to rely heavily on automation for their cybersecurity programs (89% vs. 57%). In addition, 96% of all respondents whose organizations substantially automate their cybersecurity said that automation helps them alleviate cyber talent shortages—a key challenge for any company seeking cyber resilience.
"While organizations are taking steps to better align cybersecurity programs with business goals, there is still plenty of room for improvement, with more than 60% of respondents still falling victim to successful breaches coming from outside their organizations," said Jacky Fox, Accenture Security lead for Europe. "Working more effectively across the C-suite and ensuring that security efforts have a positive business impact require a business-led CISO who acts as an educator and collaborator with non-security leaders."

The report highlights that organizations that embed three key cybersecurity actions into their digital transformation efforts and apply strong cybersecurity practices across the organization are nearly six times more likely to experience more effective digital transformations than those that don't do both. The cybersecurity actions that organizations can take to increase the success and satisfaction of their digital transformations are:
Require cybersecurity controls before all new business services and products are deployed.
Apply cybersecurity incrementally as each digital transformation milestone is achieved.
Appoint a cybersecurity representative as part of the core transformation team who orchestrates cybersecurity across all transformation initiatives.
You can explore the State of Cybersecurity Resilience 2023 report in Accenture Foresight, Accenture's new thought leadership app, which provides a personalized feed of all our latest reports, case studies, blogs, interactive data charts, podcasts and more. Download the app at
http://www.accenture.com/foresight.

Methodology
Accenture Research surveyed 3,000 executives—comprising 2,500 chief information security officers (CISOs) and 500 CEOs and CFOs—from large organizations (revenues
>
US$1 billion) in 15 industries across 14 countries in North America, Europe, Asia-Pacific and South America. The goal was to understand the role of cybersecurity in organizations' approach to transformation and the broader cybersecurity practices that facilitate secure digital transformation. The study was fielded from September to October 2022.

About Accenture
Accenture is a leading global professional services company that helps the world's leading businesses, governments and other organizations build their digital core, optimize their operations, accelerate revenue growth and enhance citizen services—creating tangible value at speed and scale. We are a talent and innovation led company with 738,000 people serving clients in more than 120 countries. Technology is at the core of change today, and we are one of the world's leaders in helping drive that change, with strong ecosystem relationships. We combine our strength in technology with unmatched industry experience, functional expertise and global delivery capability. We are uniquely able to deliver tangible outcomes because of our broad range of services, solutions and assets across Strategy & Consulting, Technology, Operations, Industry X and Accenture Song. These capabilities, together with our culture of shared success and commitment to creating 360° value, enable us to help our clients succeed and build trusted, lasting relationships. We measure our success by the 360° value we create for our clients, each other, our shareholders, partners and communities. Visit us at www.accenture.com.

Accenture Security is a leading provider of end-to-end cybersecurity services, including strategy, protection, resilience and industry-specific cyber services. We bring security innovation, coupled with global scale and a worldwide delivery capability through our network of Cyber Fusion Centers. Helped by our team of highly skilled professionals, we enable clients to innovate safely, build cyber resilience and grow with confidence. Visit us at accenture.com/security.

# # #

Contact:

Denise Berard
Accenture
+1 617 488 3611
denise.berard@accenture.com

Alison Geib
Accenture
+1 703 947 4404
alison.geib@accenture.com

Copyright © 2023 Accenture. All rights reserved. Accenture and its logo are registered trademarks of Accenture.