January 12, 2023
Alarmed by Speed and Scale of Disruption, CEOs Embrace Sustainability to Build Long-Term Resilience, According to UN Global Compact and Accenture


As the halfway point to achieve the UN Sustainable Development Goals approaches and the deadline to meet key milestones of a 1.5C world looms, CEOs take action to avoid consequences to environment, society and business growth

NEW YORK; Jan. 12, 2023 – CEOs are facing an enormously challenging global context, with the vast majority (93%) experiencing 10 or more simultaneous challenges to their businesses and 87% warning that current levels of disruption will limit delivery of the UN Sustainable Development Goals (SDGs), finds the largest CEO study on sustainability ever conducted by the UN Global Compact and Accenture (NYSE: ACN). While CEOs are increasingly concerned about these headwinds, nearly all (98%) agree that sustainability is core to their role, a sentiment that has grown 15 percentage points over the last 10 years of the study.
The 12th United Nations Global Compact-Accenture CEO Study draws on insights from more than 2,600 CEOs across 128 countries, 18 industries, and over 130 in-depth interviews—making this the largest-ever sampling of executives, including the biggest group of CEOs from the Global South, since the start of the CEO study program in 2007. In the study, CEOs forewarn about the impact of converging setbacks for business and society, from faltering multilateralism and socioeconomic instability to supply-chain interruptions and the immediate effects of climate change.

"In a world categorized by conflict, energy shortages, rising inflation and the threat of recession, this year's study shows CEOs do not believe the world is as resilient to crises as we may have hoped. Businesses continue to be impacted by multiple shocks. As a result, on a broad range of issues, from runaway climate change to widening social and economic inequalities, business action right now does not match the ambition and pace needed to achieve the Sustainable Development Goals by 2030," said Sanda Ojiambo, Assistant Secretary General, CEO and Executive Director UN Global Compact.

As these challenges stack up, CEOs point to global issues that traditionally lie outside the corporate sphere—such as climate change or socio-political conflicts—as reasons for worry over delivering value and impact for all stakeholders. With only eight years left to rescue the SDGs, nearly half (43%) of CEOs globally say their sustainability efforts have been hampered due to the geopolitical environment, with that number even higher for CEOs from developing countries (51%). When examining net zero targets set by the world's largest companies, Accenture also found that nearly all will miss their own targets unless they double the rate of carbon emissions reductions by 2030.

However, some CEOs continue to make a great impact and show clear pockets of success that deliver shared stakeholder value and competitive advantage in their industries and are reshaping the future of sustainable development through innovation and collaboration. Two-thirds of CEOs (66%) say their companies are engaging in long-term strategic partnerships to build resilience. These leaders are reconfiguring underlying supply chains, reskilling their workforces, reassessing their relationship with natural resources, and reimagining planetary boundaries through breakthroughs in technology spanning physical, digital and biological solutions.

"Not meeting the promise of the SDGs is a real concern but, at the same time, an enormous opportunity for companies that reinvent their enterprises and harness sustainability as one of the key forces of change in the next decade," said Peter Lacy, Accenture's global Sustainability Services lead and chief responsibility officer. "CEOs are clearly concerned about resilience, but one leader's resilience is another leader's growth opportunity. New waves of technology investments and breakthrough innovation can put the SDGs back within reach – but only if leaders turn to sustainability for resilience to help create new markets, products and services that can correct the current trajectory and drive growth amid times of disruption."

CEOs also identify a clear need to focus on technology for finding solutions to tackle global challenges and drive growth. Leading CEOs are already embedding sustainability into their businesses through launching new products and services for sustainability (63%), enhancing sustainability data collection across their value chains (55%) and investing in renewable energy sources (49%). Nearly half (49%) are transitioning to circular business models, and 40% are increasing R&D funding for sustainable innovation.

In their interviews, CEOs identify key initiatives to build resilience for companies, from establishing science-based climate targets and investing in their workforce's diversity to engaging in cross-industry partnerships on technology solutions, enhancing supply chain visibility and advancing greater biodiversity. Additionally, CEOs continue calling for government engagement on policy changes1 that prioritize long-term measurable objectives as standardized ESG reporting frameworks, a global market for carbon and incentives for sustainable business models.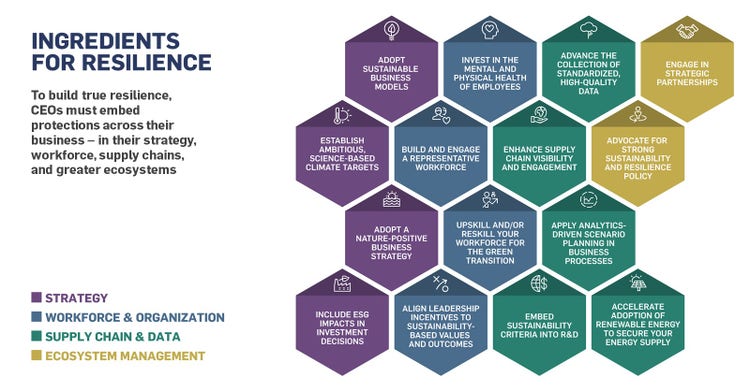 "Despite setbacks, there is room for hope. The CEOs we surveyed increasingly recognize they can build credibility and brand value by committing to the Ten Principles and the Sustainable Development Goals throughout their operations– not only because it's the right thing to do, but also because it is good business sense," added Ojiambo.

You can explore Reimagining the Agenda: Unlocking the Global Pathways to Resilience, Growth, and Sustainability for 2030 in Accenture Foresight, our new thought leadership app, which provides a personalized feed of all our latest reports, case studies, blogs, interactive data charts, podcasts, and more. Visit http://www.accenture.com/foresight.

About the CEO Study Program
The CEO Study program, developed by the UN Global Compact and Accenture, is an effort to enhance understanding and commitment between the United Nations and the private sector. The program is an extensive review of the advancing corporate sustainability movement, and the publications coalesce dominant views of CEOs, business leaders and UN executives to track developments in sustainability.

About the United Nations Global Compact
As a special initiative of the UN Secretary-General, the United Nations Global Compact is a call to companies everywhere to align their operations and strategies with Ten Principles in the areas of human rights, labour, environment, and anti-corruption. Our ambition is to accelerate and scale the global collective impact of business by upholding the Ten Principles and delivering the Sustainable Development Goals through accountable companies and ecosystems that enable change. With more than 17,000 companies and 3,000 non-business signatories based in over 160 countries, and 69 Local Networks, the UN Global Compact is the world's largest corporate sustainability initiative—one Global Compact uniting business for a better world. For more information, follow @globalcompact on social media and visit our website at unglobalcompact.org.

About Accenture
Accenture is a leading global professional services company that helps the world's leading businesses, governments and other organizations build their digital core, optimize their operations, accelerate revenue growth and enhance citizen services—creating tangible value at speed and scale. We are a talent and innovation-led company with 738,000 people serving clients in more than 120 countries. Technology is at the core of change today, and we are one of the world's leaders in helping drive that change, with strong ecosystem relationships. We combine our strength in technology with unmatched industry experience, functional expertise and global delivery capability. We are uniquely able to deliver tangible outcomes because of our broad range of services, solutions and assets across Strategy & Consulting, Technology, Operations, Industry X and Accenture Song. These capabilities, together with our culture of shared success and commitment to creating 360° value, enable us to help our clients succeed and build trusted, lasting relationships. We measure our success by the 360° value we create for our clients, each other, our shareholders, partners and communities. Visit us at www.accenture.com.

1 Policy positions do not necessarily reflect the views of Accenture.

# # #

Contacts:

Alexander Aizenberg
Accenture
+1 917 452 9878
alexander.aizenberg@accenture.com

Alex Gee
United Nations Global Compact
+447887 804594
gee@unglobalcompact.org
media@unglobalcompact.org