June 13, 2023
Accenture to Invest $3 Billion in AI to Accelerate Clients' Reinvention
Expanded Data & AI practice to offer new industry solutions and pre-built models that will help companies across 19 industries drive value
Also launches AI Navigator for Enterprise platform to guide AI strategy, use cases, rigorous business cases, decision-making and responsible policies; and Center for Advanced AI to help maximize value of generative and other AI
Will double AI talent to 80,000 people through hiring, acquisitions and training
NEW YORK; June 13, 2023 – Accenture (NYSE: ACN) today announced a $3 billion investment over three years in its Data & AI practice to help clients across all industries rapidly and responsibly advance and use AI to achieve greater growth, efficiency and resilience.
"There is unprecedented interest in all areas of AI, and the substantial investment we are making in our Data & AI practice will help our clients move from interest to action to value, and in a responsible way with clear business cases," said Julie Sweet, chair and CEO, Accenture. "Companies that build a strong foundation of AI by adopting and scaling it now, where the technology is mature and delivers clear value, will be better positioned to reinvent, compete and achieve new levels of performance. Our clients have complex environments, and at a time when the technology is changing rapidly, our deep understanding of ecosystem solutions allows us to help them navigate quickly and cost effectively to make smart decisions."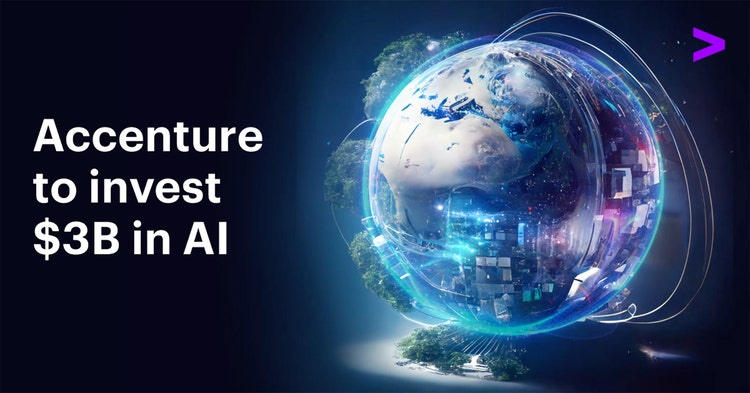 The investment builds on Accenture's decade-plus leadership in AI. The company's AI expertise spans more than 1,450 patents and pending patent applications worldwide and hundreds of client solutions at scale, ranging from marketing to retail and security to manufacturing. Accenture has embedded AI across its service delivery approach, driving efficiency, insights, and accelerating value for thousands of clients through its market leading platforms such as myWizard, SynOps, and MyNav. Six years ago, Accenture pioneered its responsible AI framework, which is now part of how Accenture delivers its work for clients, is included in the company's code of ethics and underlies its rigorous responsible AI compliance program. Accenture is currently working with many clients on generative AI projects, such as helping a hotel group manage customer queries or a judicial system synthesize judicial process information across hundreds of thousands of complex documents.

Today's announcement includes a range of investments that Accenture is making to help companies develop the new strategies, operating models, business cases and digital core architecture they will need to capitalize on AI innovation:
Accenture will invest in assets, industry solutions, ventures, acquisitions, talent and ecosystem partnerships, which will deepen and develop new skills and capabilities across diagnostic, predictive and generative AI.
The Data & AI practice will double its AI talent to 80,000 professionals through a mix of hiring, acquisitions and training.
The new AI Navigator for Enterprise is a generative AI-based platform that will help clients define business cases, make decisions, navigate AI journeys, choose architectures and understand algorithms and models to drive value responsibly. Building on Accenture's own efforts, the platform will include assets designed to accelerate responsible AI practices and compliance programs.
Accenture will create accelerators for data and AI readiness across 19 distinct industries as well as pre-built industry and functional models that take advantage of new generative AI capabilities.
To advance uses of generative AI, its Center for Advanced AI is dedicated to maximizing the value of this technology across clients and within Accenture. This includes extensive R&D and investments to reimagine service delivery using generative and other emerging AI capabilities.
Accenture will invest in new and existing relationships across its industry-leading cloud, data and AI ecosystems to reinvent the type of work being delivered to clients. For example, developers using pre-built models to enhance prototyping or creators building dynamic virtual environments that can adapt with real-world changes.
"Over the next decade, AI will be a mega-trend, transforming industries, companies, and the way we live and work, as generative AI transforms 40% of all working hours," said Paul Daugherty, group chief executive, Accenture Technology. "Our expanded Data & AI practice brings together the full power and breadth of Accenture in creating industry-specific solutions that will help our clients harness AI's full potential to reshape their strategy, technology, and ways of working, driving innovation and value responsibly and faster than ever before."

About Accenture
Accenture is a leading global professional services company that helps the world's leading businesses, governments and other organizations build their digital core, optimize their operations, accelerate revenue growth and enhance citizen services—creating tangible value at speed and scale. We are a talent and innovation led company with 738,000 people serving clients in more than 120 countries. Technology is at the core of change today, and we are one of the world's leaders in helping drive that change, with strong ecosystem relationships. We combine our strength in technology with unmatched industry experience, functional expertise and global delivery capability. We are uniquely able to deliver tangible outcomes because of our broad range of services, solutions and assets across Strategy & Consulting, Technology, Operations, Industry X and Accenture Song. These capabilities, together with our culture of shared success and commitment to creating 360° value, enable us to help our clients succeed and build trusted, lasting relationships. We measure our success by the 360° value we create for our clients, each other, our shareholders, partners and communities. Visit us at www.accenture.com.

Forward-Looking Statements
Except for the historical information and discussions contained herein, statements in this news release, including those relating to the nature, timing and amount of the investments described herein and the anticipated benefits of such actions, may constitute forward-looking statements within the meaning of the Private Securities Litigation Reform Act of 1995. Words such as "may," "will," "should," "likely," "anticipates," "aspires," "expects," "intends," "plans," "projects," "believes," "estimates," "positioned," "outlook," "goal," "target" and similar expressions are used to identify these forward-looking statements. These statements are not guarantees of future performance nor promises that goals or targets will be met, and involve a number of risks, uncertainties and other factors that are difficult to predict and could cause actual results to differ materially from those expressed or implied. These risks include, without limitation, risks that Accenture's investment in AI may not achieve the anticipated benefits for the company as well as the risks, uncertainties and other factors discussed under the "Risk Factors" heading in Accenture plc's most recent Annual Report on Form 10-K and other documents filed with or furnished to the Securities and Exchange Commission. Statements in this news release speak only as of the date they were made, and Accenture undertakes no duty to update any forward-looking statements made in this news release or to conform such statements to actual results or changes in Accenture's expectations.

# # #

Contact:

Rachel Frey
Accenture
+1 917 452 4421
rachel.frey@accenture.com