June 21, 2023
Accenture to Acquire Anser Advisory to Expand Capital Project Capabilities
Accenture will help clients more efficiently deliver large infrastructure projects in North America

NEW YORK and SANTA ANA, CA; June 21, 2023 – Accenture (NYSE: ACN) has entered into an agreement to acquire Anser Advisory, an advisory and management company for infrastructure projects in the United States.
The acquisition will enhance Accenture's ability to help companies and state and local public sector organizations complete large, long-term infrastructure projects more predictably and efficiently – projects that support growth for clients and have a positive impact on communities. The move will expand Accenture's capital project capabilities, moving the company into an adjacent business with an estimated $88 billion of addressable market in North America1.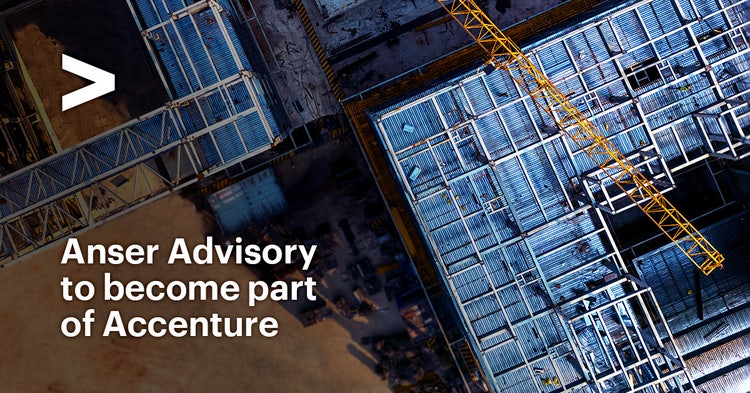 Investments in ambitious infrastructure and energy transition projects are projected to drive non-residential spending to $1.033 trillion in the United States in 20232. They are driven by government stimuli such as the Inflation Reduction Act, the Infrastructure Investment Jobs Act, and the CHIPS and Science Act, and a trend toward bringing manufacturing back to the US. These programs include building and modernizing electric grids, water projects, freight and passenger rail transportation, airports, electric vehicle charging and alternative fuel infrastructure, gigafactories, semiconductor plants, broadband internet and public buildings.

Anser Advisory has a proven track record of reducing the risks and impacts of project delays and cost overruns on large-scale critical infrastructure projects. They bring a rare mix of strategy expertise and hands-on know-how from working with owners' engineering, procurement and construction providers on the ground.

Anser Advisory's services span advisory, compliance and management services. Owners of capital projects engage Anser Advisory to advise them on how to structure, estimate and plan projects, to monitor the work being done, and to assist them in managing and executing all phases of projects. Increasingly, clients are engaging Anser Advisory to help advance decarbonization and clean energy projects in sectors including energy transmission, distribution and storage, sustainability programs and fleet electrification.

Aaron Saint, North America lead for Accenture Industry X, said: "Accenture and Anser Advisory will support our clients' critical capital projects by combining 'boots on the ground' know-how, deep industry expertise and leading-edge digital capabilities – while also opening new adjacent market share opportunities for Accenture. We will reinvent how people do their work, the processes they execute, and the technologies they use to deliver mission critical projects on time and on budget. Given the large-scale investments and projected labor shortages in North America, this is the right time to combine our capabilities and help deliver on our clients' ambitious infrastructure commitments."

Jimmy Etheredge, CEO of Accenture North America, added: "This acquisition positions Accenture as a key player in the tremendous investment that is taking place to modernize North America's infrastructure in a sustainable manner. Combining Anser Advisory's experience with our digital technology expertise is a game-changing transformation for infrastructure projects."

Bryan Carruthers, CEO of Anser Advisory, said: "Clients engage Anser Advisory as a trusted advisor to minimize risk and maximize outcomes when they invest in critical infrastructure. By joining Accenture, we will be able to provide new value and scale to our clients to support their missions and opportunities for our people to grow their careers at one of the world's most prestigious companies."

Founded in 1996, Anser Advisory is headquartered in Santa Ana, California, and has approximately 1,200 employees across 13 states. Accenture will acquire the Anser Advisory brand with its approximately 920 employees working on private sector and state and local public projects. Markon Solutions, a 280-people Anser Advisory subsidiary working with US federal clients, will be retained by Sterling Investment Partners and Markon Solutions management.

Recent acquisitions Accenture has made to expand its capabilities for asset-intensive industries include Eclipse Automation, a provider of customized manufacturing automation and robotics solutions; umlaut, a global engineering services provider; and Advoco, an asset management services provider.

Completion of the acquisition is subject to customary closing conditions, including required antitrust clearances.

1 Source: Gartner
2 Source: UBS

About Accenture
Accenture is a leading global professional services company that helps the world's leading businesses, governments and other organizations build their digital core, optimize their operations, accelerate revenue growth and enhance citizen services—creating tangible value at speed and scale. We are a talent and innovation led company with 738,000 people serving clients in more than 120 countries. Technology is at the core of change today, and we are one of the world's leaders in helping drive that change, with strong ecosystem relationships. We combine our strength in technology with unmatched industry experience, functional expertise and global delivery capability. We are uniquely able to deliver tangible outcomes because of our broad range of services, solutions and assets across Strategy & Consulting, Technology, Operations, Industry X and Accenture Song. These capabilities, together with our culture of shared success and commitment to creating 360° value, enable us to help our clients succeed and build trusted, lasting relationships. We measure our success by the 360° value we create for our clients, each other, our shareholders, partners, and communities. Visit us at www.accenture.com.

Forward-Looking Statements
Except for the historical information and discussions contained herein, statements in this news release may constitute forward-looking statements within the meaning of the Private Securities Litigation Reform Act of 1995. Words such as "may," "will," "should," "likely," "anticipates," "aspires," "expects," "intends," "plans," "projects," "believes," "estimates," "positioned," "outlook," "goal," "target" and similar expressions are used to identify these forward-looking statements. These statements are not guarantees of future performance nor promises that goals or targets will be met, and involve a number of risks, uncertainties and other factors that are difficult to predict and could cause actual results to differ materially from those expressed or implied. These risks include, without limitation, risks that: Accenture and Anser Advisory will not be able to close the transaction in the time period anticipated, or at all, which is dependent on the parties' ability to satisfy certain closing conditions; the transaction might not achieve the anticipated benefits for Accenture; Accenture's results of operations have been, and may in the future be, adversely affected by volatile, negative or uncertain economic and political conditions and the effects of these conditions on the company's clients' businesses and levels of business activity; Accenture's business depends on generating and maintaining client demand for the company's services and solutions including through the adaptation and expansion of its services and solutions in response to ongoing changes in technology and offerings, and a significant reduction in such demand or an inability to respond to the evolving technological environment could materially affect the company's results of operations; if Accenture is unable to match people and their skills with client demand around the world and attract and retain professionals with strong leadership skills, the company's business, the utilization rate of the company's professionals and the company's results of operations may be materially adversely affected; Accenture faces legal, reputational and financial risks from any failure to protect client and/or company data from security incidents or cyberattacks; the markets in which Accenture operates are highly competitive, and Accenture might not be able to compete effectively; Accenture's ability to attract and retain business and employees may depend on its reputation in the marketplace; Accenture's environmental, social and governance (ESG) commitments and disclosures may expose it to reputational risks and legal liability; if Accenture does not successfully manage and develop its relationships with key ecosystem partners or fails to anticipate and establish new alliances in new technologies, the company's results of operations could be adversely affected; Accenture's profitability could materially suffer if the company is unable to obtain favorable pricing for its services and solutions, if the company is unable to remain competitive, if its cost-management strategies are unsuccessful or if it experiences delivery inefficiencies or fail to satisfy certain agreed-upon targets or specific service levels; changes in Accenture's level of taxes, as well as audits, investigations and tax proceedings, or changes in tax laws or in their interpretation or enforcement, could have a material adverse effect on the company's effective tax rate, results of operations, cash flows and financial condition; Accenture's results of operations could be materially adversely affected by fluctuations in foreign currency exchange rates; changes to accounting standards or in the estimates and assumptions Accenture makes in connection with the preparation of its consolidated financial statements could adversely affect its financial results; as a result of Accenture's geographically diverse operations and strategy to continue to grow in key markets around the world, the company is more susceptible to certain risks; if Accenture is unable to manage the organizational challenges associated with its size, the company might be unable to achieve its business objectives; Accenture might not be successful at acquiring, investing in or integrating businesses, entering into joint ventures or divesting businesses; Accenture's business could be materially adversely affected if the company incurs legal liability; Accenture's global operations expose the company to numerous and sometimes conflicting legal and regulatory requirements; Accenture's work with government clients exposes the company to additional risks inherent in the government contracting environment; if Accenture is unable to protect or enforce its intellectual property rights or if Accenture's services or solutions infringe upon the intellectual property rights of others or the company loses its ability to utilize the intellectual property of others, its business could be adversely affected; Accenture may be subject to criticism and negative publicity related to its incorporation in Ireland; as well as the risks, uncertainties and other factors discussed under the "Risk Factors" heading in Accenture plc's most recent Annual Report on Form 10-K and other documents filed with or furnished to the Securities and Exchange Commission. In addition, the timing and amount of costs related to Accenture's business optimization actions and the nature and extent of benefits realized from such actions are subject to uncertainties and other factors, including local country consultation processes and regulations, and may differ from its current expectations and estimates. Statements in this news release speak only as of the date they were made, and Accenture undertakes no duty to update any forward-looking statements made in this news release or to conform such statements to actual results or changes in Accenture's expectations.

# # #

Contacts:

Lara Wozniak
Accenture
+1 858 2528 208
lara.wozniak@accenture.com

Jens Derksen
Accenture
+49 175 57 61393
jens.derksen@accenture.com

Copyright © 2023 Accenture. All rights reserved. Accenture and its logo are trademarks of Accenture.

This content is provided for general information purposes and is not intended to be used in place of consultation with our professional advisors. This document refers to marks owned by third parties. All such third-party marks are the property of their respective owners. No sponsorship, endorsement or approval of this content by the owners of such marks is intended, expressed or implied.