May 02, 2023
Accenture to Accelerate Blue Yonder's Development and Delivery of New Solutions; Companies Expand Relationship to Increase Adoption of Modern, Connected Supply Chains

NEW YORK and SCOTTSDALE, Ariz.; May 2, 2023 – To provide organizations with supply chains that are resilient, responsive and sustainable, Accenture (NYSE: ACN) will leverage its technology and domain expertise to support Blue Yonder in the engineering and delivery of new solutions and capabilities, as part of a strategic expansion of their relationship. Together, the companies plan to help organizations compress transformation and reinvent their supply chains to fuel profitable growth and optimize costs, while doing good for people and the planet.
Accenture cloud-native platform engineers and industry experts will work with Blue Yonder to engineer, define, validate and build new solutions on the Blue Yonder Luminate® Platform. The companies will take the solutions and offerings to market together to joint clients, leveraging Accenture's delivery experience. The collaboration combines Accenture's expertise in data integration, interoperability and industries with Blue Yonder's supply chain platform for planning, fulfillment and delivery.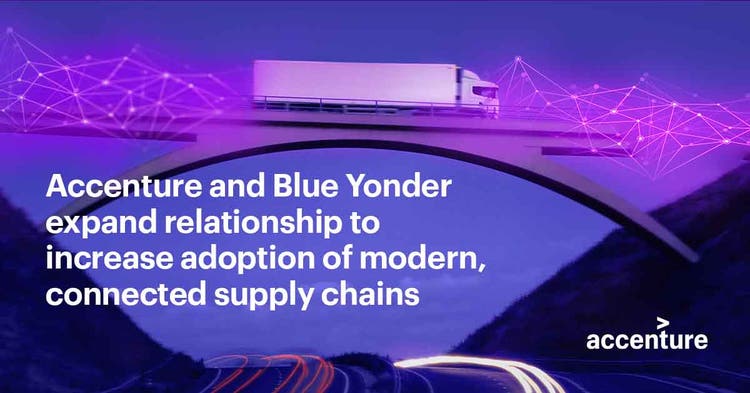 "Companies have invested heavily in their supply chains to boost inventory and capacity. Now they must focus on building resilience and agility to drive growth and profitability," said Paul Daugherty, group chief executive - Technology and chief technology officer, Accenture. "With the strategic expansion of our decades-long relationship, Accenture will work with Blue Yonder to design and build new solutions to provide clients with the supply chain of the future—which is less centralized, more modular and enabled by digital technology."

Accenture will work with clients through a broader co-innovation strategy to accelerate the adoption of Blue Yonder's solutions. Accenture will also provide Blue Yonder with access to research and development capabilities, helping it explore and advance the use of emerging technologies, such as generative artificial intelligence (AI), process mining and robotics process automation.

Duncan Angove, CEO, Blue Yonder, said, "With constant disruptions and geo-political situations escalating, companies need their supply chains to be more resilient and agile than ever before. This unique way of working with Accenture will not only help to accelerate time to market for our solutions but ensure we are offering solutions that the market needs when it needs it. This expanded relationship will greatly benefit our joint clients, providing them with end-to-end supply chain offerings that meet their needs and help their business grow and profit."

Blue Yonder's Luminate Platform provides end-to-end supply chain synchronization across planning and execution to meet clients' business needs and optimize outcomes. The unified ecosystem and AI and machine learning capabilities of the platform enables prescriptive recommendations, integrated workflows and continuous optimization of the supply chain.

Accenture and Blue Yonder have been working together for more than two decades to help clients synchronize inventory planning and forecasting through warehousing, transformation and fulfillment, and apply predictive analytics to profitably fulfill demand and exceed customer expectations. They have supported hundreds of engagements for clients in 80 countries and across 19 industries.

About Accenture
Accenture is a leading global professional services company that helps the world's leading businesses, governments and other organizations build their digital core, optimize their operations, accelerate revenue growth and enhance citizen services—creating tangible value at speed and scale. We are a talent and innovation led company with 738,000 people serving clients in more than 120 countries. Technology is at the core of change today, and we are one of the world's leaders in helping drive that change, with strong ecosystem relationships. We combine our strength in technology with unmatched industry experience, functional expertise and global delivery capability. We are uniquely able to deliver tangible outcomes because of our broad range of services, solutions and assets across Strategy & Consulting, Technology, Operations, Industry X and Accenture Song. These capabilities, together with our culture of shared success and commitment to creating 360° value, enable us to help our clients succeed and build trusted, lasting relationships. We measure our success by the 360° value we create for our clients, each other, our shareholders, partners and communities. Visit us at www.accenture.com.

About Blue Yonder
Blue Yonder is the world leader in digital supply chain transformations and omni-channel commerce fulfillment. Our end-to-end, cognitive business platform enables retailers, manufacturers and logistics providers to best fulfill customer demand from planning through delivery. With Blue Yonder, you'll unify your data, supply chain and retail commerce operations to unlock new business opportunities and drive automation, control and orchestration to enable more profitable, sustainable business decisions. Blue Yonder - Fulfill your Potential™ blueyonder.com
# # #


Contacts:

Hannah Unkefer
Accenture
+1 206 839 2172
hannah.m.unkefer@accenture.com

Marina Renneke, APR
Blue Yonder
+1 480 308 3037
marina.renneke@blueyonder.com

Copyright © 2023 Accenture. All rights reserved. Accenture and its logo are trademarks of Accenture.
"Blue Yonder" is a trademark or registered trademark of Blue Yonder Group, Inc. Any trade, product or service name referenced in this document using the name "Blue Yonder" is a trademark and/or property of Blue Yonder Group, Inc. All other company and product names may be trademarks, registered trademarks or service marks of the companies with which they are associated.