June 28, 2023
Accenture Song Wins Dan Wieden
Titanium Grand Prix for Tuvalu "The First Digital Nation"

Tuvalu recognized as the first nation to fight for digital sovereignty as it begins losing its land to climate catastrophe

CANNES, France; Jun. 28, 2023 – At the 2023 Cannes Lions International Festival of Creativity, Accenture Song, part of Accenture (NYSE: ACN), won the most prestigious award of the show—The Dan Wieden Titanium Grand Prix, which celebrates game-changing creativity that breaks new industry ground—for Tuvalu, "The First Digital Nation."
Due to climate change, the Pacific Island of Tuvalu risks becoming the first country to be submerged from rising sea levels due to climate change. The work, created by The Monkeys—part of Accenture Song—is recognized for re-establishing the tenets of what defines a country, especially when it has no land.

The creation of the first nation with digital sovereignty preserves not only the country of Tuvalu by protecting its borders and creating digital ones that are officially recognized, but also protects its identity, cultural practices and stories while driving urgent attention and action around climate change.

This is the second consecutive year that Accenture Song, the world's largest tech-powered creative group, has clinched a Cannes Lions top honor since its brand evolution. Last year, Accenture Song took home the Direct Lions Grand Prix for its Super Bowl spot "Less Talk, More Bitcoin" for Coinbase.

"This work isn't just a tech idea. It's far more than storytelling. It's about changing perception, changing precedence, and reshaping international law," said David Droga, chief executive officer of Accenture Song. "By creating digital borders, the team is helping the people of Tuvalu protect their rights, enable climate adaptation and mitigation. I am proud of the team for creating a solution that will contribute to a lasting impact on our world."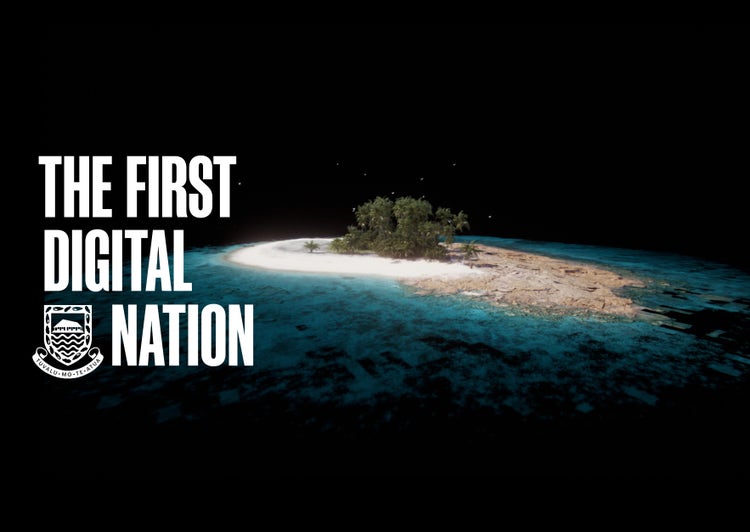 "The First Digital Nation," created by The Monkeys, part of Accenture Song, for the Government of Tuvalu
wins the Dan Wieden Titanium Grand Prix
Launched at the annual United Nations Climate Change Conference (COP27), Simon Kofe, minister for justice, communication and foreign affairs for Tuvalu, spoke in a three-minute address, which gradually revealed he was speaking from the first part of the digital nation, the Te Afualika islet. Days after the announcement, a fund for historic loss and damage was established. To-date, 10 nations have agreed to legally recognize the permanency of Tuvalu's sovereignty regardless of what happens to its physical land—redefining what it means to be a country.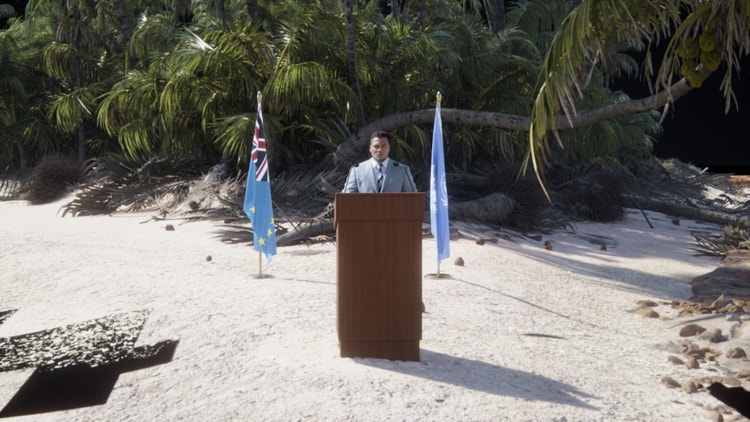 Minister Kofe delivered his COP27 address from digital islet, Te Afualiku
Tara Ford, chief creative officer of The Monkeys, part of Accenture Song, said: "Tuvalu has been fighting climate change for over 30 years. Without land, you don't have a nation. You don't have a place on the world's stage. Our mission was to help them protect their sovereignty even when the land has gone. We are honored to receive this very special award."

Accenture Song also took home a Silver Lion in Sustainable Development Goals Lion and a Bronze Film Lion for Tuvalu "The First Digital Nation." The Monkeys also took home a Bronze Film Lion for MacPac "Weather Anything."

Droga5 New York won two Silvers in Film for Levi's "Legends Never Die" and "Fair Exchange" campaigns and an Industry Craft Silver Lion for Levi's "The Greatest Story Ever Worn." Accenture Song also won a Media Bronze Lion for Borussia Dortmund "A Hand Ball That Could Save Your Life" and Droga5 New York took home a Brand Experience and Activation Bronze Lion for "The High Stakes Beer Ad" for Blue Moon.

Celebrating creativity since 1954, the Cannes Lions Festival of Creativity is considered the most prestigious international advertising and creativity showcase. This year, the awards returned to Cannes, France, for its seventieth year with more than 26,000 entries from across the world to compete to become the global benchmark for excellence in creativity and effectiveness for the year ahead.
Tuvalu, 'The First Digital Nation' Video
About Accenture
Accenture is a leading global professional services company that helps the world's leading businesses, governments and other organizations build their digital core, optimize their operations, accelerate revenue growth and enhance citizen services—creating tangible value at speed and scale. We are a talent and innovation led company with 732,000 people serving clients in more than 120 countries. Technology is at the core of change today, and we are one of the world's leaders in helping drive that change, with strong ecosystem relationships. We combine our strength in technology with unmatched industry experience, functional expertise and global delivery capability. We are uniquely able to deliver tangible outcomes because of our broad range of services, solutions and assets across Strategy & Consulting, Technology, Operations, Industry X and Accenture Song. These capabilities, together with our culture of shared success and commitment to creating 360° value, enable us to help our clients succeed and build trusted, lasting relationships. We measure our success by the 360° value we create for our clients, each other, our shareholders, partners and communities. Visit us at www.accenture.com.

# # #

Contact:

Tina Janczura
Accenture Song
+1 312 719 5608
tina.janczura@accenture.com