According to the report, Accenture's consistency in winning Salesforce Partner Innovation Awards and recognition with the highest industry expertise level indicates its capability and credibility in the market. Additionally, clients recognized Accenture for its track record of successful implementations, technology-functional expertise, and a global talent pool of industry cloud resources. Accenture was the only provider to be measured 'high' in the Value Delivered and Vision and Strategy capabilities.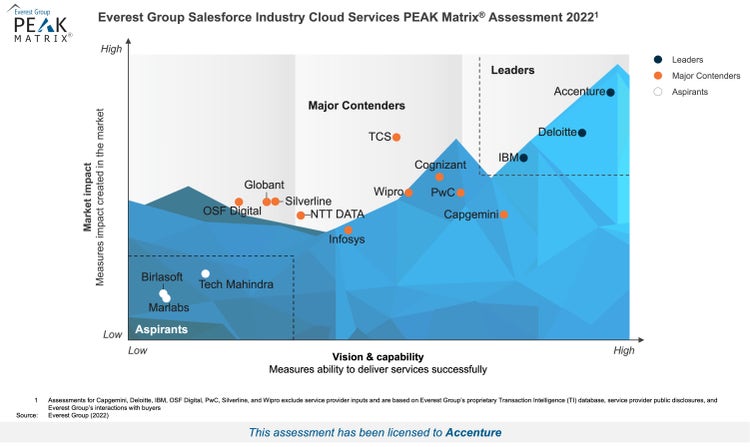 "Accenture is strongly positioned as the overall market leader in Salesforce Industry Cloud services for its consulting-led approach to helping clients with their largest transformations," said Yugal Joshi, partner, Everest Group. "Accenture stands out for the value and transformational impact it delivers to clients, as well as for its innovative vision, future roadmap and strategy."

Other strengths highlighted in the report include Accenture's ability to orchestrate capabilities through thought leadership; and its strong suite of industry-focused IP tools, frameworks and solutions to expedite time-to-market.

"Accenture's overall Leader position demonstrates our ability to solve complex problems and accelerate value for our clients with Salesforce Industry Cloud at the core," said Deb Corrao, senior managing director, Accenture Salesforce Business Group. "We remain committed to investing in critical Salesforce talent and skills that allow us to continue to shape the future of business and industries."

Everest Group's definition of the scope of Salesforce Industry Cloud services includes IT services delivered for all Salesforce Industry Cloud products and industry solutions built by service providers that are certified and hosted on the Salesforce marketplace. For this report, Everest Group assessed the Salesforce capabilities of 16 Salesforce providers.

With more than 48,000 Salesforce-skilled professionals, Accenture is certified in all Salesforce industries and clouds. For more information on the Accenture and Salesforce relationship, visit https://www.accenture.com/salesforce.

The Everest Group Salesforce Industry Cloud Services PEAK Matrix® Assessment 2022 report is available here.

About Accenture
Accenture is a leading global professional services company that helps the world's leading businesses, governments and other organizations build their digital core, optimize their operations, accelerate revenue growth and enhance citizen services—creating tangible value at speed and scale. We are a talent and innovation led company with 738,000 people serving clients in more than 120 countries. Technology is at the core of change today, and we are one of the world's leaders in helping drive that change, with strong ecosystem relationships. We combine our strength in technology with unmatched industry experience, functional expertise and global delivery capability. We are uniquely able to deliver tangible outcomes because of our broad range of services, solutions and assets across Strategy & Consulting, Technology, Operations, Industry X and Accenture Song. These capabilities, together with our culture of shared success and commitment to creating 360° value, enable us to help our clients succeed and build trusted, lasting relationships. We measure our success by the 360° value we create for our clients, each other, our shareholders, partners and communities. Visit us at www.accenture.com.

# # #
Contact:

Hannah Unkefer
Accenture
+1 206 839 2172
hannah.m.unkefer@accenture.com

Copyright © 2022 Accenture. All rights reserved. Accenture and its logo are trademarks of Accenture. This content is provided for general information purposes and is not intended to be used in place of consultation with our professional advisors. This document refers to marks owned by third parties. All such third-party marks are the property of their respective owners. No sponsorship, endorsement or approval of this content by the owners of such marks is intended, expressed or implied.

Salesforce and others are among the trademarks of salesforce.com, inc.