January 10, 2023
Accenture Positioned as Top Leader in Healthcare Provider Digital Services PEAK Matrix® Assessment 2023 by Everest Group

NEW YORK; Jan. 10, 2023 – Accenture (NYSE: ACN) has been recognized as the Leader in the "Healthcare Provider Digital Services PEAK Matrix® Assessment 2023" report by industry analyst firm Everest Group.
Accenture scored higher than all competitors in both Market Impact and Vision & Capability for its ability to drive digital transformation across the healthcare provider value chain, including patient engagement, care management, financials and network management. Everest highlights Accenture's strong technology partner ecosystem, wide global footprint, depth of industry knowledge and continued investments to strengthen its existing capabilities through acquisitions such as Gevity, Root and Workforce Insight.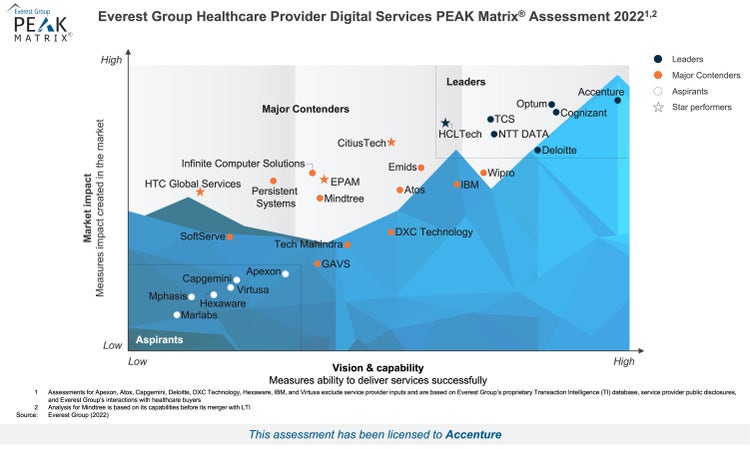 Rich Birhanzel, a senior managing director at Accenture who leads its Health industry practice globally, said, "Data and technology combined with human ingenuity are opening new possibilities in healthcare and allowing organizations to create truly personalized and relevant experiences that meet all patient needs. Everest's recognition is a testament to the strength and differentiation of our healthcare expertise and industry-leading digital capabilities that help our clients reinvent care delivery to improve access, experiences and outcomes of healthcare."

According to the report, the overall provider digital services market is close to US$5 billion and is expected to grow at a CAGR of 8.7% between 2021 and 2025 as healthcare providers look to future-proof their technology estate and enable resilient business models. Key business themes such as payer-provider collaboration, population health management, interoperability and evolving care models are driving the demand for digital adoption among providers.

Chunky Satija, Vice President at Everest Group, said, "The COVID-19 pandemic accelerated digitization in the healthcare industry and brought into focus new demand themes, such as value-based care, virtual care, and hyper-personalization. To meet the changing demands, providers are increasingly embracing technologies such as AI, cloud, and analytics. Accenture has a comprehensive portfolio of offerings across the provider value chain along with in-house IPs such as PExA (Patient Experience Accelerator), and AHA (Accenture Healthcare on Azure) which are helping drive value for clients by accelerating their digital transformation journeys. Accenture's global presence, deep domain knowledge, and recent acquisitions, including Gevity, have helped to deepen its existing consulting and digital capabilities as well as enabling its positioning as a Leader in Everest Group's Healthcare Provider Digital Services PEAK Matrix® Assessment 2023."

Everest notes that Accenture has expanded its capabilities across the value chain, offering end-to-end solutions in most use cases. The report also details Accenture's strong focus on security services and capabilities for helping healthcare organizations address threats and mitigate the consequences of cyberattacks through security solutions.

Accenture was named a leader in Everest Group's previously released Healthcare Payer Digital Services PEAK Matrix® Assessment 2022 and Healthcare Analytics Services PEAK Matrix Assessment 2022. Everest Group's Healthcare Provider Digital Services PEAK Matrix® presents an assessment of 27 healthcare service providers based on a range of distinct metrics related to capability and market impact.

About Accenture
Accenture is a leading global professional services company that helps the world's leading businesses, governments and other organizations build their digital core, optimize their operations, accelerate revenue growth and enhance citizen services — creating tangible value at speed and scale. We are a talent and innovation led company with 738,000 people serving clients in more than 120 countries. Technology is at the core of change today, and we are one of the world's leaders in helping drive that change, with strong ecosystem relationships. We combine our strength in technology with unmatched industry experience, functional expertise and global delivery capability. We are uniquely able to deliver tangible outcomes because of our broad range of services, solutions and assets across Strategy & Consulting, Technology, Operations, Industry X and Accenture Song. These capabilities, together with our culture of shared success and commitment to creating 360° value, enable us to help our clients succeed and build trusted, lasting relationships. We measure our success by the 360° value we create for our clients, each other, our shareholders, partners and communities. Visit us at www.accenture.com.
# # #


Contact:

Maggie Nolan
Accenture
+1 917 452 3964
margaret.d.nolan@accenture.com

Copyright © 2023 Accenture. All rights reserved. Accenture and its logo are trademarks of Accenture.