The report noted, "Accenture drives differentiation in the Salesforce services market on its strong advisory and design capabilities, technical talent base, and expertise in driving experience-led transformation initiatives across diverse industries in the Asia/Pacific region."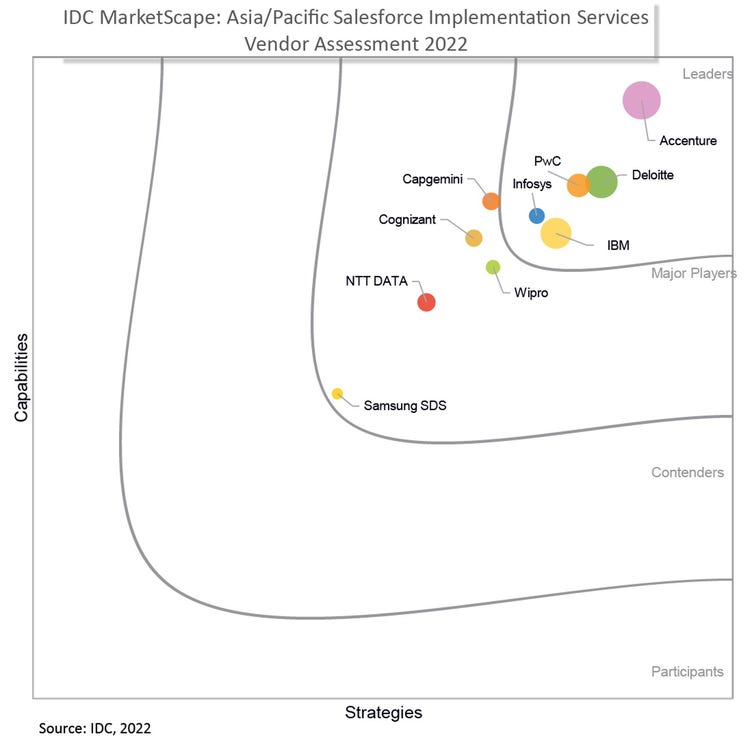 "To be positioned as a leader again (Doc #AP4621142, Nov 2020) in Salesforce implementation services in Asia Pacific reflects Accenture's ability to deliver large transformational projects, accelerating client value," said Jun Shinohara, Accenture Salesforce Business Group Growth Markets lead at Accenture. "Accenture's continual commitment to investing in our people and skills, obsession with industry-led innovation and data driven results help us to solve our clients' most complex business problems."

The report states that "Accenture's strong talent pool across the Asia/Pacific region, partnership maturity with Salesforce, expertise as a digital agency, and depth of industry solutions make it a good fit for large enterprises looking to reimagine CX and scale Salesforce-led front-office transformations across multiple geographies."

Specific strengths of Accenture cited in the report include:
Large talent pool. Accenture had one of the largest numbers of skilled resources dedicated to Salesforce implementation services with nearly 12,000 practitioners working from various locations in Asia/Pacific. Accenture also showcased a strong talent development focus across core Salesforce products, MuleSoft, and Tableau. Currently, Accenture possesses over 30,000 Salesforce certifications across solution areas.
Industrialized delivery. Accenture leverages its suite of intellectual property assets and accelerators to drive industrialization in Salesforce service delivery. This approach has helped Accenture ensure high quality, speed, and predictability throughout its implementation projects.
CX transformation expertise. Accenture has made several key acquisitions in Asia/Pacific and globally to expand its capabilities as a digital and brand agency. Over the years, it has leveraged its agency expertise, led by Accenture Song, to build several transformative solutions on the Salesforce platform, making it well suited to reimagine customer journeys and CX.
The IDC MarketScape report assessed Accenture and nine other Salesforce implementation vendors in Asia/Pacific based on both the strength of their current service capabilities and how well-placed they are to grow Salesforce adoption with their sound growth strategy.

For more information on the Accenture and Salesforce relationship, visit https://www.accenture.com/salesforce

About IDC MarketScape
IDC MarketScape vendor assessment model is designed to provide an overview of the competitive fitness of ICT (information and communications technology) suppliers in a given market. The research methodology utilizes a rigorous scoring methodology based on both qualitative and quantitative criteria that results in a single graphical illustration of each vendor's position within a given market. IDC MarketScape provides a clear framework in which the product and service offerings, capabilities and strategies, and current and future market success factors of IT and telecommunications vendors can be meaningfully compared. The framework also provides technology buyers with a 360-degree assessment of the strengths and weaknesses of current and prospective vendors.

About Accenture
Accenture is a leading global professional services company that helps the world's leading businesses, governments and other organizations build their digital core, optimize their operations, accelerate revenue growth and enhance citizen services—creating tangible value at speed and scale. We are a talent and innovation led company with 738,000 people serving clients in more than 120 countries. Technology is at the core of change today, and we are one of the world's leaders in helping drive that change, with strong ecosystem relationships. We combine our strength in technology with unmatched industry experience, functional expertise and global delivery capability. We are uniquely able to deliver tangible outcomes because of our broad range of services, solutions and assets across Strategy & Consulting, Technology, Operations, Industry X and Accenture Song. These capabilities, together with our culture of shared success and commitment to creating 360° value, enable us to help our clients succeed and build trusted, lasting relationships. We measure our success by the 360° value we create for our clients, each other, our shareholders, partners and communities. Visit us at www.accenture.com.

# # #

Contact

Hannah Unkefer
Accenture
+1 206 839 2172
hannah.m.unkefer@accenture.com

Copyright © 2023 Accenture. All rights reserved. Accenture and its logo are trademarks of Accenture.

Salesforce and others are among the trademarks of salesforce.com, inc.