January 18, 2023
Accenture Named Top Leader in Open Finance IT Services by Everest Group

NEW YORK; Jan. 18, 2023 – Accenture (NYSE: ACN) has been named a Leader in open finance IT services in a report by industry analyst firm Everest Group.
In the report, titled "Open Finance IT Services PEAK Matrix® Assessment 2022," Accenture is positioned as a Leader for both Market Impact, which assesses service providers against criteria such as market adoption, portfolio mix and value delivered to clients; and Vision & Capability, which measures firms' strategy, scope of services, innovation & investments, and delivery.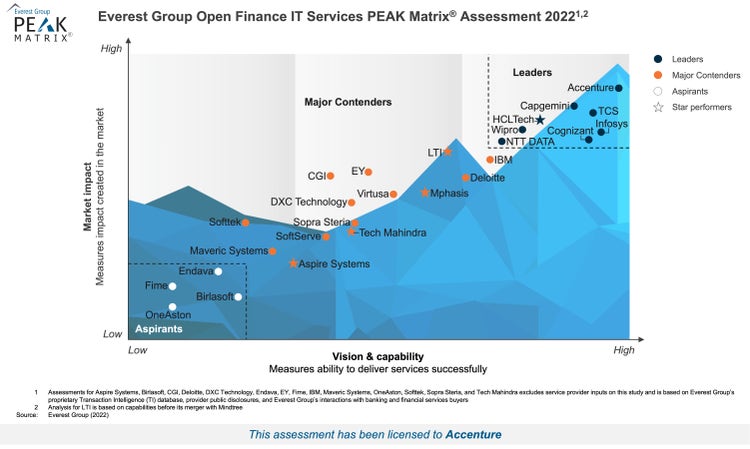 Accenture named Top Leader in Everest Group's Open Finance IT Services PEAK Matrix
Open finance extends the scope of open banking beyond payments services and uses additional datasets, such as credit, mortgages, wealth management, insurance and investments, to create new financial services offerings. With customers' consent, their financial data can be accessed by trusted third parties to provide more tailored services and products. Embedded finance, buy now, pay later, and super-apps are all recent examples of customer-centric solutions that stemmed from the concept of open finance.

According to Everest Group, Accenture has been driving open finance strategies for banks and market participants and collaborating with regulators globally to shape the open finance agenda. The report notes that Accenture has dedicated partnerships with fintechs, data providers and ecosystem players; innovative solutions for deploying open finance platforms; and a focus on developing talent through relevant training and certifications.

"Accenture has bolstered its open finance capabilities through a mix of acquisitions, talent investments, and development of accelerators," said Pranati Dave, practice director, Everest Group. "Clients referenced Accenture's strong open finance expertise and initiatives, as well as its wide partnership ecosystem and innovation labs, which have helped it earn recognition as a Leader."

Amit Mallick, Accenture's open finance lead, said, "As open banking evolves into open finance, Accenture is helping banks, fintechs, and non-financial institutions such as retailers, tech firms and telecoms providers, leverage their diverse datasets to launch new propositions for consumers and businesses. Our end-to-end technology capabilities and deep cross-industry expertise support clients across the entire lifecycle of their open finance journeys. The ultimate destination for firms is open data, where customers can share select data across all aspects of their lives — to receive more intuitive and personalized products."

The report analyzed 26 service providers on several capability-related dimensions and is based on RFI responses from service providers, client reference checks and an ongoing analysis of the open finance banking and financial services market.

More information on the assessment can be found here.

About Accenture
Accenture is a leading global professional services company that helps the world's leading businesses, governments and other organizations build their digital core, optimize their operations, accelerate revenue growth and enhance citizen services—creating tangible value at speed and scale. We are a talent and innovation led company with 738,000 people serving clients in more than 120 countries. Technology is at the core of change today, and we are one of the world's leaders in helping drive that change, with strong ecosystem relationships. We combine our strength in technology with unmatched industry experience, functional expertise and global delivery capability. We are uniquely able to deliver tangible outcomes because of our broad range of services, solutions and assets across Strategy & Consulting, Technology, Operations, Industry X and Accenture Song. These capabilities, together with our culture of shared success and commitment to creating 360° value, enable us to help our clients succeed and build trusted, lasting relationships. We measure our success by the 360° value we create for our clients, each other, our shareholders, partners and communities. Visit us at www.accenture.com.

# # #

Contacts:

Michael McGinn
Accenture
+1 312 693 5707
m.mcginn@accenture.com

Victoria Ancell
Accenture
+44 7746 277759
v.ancell@accenture.com

Copyright © 2023 Accenture. All rights reserved. Accenture and its logo are trademarks of Accenture.