February 10, 2023
Accenture Named a Leader in Cloud Migration and Managed Services in Asia Pacific by Leading Independent Research Firm

SINGAPORE; Feb. 10, 2023 – Accenture (NYSE: ACN) has been named as a Leader in "The Forrester Wave™: Cloud Migration And Managed Service Partners In Asia Pacific, Q4 2022." The report states that "Accenture's scale, broad capabilities, and deep partnerships are hard to match."
The Forrester Wave report includes a comprehensive 27-criteria assessment of the 14 top cloud migration and managed service providers in Asia Pacific across three high-level categories: "Current Offering"; "Strategy"; and "Market Presence." Accenture received the highest scores in all three categories. Client references and buyer feedback were also factored into each provider's evaluation.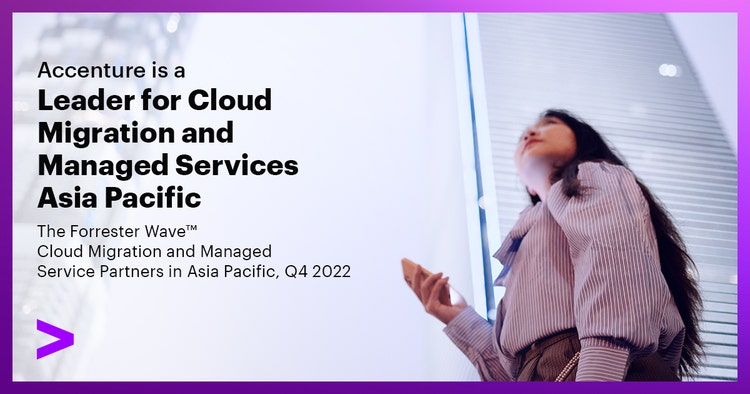 In its evaluation of Accenture, the report notes that:
Accenture takes a cloud-first strategy to deliver an integrated set of capabilities through its cloud factories across a continuum of services.
Accenture offers comprehensive support services for knowledge transfer, including both design and execution engagements. The company has broad and deep partnerships with global hyperscalers and with the extended ecosystem of industry bodies.
Overall, Accenture's ongoing investments have strengthened its service delivery with assets, accelerators, and platforms. The company's cloud solutions, including cloud security, are tailored to the diverse needs of the APAC market.
Customers that need to simplify the cloud journey story in complex or regulated industries will value Accenture's balance of technical and business acumen.
"Cloud First is about more than technology. It's a new approach to business and a new way of working. It helps companies shape, move and operate their business in the cloud such that they can keep pace with and even advance business and technology change," said Ryoji Sekido, Cloud First Lead for Asia Pacific, Africa and Middle East at Accenture. "We believe that being named a Leader in this report validates our work and differentiates Cloud First capabilities. By focusing on technology, people and processes, our balanced approach can enable organizations for total business reinvention."

More information on The Forrester Wave™: Cloud Migration And Managed Service Partners In Asia Pacific, Q4 2022 can be found here.

About Accenture
Accenture is a leading global professional services company that helps the world's leading businesses, governments and other organizations build their digital core, optimize their operations, accelerate revenue growth and enhance citizen services—creating tangible value at speed and scale. We are a talent and innovation led company with 738,000 people serving clients in more than 120 countries. Technology is at the core of change today, and we are one of the world's leaders in helping drive that change, with strong ecosystem relationships. We combine our strength in technology with unmatched industry experience, functional expertise and global delivery capability. We are uniquely able to deliver tangible outcomes because of our broad range of services, solutions and assets across Strategy & Consulting, Technology, Operations, Industry X and Accenture Song. These capabilities, together with our culture of shared success and commitment to creating 360° value, enable us to help our clients succeed and build trusted, lasting relationships. We measure our success by the 360° value we create for our clients, each other, our shareholders, partners and communities. Visit us at www.accenture.com.

# # #

Contacts:

Mylissa Tsai
Accenture
+1 617 488 7932
mylissa.tsai@accenture.com

Garima Misra Punia
Accenture
+65 64107733
garima.misra.punia@accenture.com

Copyright © 2023 Accenture. All rights reserved. Accenture and its logo are trademarks of Accenture.