February 09, 2023
Accenture Named a Leader and Star Performer in Everest Group's PEAK Matrix® for Guidewire Services

NEW YORK; Feb. 9, 2023 – Accenture (NYSE: ACN) has been named a Leader and Star Performer in the 2023 Everest Group PEAK Matrix® for Guidewire Services. The Star Performer title is given to providers that have achieved the greatest year-on-year positive movement on the PEAK Matrix – highlighting that Accenture's leading position in the market has strengthened.
Everest Group notes that P&C insurers are increasingly looking to adopt third-party core platforms such as Guidewire to address the limitations of legacy core systems and drive back to front office transformation to future-proof their IT estates.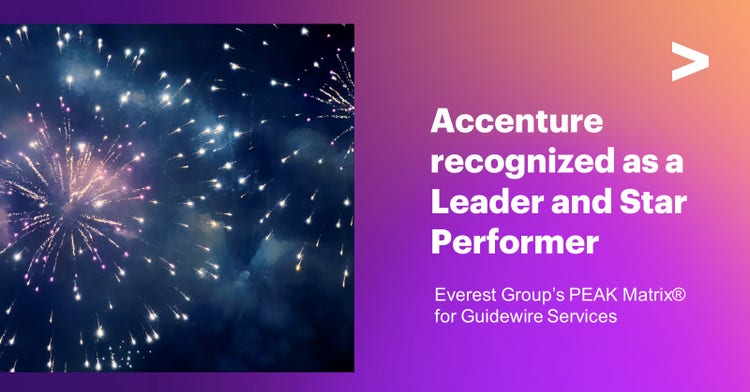 According to Everest Group, Accenture's strengths include its wide coverage across the core transformation journey, from initial product road-mapping and implementation to maintenance and support, and product enhancement services. Additionally, it noted Accenture's extensive solutions that can be integrated with Guidewire, such as artificial intelligence (AI) and machine learning powered damage assessment for auto and property, its cognitive workers' compensation solution and conversational AI bot for claims.

"Accenture has demonstrated a strategic focus to expand in the Guidewire services market, making targeted investments to scale its certified resource pool as well as building multiple AI-based tools that can be integrated with Guidewire," said Aaditya Jain, Vice President, Everest Group. "Its robust value proposition to address insurers' IT services needs across the core modernization journey, targeted assets to support the adoption of Guidewire Cloud and Digital products, and strong client recognition on resource quality have helped Accenture earn recognition as a Leader and a Star Performer in Everest Group's Guidewire Services PEAK Matrix® Assessment 2022."

John Koepke, technology lead for Accenture's Insurance industry group in North America, said, "We continue to invest in our platform ecosystem, as evidenced by our recent acquisition of Blackcomb Consultants, a leading Guidewire partner. Amid market disruption and heightened consumer expectations, insurers are turning to platforms such as Guidewire to enable digital transformation, using technologies like AI and analytics to improve productivity and create hyper-personalized offerings for their customers."

The report assessed 24 Guidewire service providers and was based on RFI responses, interactions with leading Guidewire service providers, client reference checks and an ongoing analysis of the Guidewire services market.

Everest Group's Guidewire Services PEAK Matrix® Assessment 2023 can be viewed here.

About Accenture
Accenture is a leading global professional services company that helps the world's leading businesses, governments and other organizations build their digital core, optimize their operations, accelerate revenue growth and enhance citizen services—creating tangible value at speed and scale. We are a talent and innovation led company with 738,000 people serving clients in more than 120 countries. Technology is at the core of change today, and we are one of the world's leaders in helping drive that change, with strong ecosystem relationships. We combine our strength in technology with unmatched industry experience, functional expertise and global delivery capability. We are uniquely able to deliver tangible outcomes because of our broad range of services, solutions and assets across Strategy & Consulting, Technology, Operations, Industry X and Accenture Song. These capabilities, together with our culture of shared success and commitment to creating 360° value, enable us to help our clients succeed and build trusted, lasting relationships. We measure our success by the 360° value we create for our clients, each other, our shareholders, partners and communities. Visit us at www.accenture.com.

# # #

Contact:

Victoria Holmes
Accenture
+44 7446 277749
victoria.holmes@accenture.com

Copyright © 2023 Accenture. All rights reserved. Accenture and its logo are trademarks of Accenture.