January 10, 2023
Accenture Life Insurance & Annuity Platform Achieves "Luminary" Status and Wins XCelent Award


Celent recognizes ALIP's technology for the third consecutive time, having won the biennial award in 2018 and 2020

NEW YORK; Jan. 10, 2023 – Accenture (NYSE: ACN) has received the XCelent Advanced Technology 2022 Award for its new business and underwriting solution from research and advisory firm Celent.
The Celent report titled, "New Business and Underwriting Systems: North America Individual Life Insurance Edition," recognizes the Accenture Life Insurance & Annuity Platform (ALIP) as one of the highest-rated solutions among nine new business and underwriting systems in the Advanced Technology category, awarded every two years. Additionally, ALIP's high scores placed it in the "Luminary" category based on its sophistication and breadth of technology, Celent's top rank within its new Technical Capability Matrix.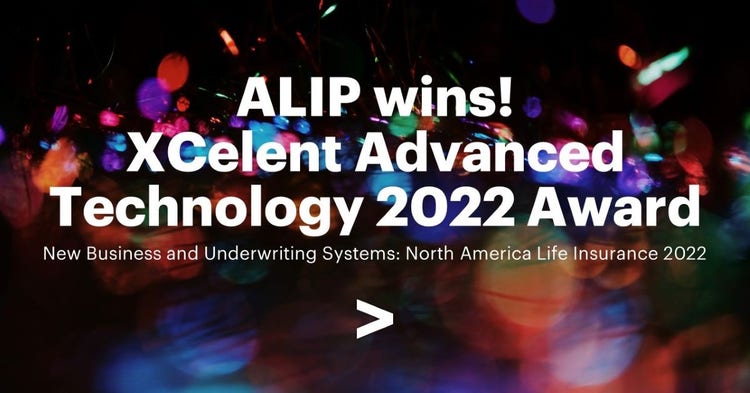 ALIP is a robust and configurable cloud-native digital insurance platform underpinned by data analytics. It offers life insurance carriers and annuity providers advanced capabilities for product development, new-business development, underwriting, policy administration, claims and pay-out. It is available as an integrated suite of software with modules that can be implemented individually or as part of a broader migration strategy.

Karen Monks, a senior analyst in Celent's North American insurance practice, said, "Celent believes that ALIP New Business and Underwriting is a strong candidate for an insurer looking to automate its new business and underwriting process."

"We believe that this recognition, particularly as a Luminary, is a reflection of Accenture's investments in AI, automation and cloud, which are critical in helping life insurers accelerate underwriting and policy decision making," said Shay Alon, who leads Accenture's Life and Annuity Products and Platforms business. "By leveraging ALIP's technology, our clients are able to run more efficient operations, deliver improved customer experiences and drive profitable growth."

Accenture Life Insurance & Annuity Platform (ALIP) is part of Accenture Life Insurance Services. Learn more at www.accenture.com/lifeandannuitysoftware.

About Accenture
Accenture is a leading global professional services company that helps the world's leading businesses, governments and other organizations build their digital core, optimize their operations, accelerate revenue growth and enhance citizen services — creating tangible value at speed and scale. We are a talent and innovation led company with 738,000 people serving clients in more than 120 countries. Technology is at the core of change today, and we are one of the world's leaders in helping drive that change, with strong ecosystem relationships. We combine our strength in technology with unmatched industry experience, functional expertise and global delivery capability. We are uniquely able to deliver tangible outcomes because of our broad range of services, solutions and assets across Strategy & Consulting, Technology, Operations, Industry X and Accenture Song. These capabilities, together with our culture of shared success and commitment to creating 360° value, enable us to help our clients succeed and build trusted, lasting relationships. We measure our success by the 360° value we create for our clients, each other, our shareholders, partners and communities. Visit us at www.accenture.com.

# # #

Contact:

Victoria Ancell
Accenture
+44 7446 27759
v.ancell@accenture.com

Copyright © 2023 Accenture. All rights reserved. Accenture and its logo are trademarks of Accenture.