June 15, 2023
Accenture Invests in Virtual Reality-Based, Diversity and Inclusion Learning Platform Praxis Labs

NEW YORK; June 15, 2023 – Accenture (NYSE: ACN) has invested in New York-based Praxis Labs, a software-as-a-service virtual reality (VR) company with an end-to-end immersive learning platform that helps users develop soft skills to drive equity, inclusion, and value in the workplace and beyond. The investment was led by Accenture Ventures as part of its broader Project Spotlight initiative.
Funded through Accenture's Black Founders Development Program, this investment reflects Accenture's ongoing commitment to providing black entrepreneurs with funding, connections with Accenture clients and ecosystem partners, and community engagement to help support a new generation of innovators in growing their companies and building generational wealth.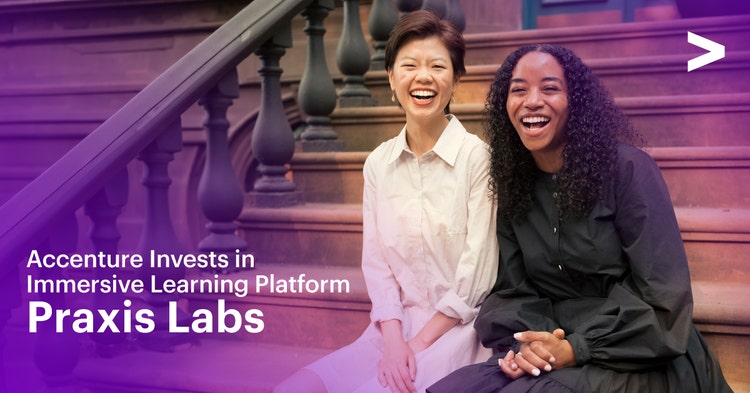 Founded in 2019 with the goal of making workplaces—and society—more equitable, Praxis Labs combines the power of evidenced-based curriculum with learning science, immersive workplace scenarios in VR/MR, and actionable insights to improve equity and inclusion for learners and clients, and ultimately, drive individual and organizational change. The platform leverages immersive learning to target key areas across the talent lifecycle and highlight what individuals and organizations can do to create workplaces that work better for everyone as well as deliver products and services that better serve everyone.

Accenture's Black Founders Development Program helps Black technology startup founders advance and grow their businesses through direct access to venture capital, corporate mentorship and strategic connections with Accenture business partners and clients. The program makes strategic investments in early-stage, Black-founded and -run software startups and other market development initiatives, applying Accenture's vast technology, innovation and investment expertise and powerful network of technology ecosystem partners.

"Black founder innovations, ingenuity and insights are not being brought to fruition largely because they aren't receiving adequate funding and support to get their ideas off the ground. Accenture's Black Founders Development Program was launched to help these entrepreneurs pursue their dreams and achieve their goals," said Kathryn Ross, global Liquid Studios lead and the Black Founders Development Program lead for Accenture Ventures. "Praxis Labs already provides its immersive diversity and inclusion training offerings to many Fortune 500 companies, and we look forward to introducing them to our clients and partners around the world and supporting their mission of delivering meaningful impact and change."

Like Accenture, Praxis Labs partners with the world's leading enterprises to solve some of their most pressing business challenges, such as employee engagement, retention, and innovation. To this end, Praxis Labs has launched updates to its platform that allows greater flexibility for learners and program administrators. With these new features, learners can enjoy Praxis' immersive content on-demand, and as needed. Administrators gain more agency in designing learning journeys that meet the moments that matter most for their people across the talent lifecycle, from hiring to performance reviews and everything in between.

Accenture's investment demonstrates its ongoing commitment to reducing the disparities in wealth that exist for Black founders. Previous research from Accenture revealed that Black founders receive less than 1% of funds invested in the U.S., even amidst rising and historic VC levels in the ecosystem overall and even with a rising number of Black entrepreneurs. A more recent Accenture analysis of the same group found that while Black founders are receiving 1.7x more deals than their non-Black founder counterparts from comparable demographics, they're receiving 42% less funding on average per deal. Such a paradox presents considerable implications and challenges to Black founders, and further necessitates taking action to help achieve parity.

"Three years after the murder of George Floyd, the general consensus is that not enough has been done to effectively address diversity and inclusion issues in corporate America. Developing 'human skills' like how to give fact-based feedback or how to navigate difficult conversations are required to create workplaces that are psychologically safe and enable all perspectives to be heard," said Elise Smith, co-founder and CEO, Praxis Labs. "Immersive equity and inclusion training can play a powerful role in helping companies achieve their goal of having all their employees show up each day confident and equipped to work across differences and build products and services that serve the diversity of their clients and customers. We believe the support of Accenture Ventures, and in particular the Black Founders Development Program, will help us advance our mission of providing workplace leaders with solutions that drive inclusion, innovation, and value at scale, and ultimately, create a more equitable society."

As part of Project Spotlight, Praxis Labs will have access to Accenture's domain expertise and its enterprise clients, and the opportunity to co-innovate with Accenture at its Innovation Hubs, Labs and Liquid Studios, working with subject matter experts to adapt its solutions to the enterprise market and scale faster and more effectively.

Launched in 2015, Accenture Ventures makes targeted equity investments in emerging technology startups, matching their capabilities with the business needs and priorities of Accenture's clients. Its Open Innovation arm acts as a bridge to the global innovation ecosystem by bringing Accenture's clients together with best-in-class, enterprise-relevant startups to unlock their growth potential and accelerate digital transformation.

About Accenture
Accenture is a leading global professional services company that helps the world's leading businesses, governments and other organizations build their digital core, optimize their operations, accelerate revenue growth, and enhance citizen services—creating tangible value at speed and scale. We are a talent and innovation led company with 738,000 people serving clients in more than 120 countries. Technology is at the core of change today, and we are one of the world's leaders in helping drive that change, with strong ecosystem relationships. We combine our strength in technology with unmatched industry experience, functional expertise, and global delivery capability. We are uniquely able to deliver tangible outcomes because of our broad range of services, solutions and assets across Strategy & Consulting, Technology, Operations, Industry X and Accenture Song. These capabilities, together with our culture of shared success and commitment to creating 360° value, enable us to help our clients succeed and build trusted, lasting relationships. We measure our success by the 360° value we create for our clients, each other, our shareholders, partners, and communities. Visit us at www.accenture.com.

About Praxis Labs
Praxis Labs is an immersive learning platform focused on embedding equity and inclusion throughout the employee lifecycle. By combining immersive technology and research-backed curricula, Praxis' platform allows learners to navigate authentic workplace scenarios, practice key 'human skills' like having difficult conversations or giving feedback that equip them to show up as inclusive leaders in the workplace. Praxis Labs' current clients like Uber, ServiceNow, and Ericsson, leverage Praxis' platform to drive behavior and systems changes that improve belonging, engagement, retention, and ultimately productivity and innovation.

# # #

Contact:

Christian Harper
Accenture
+1 917 452 4417
christian.harper@accenture.com

Copyright © 2023 Accenture. All rights reserved. Accenture and its logo are trademarks of Accenture.