April 12, 2023
Accenture Invests in Virtonomy to Help Medical Technology Companies Use Digital Twin Technology to Accelerate Time to Market for Medical Devices

MUNICH and NEW YORK; April 12, 2023 – Accenture (NYSE: ACN) has made a strategic investment, through Accenture Ventures, in Virtonomy, a provider of data-driven simulations that use existing patient data and digital twin technology to bring life-saving medical devices to market more quickly. Accenture's investment will help Virtonomy further extend its capabilities to medical technology (MedTech) companies across the globe and power the future of medical device design.
Virtonomy's digital twin simulation solution enables medical device manufacturers to build model patient virtual environments for device testing at a reduced cost and with a lesser degree of regulatory complexity. The solution is based on an ever-expanding database of real clinical data that reflects factors such as anatomical variability, demographic diversity, and pathological conditions.

"Digital twin technology, alongside data, analytics and AI, is opening the door to endless new possibilities to reinvent the life sciences industry," said Tom Lounibos, managing director of Accenture Ventures. "But there must always be a strong data foundation to build accurate digital twin simulations. We will work with Virtonomy to set a strategy for real-time data collection that includes high-quality historic data, as well as continuous data monitoring and validation from new sources."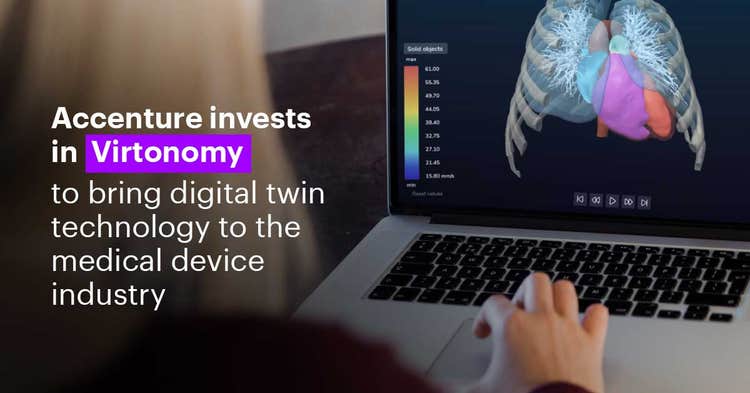 For instance, Virtonomy's solution can use existing data from clinical trials with children to create virtual environments where medical devices can be easily set up, adjusted and validated, and potential impact is seen immediately. This approach saves time and still meets regulatory and ethical demands. Based in Munich, Germany, Virtonomy comprises an interdisciplinary team of experts in medical engineering, image and data processing, visualization and clinical practice.

Petra Jantzer, Ph.D., a senior managing director and global lead of the Accenture Life Sciences practice, said, "MedTech companies are prioritizing digital health by investing in R&D, technology, digital transformation and creating new business models. Virtonomy's digital twin technology can help enhance medical device design in a virtual patient setting, accelerating development timelines and reducing costs, risk, and regulatory barriers. Virtonomy is reinventing how medical devices are safely and quickly brought to patients."

"The medical device industry is facing increasing complexity in development processes, impacting risk, cost, and time-to-market for critical medical devices," said Dr. Simon J. Sonntag, co-founder and CEO of Virtonomy. "Digital twin technology can help address these challenges and tapping into Accenture's expertise in data strategy and management will help Virtonomy expand our existing database of clinical data, with essential data and actionable insights that can streamline the medical device manufacturing process."

The Accenture Technology Vision 2023 report, "When Atoms Meet Bits: The Foundations of Our New Reality
,
" expands on the benefits of digital twin technology, noting that digital twins create a "window of transparency" that frees up more data. According to the report, "this allows owners and operators to more easily visualize, query, and analyze digital twins at different levels of granularity and scale, effectively empowering them to make better informed, more actionable decisions."

This investment is part of Accenture Venture's Project Spotlight, an engagement and investment program that targets emerging technology software companies that can help fill strategic innovation gaps for the Global 2000. In addition to capital investments, Accenture Venture's Project Spotlight offers unprecedented access to Accenture's technology domain expertise and its enterprise clients. Technology companies co-innovate with Accenture at its Innovation Hubs, Labs, and Liquid Studios, working with subject matter experts to adapt their solutions to the enterprise market and scale faster and more effectively.

About Accenture
Accenture is a leading global professional services company that helps the world's leading businesses, governments and other organizations build their digital core, optimize their operations, accelerate revenue growth and enhance citizen services—creating tangible value at speed and scale. We are a talent and innovation led company with 738,000 people serving clients in more than 120 countries. Technology is at the core of change today, and we are one of the world's leaders in helping drive that change, with strong ecosystem relationships. We combine our strength in technology with unmatched industry experience, functional expertise and global delivery capability. We are uniquely able to deliver tangible outcomes because of our broad range of services, solutions and assets across Strategy & Consulting, Technology, Operations, Industry X and Accenture Song. These capabilities, together with our culture of shared success and commitment to creating 360° value, enable us to help our clients succeed and build trusted, lasting relationships. We measure our success by the 360° value we create for our clients, each other, our shareholders, partners and communities. Visit us at www.accenture.com.

About Virtonomy
Virtonomy GmbH was founded in late 2019 by Dr. Simon Sonntag (CEO) and Wen-Yang Chu (CTO) in Munich, Germany, and develops a cloud-based solution, enabling the continued digitalization of the design and execution phases of clinical studies for medical devices using digital patient twins based on a large amount of imaging, physiological and pathological data. The overarching goal is to use data-based digital patient twins to end the need for animal and human testing during clinical studies. Virtonomy currently employs a staff of 15+ and combines expertise from the fields of medical technology, medical image processing, artificial intelligence as well as numerical simulation and visualization using extended reality. For more information, visit www.virtonomy.io.

# # #

Contact:

Julie Bennink
Accenture
+1 312 693 7301
julie.l.bennink@accenture.com

Copyright © 2023 Accenture. All rights reserved. Accenture and its logo are registered trademarks of Accenture.