June 20, 2023
Accenture Invests in Parfin to Build Responsible, Compliant Web3 Infrastructure for Financial Institutions


Brazilian company is first Accenture Ventures "Project Spotlight" investment in Latin America

NEW YORK and SAO PAULO; June 20, 2023 – Accenture (NYSE: ACN) has made a strategic investment through Accenture Ventures in Parfin, a leading provider of responsible, compliant Web3 infrastructure services to financial institutions in Latin America. Founded in 2019, with headquarters in London and Rio de Janeiro, Parfin offers digital asset custody, trading, tokenization and management tools to some of Latin America's largest financial institutions. Accenture's investment in Parfin marks its first Accenture Ventures "Project Spotlight" investment in Latin America.
The next iteration of the Internet will require new forms of digital ownership that will be powered by technologies such as blockchain, AI, and confidential computing that enable new forms of digital currency, digital identity, and digital assets. Parfin is currently developing Parchain, a permissioned blockchain technology that is designed to enable regulated entities to participate in decentralized finance (DeFi) and asset tokenization. This technology enables financial institutions to participate in this new digital economy and is well-positioned to play a role in broadening the scope of the Digital Real, Brazil's central bank digital currency.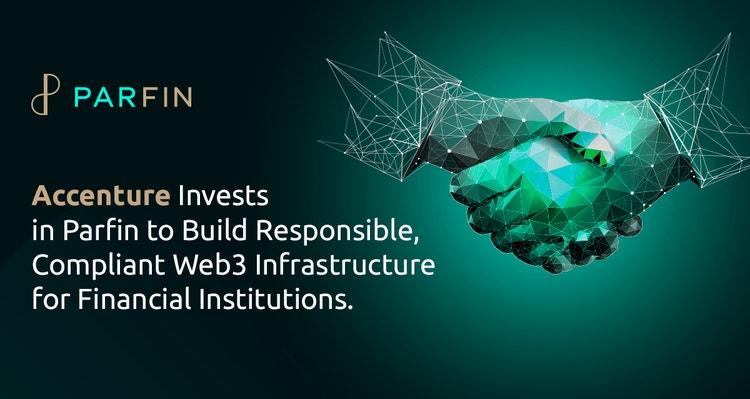 "Web3, new forms of digital identity and end-to-end digital asset platforms like Parfin's are challenging global financial services organizations to rethink their digital asset strategies," said Mauricio Barbosa, Financial Services group lead, Accenture Brazil. "Powered by Parfin's enterprise-grade digital assets and blockchain infrastructure, Accenture is accelerating and enabling Brazil's largest financial services institutions to leverage digital asset transactions with a compliant, secure technology platform."

"The digital asset economy is extremely relevant to Accenture and our clients, and with our deep expertise in financial services, we are uniquely positioned to capture this emerging opportunity," said Leonardo Framil, Growth Markets CEO at Accenture. "Web3 requires new infrastructure that financial institutions, particularly those in emerging growth markets, don't have, and we believe Parfin is a perfect fit with our strategy to advance the adoption of digital currency around the world."

In March 2022, Accenture formed the Accenture Metaverse Continuum business group, which combines metaverse-skilled professionals and deep capabilities in customer experience, digital commerce, extended reality, blockchain, digital twins, artificial intelligence and generative AI to help clients design, execute and accelerate their spatial experiences and digital ownership journeys.

"Accenture's global presence, coupled with its industry expertise in technology and financial services, makes them an ideal strategic investor to help us advance our development of next generation infrastructure for the global adoption of digital assets," said Marcos Viriato, co-founder and CEO of Parfin. "With Accenture's support, and the introductions they can make on our behalf, we are even better positioned to help our existing clients in Brazil execute their digital asset strategies and expand our solution offerings to new clients in other parts of Latin America and around the world."

Parfin is the latest company to join Accenture Ventures' Project Spotlight, an engagement and investment program focused on investing in companies that create or apply disruptive enterprise technologies. In addition to funding, Project Spotlight connects emerging technology startups with the Global 2000 to fill strategic innovation gaps and offers extensive access to Accenture's domain expertise and enterprise clients, helping startups harness human creativity and deliver on the promise of their technology.

Terms of the investment were not disclosed.

About Accenture
Accenture is a leading global professional services company that helps the world's leading businesses, governments and other organizations build their digital core, optimize their operations, accelerate revenue growth and enhance citizen services—creating tangible value at speed and scale. We are a talent and innovation led company with 738,000 people serving clients in more than 120 countries. Technology is at the core of change today, and we are one of the world's leaders in helping drive that change, with strong ecosystem relationships. We combine our strength in technology with unmatched industry experience, functional expertise and global delivery capability. We are uniquely able to deliver tangible outcomes because of our broad range of services, solutions and assets across Strategy & Consulting, Technology, Operations, Industry X and Accenture Song. These capabilities, together with our culture of shared success and commitment to creating 360° value, enable us to help our clients succeed and build trusted, lasting relationships. We measure our success by the 360° value we create for our clients, each other, our shareholders, partners and communities. Visit us at www.accenture.com.

About Parfin
Parfin is the leading Web3 infrastructure provider in Latin America. With prominent clients in its portfolio, ranging from banks to crypto-native companies, its platform provides institutions with an end-to-end solution for custody, trading, tokenization, and digital asset management. Its mission is to accelerate institutional Web3 adoption through solutions that simplify access to the ecosystem while maintaining the highest and best standards of security, robustness, and compliance required by these companies. For more information, visit www.parfin.io.

# # #

Contacts:

Jenn Francis
Accenture
+1 630 338 6426
jennifer.francis@accenture.com

Copyright © 2023 Accenture. All rights reserved. Accenture and its logo are trademarks of Accenture.