February 16, 2023
Accenture Invests in Ocean Genomics to Accelerate AI-driven Drug Discovery and the Development of Personalized Medicines

NEW YORK; Feb. 16 , 2023 – Accenture (NYSE: ACN) has made a strategic investment, through Accenture Ventures, in Ocean Genomics, a technology and AI company that has developed advanced computational platforms to assist biopharma companies to discover and develop more effective diagnostics and therapeutics.
Based in Pittsburgh, Ocean Genomics creates software that provides modeling and an understanding of changes and variants in mRNA to enable a more accurate prediction of a patient's biological response to a drug. The expression of mRNA is a central biological process that occurs in every cell and helps govern nearly all aspects of normal functioning and is often disrupted in disease. In collaboration with Ocean Genomics, biopharma companies use the technology in in-silico drug discovery to develop treatments based on an individual's personal biology. The global personalized medicine market size is expected to reach more than $796 billion by 2028.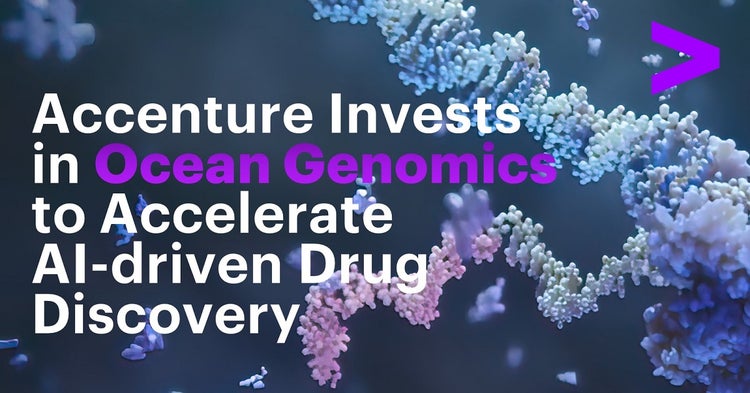 Petra Jantzer, Ph.D., a senior managing director and global lead of Accenture's Life Sciences practice, said, "The growth of in-silico in the discovery of individualized treatments and disease interventions will change how we care for people around the world. We made this strategic investment in Ocean Genomics to help biopharma companies better utilize genomic and transcriptomic data and AI in drug discovery to develop targeted therapeutics at a higher pace and bring them to market faster."

Scientific and technological advancements are creating breakthroughs for patient health, resulting in more complex and personalized therapies. This New Science, a dynamic combination of the best in science and health technology, is expected to drive 81 percent of biopharma revenue growth.

" As biopharma companies move to increasingly precise and effective therapies, they seek the talent, technology and insights to enable more personalized, data-driven drug discovery," said Carl Kingsford, Ph.D., co-founder and CEO of Ocean Genomics. "With the support of, and collaboration with, Accenture, we will be even better positioned to help the biopharma industry develop more effective diagnostics and therapeutics."

Ocean Genomics is now a part of Accenture Ventures' Project Spotlight, an engagement and investment program that connects emerging technology startups with the Global 2000 to fill strategic innovation gaps. Project Spotlight offers extensive access to Accenture's domain expertise and its enterprise clients, helping startups harness human creativity and deliver on the promise of their technology.

"Ocean Genomics' technology platform integrates gene expression, molecular features, clinical and genomics data and advanced AI algorithms to better understand and predict the biological impact of diseases and therapies," said Tom Lounibos, managing director, Accenture Ventures. "With Ocean Genomics now part of Project Spotlight, we will look to collaborate with our clients in the Life Sciences industry and beyond on new ways to combine RNA, AI and other emerging technologies to advance drug development, personalized medicine, and human health."

Terms of the transaction were not disclosed.

About Accenture
Accenture is a leading global professional services company that helps the world's leading businesses, governments and other organizations build their digital core, optimize their operations, accelerate revenue growth and enhance citizen services—creating tangible value at speed and scale. We are a talent and innovation led company with 738,000 people serving clients in more than 120 countries. Technology is at the core of change today, and we are one of the world's leaders in helping drive that change, with strong ecosystem relationships. We combine our strength in technology with unmatched industry experience, functional expertise and global delivery capability. We are uniquely able to deliver tangible outcomes because of our broad range of services, solutions and assets across Strategy & Consulting, Technology, Operations, Industry X and Accenture Song. These capabilities, together with our culture of shared success and commitment to creating 360° value, enable us to help our clients succeed and build trusted, lasting relationships. We measure our success by the 360° value we create for our clients, each other, our shareholders, partners and communities. Visit us at www.accenture.com.

About Ocean Genomics
Ocean Genomics is the Intelligent Transcriptome company. We make the software and provide services that enable our partners to leverage advanced transcriptomic information and AI to advantage their discovery and development programs. We partner with cutting-edge drug developers to supply insights and evidence that enable data-driven decisions, provide confidence in the underlying biology, and increase the probability of technical and clinical success at every step. Our founders are recognized as leading experts in the fields of computational biology and AI, and developers of many of the most widely used software methods in gene expression analysis. Our Intelligent Transcriptome computing platforms extract extensive gene expression features and analyses from raw RNA-Seq files (TxomeAI®), and automatically integrate those features with clinical and other -omics to produce accurate, actionable models, and discover drug targets and biomarkers (DiscoverAI™). Our vast database (DeepSea™) provides deeply characterized transcriptomes, curated metadata, and pre-trained AI models to add power to discovery and analyses. For more information, please visit oceangenomics.com and connect with us on Twitter and LinkedIn.

# # #

Contacts:

Maggie Nolan
Accenture
+1 917 452 3964
margaret.d.nolan@accenture.com

Christian Harper
Accenture
+1 917 452 4417
christian.harper@accenture.com

Copyright © 2023 Accenture. All rights reserved. Accenture and its logo are trademarks of Accenture.