January 23, 2023
Accenture Invests in Cosmo Tech, Expanding Clients' Access to Digital Twin Simulation Technology

NEW YORK; Jan. 23, 2023 – Accenture (NYSE: ACN) has made a strategic investment in Cosmo Tech, a global provider of digital twin simulation and optimization technology. The agreement, through Accenture Ventures, took place during the first phase of the company´s Series C fundraising.
Cosmo Tech's 360˚ Simulation Digital Twin platform allows organizations to explore and test business changes in order to see the potential immediate and long-term impact. The cloud-native platform uses data from current systems to test an unlimited number of scenarios and automatically find the optimal action plan. This enables organizations to more easily and quickly find new ways to achieve goals including cost reduction, improved resiliency and efficiency, and lessening environmental impact. Founded in 2010, Cosmo Tech's solutions have helped asset-intensive organizations increase profit by 5% across complex supply chains, and cut capital and operating expenses by 10-15%.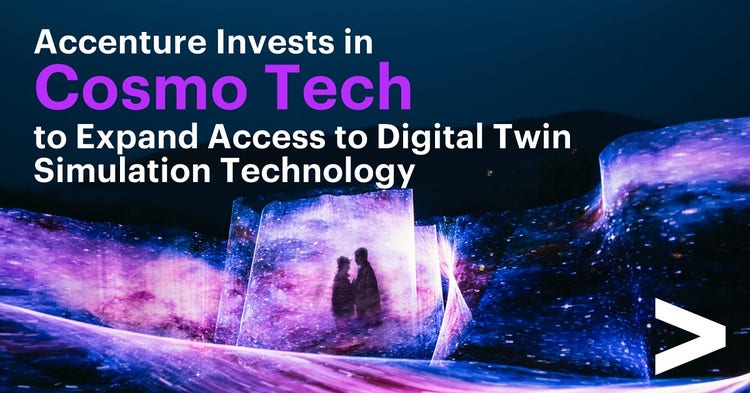 "Accenture and Cosmo Tech's partnership is built on a common vision of enterprise reinvention by using data and technology to create new ways to engage with customers and build new opportunities for growth," said Tom Lounibos, managing director, Accenture Ventures. "Accenture's reach and capabilities will extend Cosmo Tech's digital twin simulation technology to our clients across the world, helping them to optimize planning and become more resilient."

"We are thrilled to welcome Accenture Ventures as investors in Cosmo Tech," added Hugues de Bantel, co-founder and CEO of Cosmo Tech. "Their vote of confidence in Cosmo Tech and our game-changing simulation digital twin technology will support our efforts to help organizations across multiple industries shape their future and make the best choices to meet their profitability, productivity and sustainability goals in an uncertain time."

Michel Morvan, co-founder and Executive Chairman, Cosmo Tech, said: "Digital twin simulation technology brings a new way for organizations to understand and manage complex supply chain operations. We look forward to working with Accenture Ventures to empower organizations to become agile drivers of change and to lead with confidence."

This investment is part of Accenture Venture's Project Spotlight, an engagement and investment program that targets emerging technology software companies that can help fill strategic innovation gaps for the Global 2000. In addition to capital investments, Accenture Venture's Project Spotlight offers unprecedented access to Accenture's technology domain expertise and its enterprise clients. Technology companies co-innovate with Accenture at its Innovation Hubs, Labs and Liquid Studios, working with subject matter experts to adapt their solutions to the enterprise market and scale faster and more effectively.

About Accenture
Accenture is a leading global professional services company that helps the world's leading businesses, governments and other organizations build their digital core, optimize their operations, accelerate revenue growth and enhance citizen services—creating tangible value at speed and scale. We are a talent and innovation led company with 738,000 people serving clients in more than 120 countries. Technology is at the core of change today, and we are one of the world's leaders in helping drive that change, with strong ecosystem relationships. We combine our strength in technology with unmatched industry experience, functional expertise and global delivery capability. We are uniquely able to deliver tangible outcomes because of our broad range of services, solutions and assets across Strategy & Consulting, Technology, Operations, Industry X and Accenture Song. These capabilities, together with our culture of shared success and commitment to creating 360° value, enable us to help our clients succeed and build trusted, lasting relationships. We measure our success by the 360° value we create for our clients, each other, our shareholders, partners and communities. Visit us at www.accenture.com

About Cosmo Tech
Cosmo Tech designs Simulation Digital Twin software to solve the most complex industrial problems and lead enterprise decision making. This next-gen hybrid AI technology provides 360° simulation that predicts the evolution of an organization in uncertain environments to better understand the impact of decisions and to optimize all levels of enterprise planning. With this 360° view of the organization, decision makers can run unlimited scenarios to anticipate all possible futures even under conditions that have never occurred before. Leading companies from the manufacturing, automotive, energy, and transport sectors rely on Cosmo Tech scalable solutions to ensure a future that is robust, resilient, and sustainable.

# # #

Contact:

Julie Bennink
Accenture
+1 312 693 7301
julie.l.bennink@accenture.com

Copyright © 2023 Accenture. All rights reserved. Accenture and its logo are registered trademarks of Accenture.