May 24, 2023
Accenture Federal Services Wins Position on IRS Blanket Purchase Agreement with $2.6B Ceiling Value


Company to Help Make Tax Return Processing Faster and More Secure for Millions of Americans

ARLINGTON; May 24, 2023 – The Internal Revenue Service (IRS) has awarded Accenture Federal Services a position on an Internal Revenue Service (IRS) systems modernization blanket purchase agreement. The award has a ceiling value of $2.6B.
Under the terms of the Enterprise Development, Operations Services (EDOS) blanket purchase agreement, Accenture Federal Services will compete for future task orders to support the IRS applications development office with creating new ways for taxpayers and tax professionals to interact with the agency.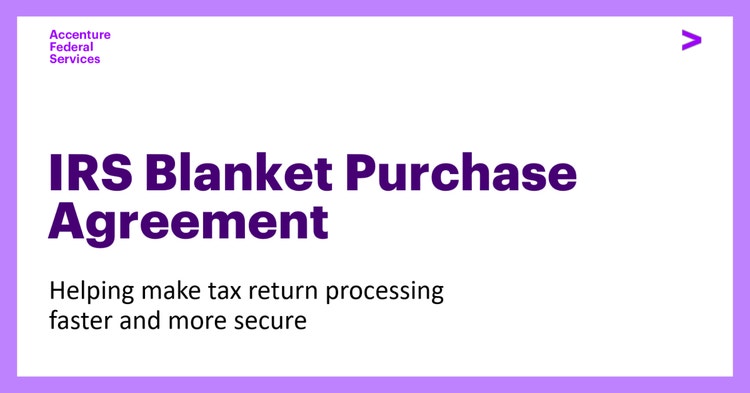 The EDOS contract vehicle brings all 400-plus systems in the IRS's applications development portfolio under one contract vehicle to modernize existing systems, build out analytics, and improve cybersecurity.

"The IRS had the foresight and vision to create a contract vehicle with the ability to keep up with, or even ahead of, new legislative demands," said Jessica Powell, a managing director in Accenture Federal Services and IRS client lead. "These reforms will result in faster processing of returns and quicker distributions of the credits and benefits that are vital to so many Americans. We're thrilled to offer support to the IRS as they make these technology enhancements happen."

"We're honored to support the IRS' push to develop innovative ways for America's millions of taxpayers to interact securely and effectively with the agency," said Elaine Beeman, a senior managing director for the Accenture Federal Services Civilian portfolio.

EDOS has a period of performance of seven years.

Accenture Federal Services is a subsidiary of Accenture (NYSE: ACN).

About Accenture Federal Services
Accenture Federal Services is a leading US federal services company and subsidiary of Accenture LLP. We empower the federal government to solve challenges, achieve greater outcomes, and build a digital core that is agile, smart, and secure. Our 13,000 people are united in a shared purpose to advance our clients' mission-critical priorities that make the nation stronger and safer, and life better for people. We draw out the best of Accenture's global network in nearly every industry, bringing proven commercial innovation to solutions built with advanced R&D, emerging technologies, and human-centered design at speed and scale. Together, we help clients create lasting value for their workforce, customers, and partners and make a difference for the country and our communities. See how we make change that matters at accenturefederal.com.

About Accenture
Accenture is a leading global professional services company that helps the world's leading businesses, governments and other organizations build their digital core, optimize their operations, accelerate revenue growth, and enhance citizen services—creating tangible value at speed and scale. We are a talent and innovation led company with 738,000 people serving clients in more than 120 countries. Technology is at the core of change today, and we are one of the world's leaders in helping drive that change, with strong ecosystem relationships. We combine our strength in technology with unmatched industry experience, functional expertise, and global delivery capability. We are uniquely able to deliver tangible outcomes because of our broad range of services, solutions and assets across Strategy & Consulting, Technology, Operations, Industry X and Accenture Song. These capabilities, together with our culture of shared success and commitment to creating 360° value, enable us to help our clients succeed and build trusted, lasting relationships. We measure our success by the 360° value we create for our clients, each other, our shareholders, partners, and communities. Visit us at www.accenture.com.
# # #

Contact:

Donna Savarese
Accenture Federal Services
+1 301 250 0660
donna.savarese@accenturefederal.com