March 07, 2023
Accenture Collaborates with TELUS on Digital Transformation of its Television and Digital Life Businesses

NEW YORK and VANCOUVER; Mar. 7, 2023 – Accenture (NYSE: ACN) has teamed with TELUS (NYSE: TU) in the development of TELUS' next-generation entertainment and personalized digital life platform for their customers. The companies together are transforming TELUS' television business into a more efficient, agile, and digital skilled organization.
By leveraging Accenture's solutions and experiences in TV software system integrations, TELUS launched an innovative platform for TV and over-the-top (OTT) content in phases that can be accessed on any device at any time. Future capabilities of the platform incorporate technology such as 5G, Internet of Things (IOT) and intelligent automation to enable digital life services such as next-generation health and gaming experiences within the home and beyond.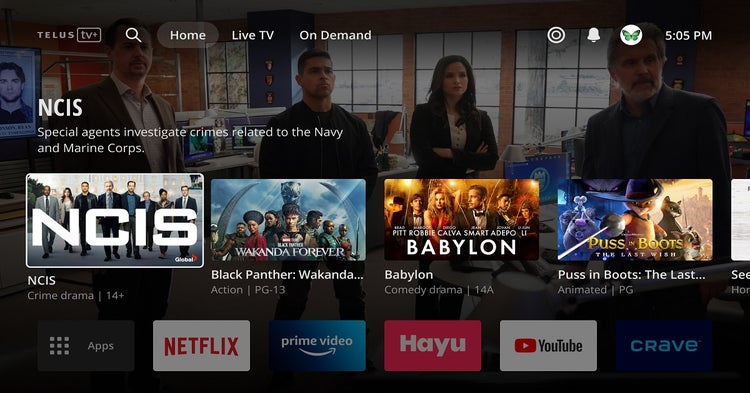 "Starting on a reinvention path requires a new mindset. It is a chance to reimagine how companies do things," said Andrew Marchant, managing director, Accenture. "Our teaming with TELUS has helped the company achieve the technical capabilities, business scalability and innovation mindset it was seeking, while benefiting its customers with the products and experiences they want."

TELUS' new technology platform incorporates Accenture Video Solution, a comprehensive solution that powers digital video businesses from content management to end-user experience and video operations. The combined solution enables TELUS to break away from complex, vendor-dependent ecosystems. Accenture also empowered TELUS with the tools and methods needed to successfully transform into a software-driven organization and extend its platform capabilities for new consumer digital life services.

"Our industry is constantly faced with changing interests of our customers and new monetization avenues for advertisers and partners," said Amit Nag, vice-president, entertainment and enablement, TELUS. "With the support of Accenture, this next-generation TV and OTT platform we have built will better meet and anticipate our customers' evolving content discovery and consumption habits. It will also serve as the cornerstone of new digital life services like smarter home automation, healthcare, cloud gaming, security, VR/AR experiences and more."

Accenture's support of TELUS' digital transformation included cloud native software engineering on Google Cloud, consulting capabilities in product engineering transformation, systems integration services, and infrastructure and application outsourcing. TELUS is continuing to transform into a modern cloud engineering organization—with the ability to build its own technology and innovate.

About Accenture
Accenture is a leading global professional services company that helps the world's leading businesses, governments and other organizations build their digital core, optimize their operations, accelerate revenue growth and enhance citizen services—creating tangible value at speed and scale. We are a talent and innovation led company with 738,000 people serving clients in more than 120 countries. Technology is at the core of change today, and we are one of the world's leaders in helping drive that change, with strong ecosystem relationships. We combine our strength in technology with unmatched industry experience, functional expertise and global delivery capability. We are uniquely able to deliver tangible outcomes because of our broad range of services, solutions and assets across Strategy & Consulting, Technology, Operations, Industry X and Accenture Song. These capabilities, together with our culture of shared success and commitment to creating 360° value, enable us to help our clients succeed and build trusted, lasting relationships. We measure our success by the 360° value we create for our clients, each other, our shareholders, partners and communities. Visit us at www.accenture.com.

About TELUS
TELUS (TSX: T, NYSE: TU) is a dynamic, world-leading communications technology company with $18 billion in annual revenue and 18 million customer connections spanning wireless, data, IP, voice, television, entertainment, video, and security. Our social purpose is to leverage our global-leading technology and compassion to drive social change and enable remarkable human outcomes. Our longstanding commitment to putting our customers first fuels every aspect of our business, making us a distinct leader in customer service excellence and loyalty. The numerous, sustained accolades TELUS has earned over the years from independent, industry-leading network insight firms showcase the strength and speed of TELUS' global-leading networks, reinforcing our commitment to provide Canadians with access to superior technology that connects us to the people, resources and information that make our lives better.

Operating in 30 countries around the world, TELUS International (TSX and NYSE: TIXT) is a leading digital customer experience innovator that designs, builds, and delivers next-generation solutions, including AI and content moderation, for global and disruptive brands across high-growth industry verticals, including tech and games, communications and media and eCommerce and fintech.

TELUS Health is a global healthcare leader, which provides employee and family preventative healthcare and wellness solutions. Our TELUS team, along with our 100,000 health professionals, are leveraging the combination of TELUS' strong digital and data analytics capabilities with our unsurpassed client service to dramatically improve remedial, preventative and mental health outcomes covering 68 million lives, and growing, around the world. As the largest provider of digital solutions and digital insights of its kind, TELUS Agriculture & Consumer Goods enables efficient and sustainable production from seed to store, helping improve the safety and quality of food and other goods in a way that is traceable to end consumers.

Driven by our determination and vision to connect all citizens for good, our deeply meaningful and enduring philosophy to give where we live has inspired TELUS and our team to contribute $1.5 billion, including 2 million days of service since 2000. This unprecedented generosity and unparalleled volunteerism have made TELUS the most giving company in the world. Together, let's make the future friendly.

For more information about TELUS, please visit telus.com, follow us at @TELUSNews on Twitter and @Darren_Entwistle on Instagram.

# # #

Contacts:

Melissa Curtis
Accenture
+1 617 488 5219
melissa.curtis@accenture.com

Lena Chen
TELUS Public Relations
lena.chen@telus.com

Copyright © 2023 Accenture. All rights reserved. Accenture and its logo are trademarks of Accenture.