October 25, 2023
Accenture and TD Bank Unveil Coalition with Disability:IN to Advance Disability Inclusion across the Marketing and Communications Industry


Leading marketers commit to accelerating change within their organizations by advancing representation, employment and accessible content in marketing and communications

NEW YORK; Oct. 25, 2023 – Accenture (NYSE: ACN), a leading global professional services company, and TD Bank, America's Most Convenient Bank ®, today announced the formation of a cross-industry coalition of Chief Marketing Officers (CMOs) and Chief Communications Officers (CCOs) powered by Disability:IN, a leading global organization driving disability inclusion and equality in business. The coalition aims to accelerate disability inclusion across the marketing and communications professions at large by delivering on six shared objectives. Coalition members include CMOs and CCOs from Disability:IN's partner companies such as Adobe, Experian and SAP.

According to the World Health Organization (WHO), an estimated 1.3 billion people, or 16% of the global population, are living with disabilities. Accenture has studied the advantages of disability inclusion since 2018, and its soon-to-be-released study indicates that champions—companies that are going above and beyond in the disability inclusion space—are approximately 25% more likely to outperform their peers in productivity as measured by revenue per employee. However, many organizations seek guidance in adopting sustained disability inclusion practices within their own marketing and communications departments and within their marketing-related content.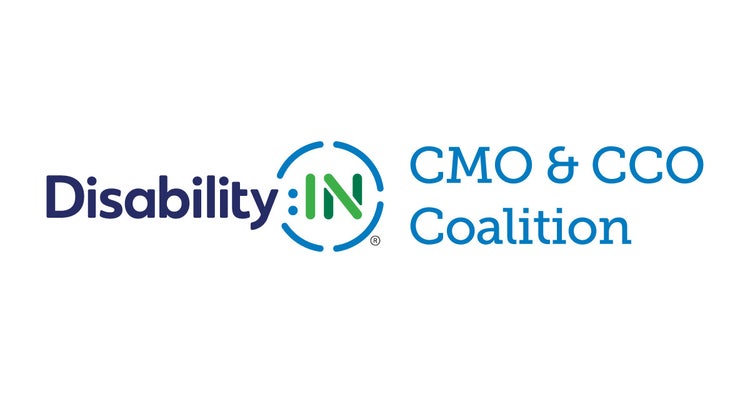 "People with disabilities are the world's largest minority group, yet the opportunity to increase the representation of people with disabilities throughout marketing and communications is enormous. Bringing together this group of cross-industry marketing leaders has the power to shift the narrative around the way we, as a society, view disability," said Jill Houghton, president and CEO, Disability:IN. "We want companies and brands to tap into this incredible market potential as well as employ more marketers and communicators with disabilities, whose lived experiences can help inform more inclusive and authentic messages that resonate with consumers."

Members of the coalition are committed to focusing on measurable and tangible actions related to six shared objectives across the marketing and communications profession and their respective organizations:
Representation: Facilitating the accurate, affirming and authentic representation of people with disabilities throughout marketing and communications.
Education: Fostering awareness and continued learning on accessibility and inclusion best practices in marketing and communications.
Employment: Creating and sustaining marketing and communications employment opportunities for people with disabilities.
Thought Leadership: Acting as thought leaders in this space to elevate the conversation on disability inclusion into the mainstream.
Accessibility Content: Developing strategies for advancing accessible content in marketing and communications.
Community: Amplifying and expanding coalition membership, as well as creating an open community of progress to share and learn about best and evolving practices.
Under the guidance of Disability:IN, the coalition's agenda and activities will be directed by coalition co-chairs Jill Kramer, Chief Marketing and Communications Officer of Accenture and John Pluhowski, Chief Communications Officer of TD Bank, N.A. Coalition members and their teams will regularly convene to advance the six shared objectives, including at the annual Disability:IN Global Conference & Expo in July, to share progress on workstreams, learnings from their organization's disability inclusion efforts and to analyze initiatives and trends focused on disability inclusion in marketing and communications.

"Inclusion and diversity are part of Accenture's DNA, and it's also close to my heart. Being able to unite our people to further advance disability inclusion within our own walls and accelerate representation of persons with disabilities and the sustained creation of accessible content for the industry at large is one of my top priorities this year," said Jill Kramer, Chief Marketing and Communications Officer, Accenture. "This is also just the beginning, as we're inviting every brand and every marketer to join us on this journey, as together we'll go further."

"At TD Bank, our purpose is to enrich lives and build more inclusive tomorrows, not for some but for everyone," said John Pluhowski, Chief Communications Officer, TD Bank, N.A. and Disability:IN Board member. "As marketers and communicators, we experience first-hand every day the power of collaboration and the creativity that results from joining forces. Striving to make content more accessible across industries is imperative, and we're committed as a coalition to delivering on this ambitious goal."

Marketing and communications leaders from organizations committed to disability inclusion are encouraged to join the coalition and may express their interest by contacting info@disabilityin.org. Coalition members benefit from opportunities to define and shape best practices for recruitment, training, production processes, platform changes, education and more to advance efforts to have businesses meet equity and inclusion goals.

About Accenture
Accenture is a leading global professional services company that helps the world's leading businesses, governments and other organizations build their digital core, optimize their operations, accelerate revenue growth and enhance citizen services—creating tangible value at speed and scale. We are a talent- and innovation-led company with approximately 733,000 people serving clients in more than 120 countries. Technology is at the core of change today, and we are one of the world's leaders in helping drive that change, with strong ecosystem relationships. We combine our strength in technology and leadership in cloud, data and AI with unmatched industry experience, functional expertise and global delivery capability. We are uniquely able to deliver tangible outcomes because of our broad range of services, solutions and assets across Strategy & Consulting, Technology, Operations, Industry X and Song. These capabilities, together with our culture of shared success and commitment to creating 360° value, enable us to help our clients reinvent and build trusted, lasting relationships. We measure our success by the 360° value we create for our clients, each other, our shareholders, partners and communities. Visit us at www.accenture.com.

About TD Bank, America's Most Convenient Bank®
TD Bank, America's Most Convenient Bank, is one of the largest banks in the U.S., providing over 10.0 million customers with a full range of retail, small business and commercial banking products and services at more than 1,100 convenient locations throughout the Northeast, Mid-Atlantic, Metro D.C., the Carolinas and Florida. In addition, TD Auto Finance, a division of TD Bank, N.A., offers vehicle financing and dealer commercial services. TD Bank and its subsidiaries also offer customized private banking and wealth management services through TD Wealth®. TD Bank is headquartered in Cherry Hill, N.J. To learn more, visit www.td.com/us. Find TD Bank on Facebook at www.facebook.com/TDBank and on Twitter at www.twitter.com/TDBank_US and www.twitter.com/TDNews_US.

TD Bank, America's Most Convenient Bank, is a member of TD Bank Group and a subsidiary of The Toronto-Dominion Bank of Toronto, Canada, a top 10 financial services company in North America. The Toronto-Dominion Bank trades on the New York and Toronto stock exchanges under the ticker symbol "TD". To learn more, visit www.td.com/us.

About Disability:IN
Disability:IN is a global organization driving disability inclusion and equality in business. More than 500 corporations partner with Disability:IN to create long-term business and social impact through the world's most comprehensive disability inclusion benchmarking and reporting tool, the Disability Equality Index (DEI); best-in-class conferences and programs; expert counsel and engagement; and public policy leadership. Disability:IN's Supplier Diversity Program is the nation's recognized third-party certification program for disability-owned businesses, including businesses owned by service-disabled veterans. To learn more, visit http://disabilityin.org​​.
# # #


Contacts:

Julian McBride
Accenture
+1 917 244 9398
julian.mcbride@accenture.com

Shivani Annirood
TD Bank, N.A.
+1 862 220 9627
Shivani.annirood@td.com

Allyce Torres
Disability:IN
+1 760 519 5666
allyce@disabilityin.org

Copyright © 2023 Accenture. All rights reserved. Accenture and its logo are trademarks of Accenture.