May 04, 2023
Accenture and Cervest Collaborate to Bring Innovative Solutions to Clients Seeking Resilience Amid Increased Climate Risk

NEW YORK and LONDON; May 4, 2023 – Accenture (NYSE: ACN) through its Accenture Ventures Project Spotlight initiative, has entered into a collaboration agreement with Cervest, an AI-powered climate intelligence (CI) platform, that will expand Accenture's capabilities to deliver on-demand access to historical, current and predictive views of combined climate risks to assess and address asset and portfolio vulnerabilities for clients across industries.
Accenture will combine its industry-leading capabilities in ESG intelligence with Cervest's Earth Science AI™, data modeling and machine learning capabilities available through its CI platform and EarthScan™ product. This collaboration will help clients assess and mitigate physical asset risk based on different climate scenarios enabling them to better plan for resilience and inform net zero strategy, while also making climate-related disclosures more transparent.

"As climate-related physical and transition risks become more prevalent, companies need to embed climate considerations into risk mitigation and put effective climate strategy and adaptation at the core of long-term business resilience," said Vrushali Gaud, managing director, Sustainability Services at Accenture. "By combining our newly launched Climate.MAP Accelerator with Cervest's pioneering climate data modeling and machine learning technology, Accenture continues to expand its capabilities to help clients across industries make informed sustainability decisions by analyzing climate risk-related data to address the impacts of climate change."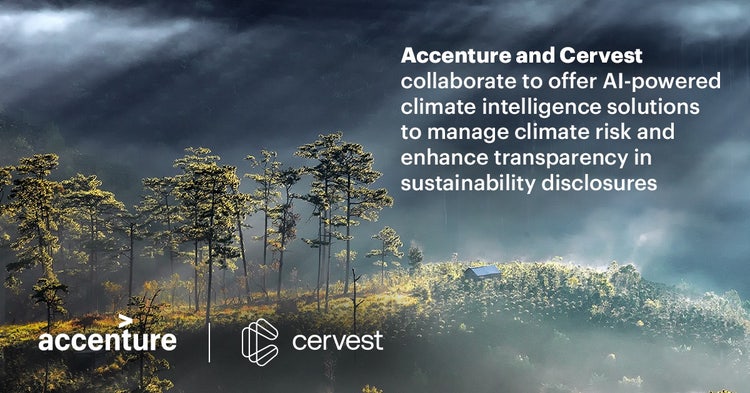 Cervest's proprietary CI platform provides science-based climate risk insights, including exposure metrics and globally comparable risk ratings for assets and asset portfolios. Known as Cervest Ratings™, these can determine combined risk or hazard-specific risk that climate change effects including droughts, flooding, wildfires or extreme temperatures can have on any asset. Assets can be selected from Cervest's pre-mapped catalog of over 600 million assets or uploaded manually. The platform's collaboration tools enable easy sharing of portfolios and insights across teams and organizations, and seamless integration into reports and presentations.

"Businesses around the world are under mounting pressure to disclose their climate-related financial risk and increase transparency about ESG strategy, governance, risks and opportunities," said Cervest founder and CEO Iggy Bassi. "Accenture's holistic approach, carbon intelligent technology and expertise in solving sustainability challenges, combined with Cervest's unified CI capabilities, will help clients protect their people, assets, finances, operations and supply chains from the growing threat of physical and transition risk. Not only will unified CI enable organizations to accelerate scenario planning, it will also expand the network of science-backed insights available to make key transactional decisions and meet reporting standards."

Some leading organizations are already starting to take action amid the increasing uncertainty around resilience. The UN Global Compact-Accenture CEO Study found that 62% of CEOs are strengthening their scenario planning and analysis capabilities while 17% are implementing artificial intelligence for real-time risk analysis within their businesses.

For example, Ecopetrol, a leading oil and gas company, leveraged Accenture's Climate.MAP Accelerator and Cervest's EarthScan product to identify the physical and transition risks due to climate change that were emerging across its operations and physical asset base. The analysis helped the organization advance its climate risk analysis and reporting capabilities and be better prepared for coming regulations demanding climate-related disclosures.

"Having a single source of truth for climate risk-related insights, backed by the latest climate science data, will expand the network of solutions available to enterprises looking to embed sustainability at the core of strategy & operations," said Mauricio Bermudez Neubauer, global lead for carbon strategy & intelligence at Accenture. " Those businesses that adopt measurement and management strategies that integrate carbon data and ESG insights into core business decision-making will be better positioned to reinvent and build business resilience, while mitigating risks and capitalizing on opportunities of the advancing transition to net zero."

The collaboration with Cervest is aligned with Accenture Ventures' Project Spotlight, an engagement and early investment program that connects emerging technology startups with the Global 2000 to fill strategic innovation gaps.

About Accenture
Accenture is a leading global professional services company that helps the world's leading businesses, governments and other organizations build their digital core, optimize their operations, accelerate revenue growth and enhance citizen services—creating tangible value at speed and scale. We are a talent and innovation led company with 738,000 people serving clients in more than 120 countries. Technology is at the core of change today, and we are one of the world's leaders in helping drive that change, with strong ecosystem relationships. We combine our strength in technology with unmatched industry experience, functional expertise and global delivery capability. We are uniquely able to deliver tangible outcomes because of our broad range of services, solutions and assets across Strategy & Consulting, Technology, Operations, Industry X and Accenture Song. These capabilities, together with our culture of shared success and commitment to creating 360° value, enable us to help our clients succeed and build trusted, lasting relationships. We measure our success by the 360° value we create for our clients, each other, our shareholders, partners and communities. Visit us at www.accenture.com.

About Cervest
Cervest's Unified Climate IntelligenceTM (UCI) platform is enabling enterprises, public bodies and financial institutions to measure interconnected climate risks and opportunities on built and natural capital assets – across physical and transition risk. Powered by cutting-edge Earth Science AITM and globally comparable climate risk ratings, Cervest's flagship product EarthScan provides UCI-driven insights that chief risk and sustainability officers use to increase asset resilience and meet climate-related financial disclosure requirements. By connecting and de-risking decisions on every built and natural asset through UCI, Cervest is powering a Climate Intelligence NetworkTM whose climate-aligned decisions will drive a chain reaction of adaptation actions to build a more resilient world. Learn more at http://www.cervest.earth/.

# # #

Contacts:

Alexander Aizenberg
Accenture
+1 917 452 9878
alexander.aizenberg@accenture.com

Christian Harper
Accenture
+1 917 452 4417
christian.harper@accenture.com

Bianca Jutaru
Cervest
+44 7426900720
bianca.jutaru@cervest.earth

Copyright © 2023 Accenture. All rights reserved. Accenture and its logo are trademarks of Accenture.