June 21, 2023
Accenture and AWS Extend Generative AI Capabilities to Accelerate Adoption and Value

NEW YORK and SEATTLE; June 21, 2023 – Accenture (NYSE: ACN) today announced an extension of their strategic collaboration with Amazon Web Services (AWS) to help clients leverage the value of large language models (LLMs) and generative AI for faster business transformation, utilizing the most comprehensive and broadly adopted cloud.
With a 15-year relationship, and as part of its existing strategic collaboration, Accenture and AWS—through the Accenture AWS Business Group—will make a series of strategic investments to develop new industry-specific and cross-industry solutions, pre-built models and trainings to help clients move rapidly from experimentation to scaled, responsible deployment of generative AI technologies within their organizations. These strategic investments will help clients accelerate innovation and value, efficiency, resilience, and improve interactions with customers and employees, transforming work across industries. Built around AWS's advanced machine learning (ML) and AI technologies, these investments will span across arenas, including financial services, life sciences, customer support, supply chain, cybersecurity, and more.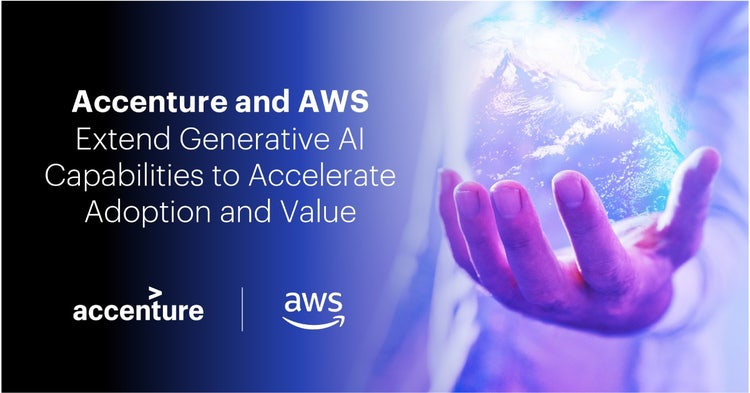 "With the rise of generative AI, more and more organizations are looking to accelerate their use of all forms of AI across their enterprises," said Julie Sweet, chair and CEO, Accenture. "Our expanded relationship with AWS will bring our clients across industries new, rigorously developed business cases, more powerful safeguards for using AI responsibly and enhanced expertise that will help them create the most value with these innovative technologies."

"We're excited to bring over 20 years of experience with AI technologies to our expanded relationship with Accenture to help organizations of all sizes realize the benefits of generative AI," said Adam Selipsky, CEO of Amazon Web Services, Inc. "By providing customers with great choice, flexibility, and security when building and scaling with generative AI on AWS, they can quickly and responsibly deploy applications tailored to their industry-specific use cases. AWS and Accenture will empower customers with new, advanced AI technologies to help them to address their most pressing organizational challenges, drive business transformation, and accelerate innovation."

Today's news comes as part of Accenture's recently announced $3 billion investment in AI. Accenture will work with AWS to help clients deploy Amazon Bedrock, utilize the most advanced Foundational Models, such as Amazon Titan, and deploy industry leading technologies such as Amazon SageMaker, alongside other AWS ML technologies. Accenture will also scale its AWS AI talent through hiring, acquisitions, and equipping its global team with AWS skills, training and certifications to help their clients make the most of cloud-based generative AI technology.

Accenture will also work with AWS to develop new industry and cross-industry solutions, including:
New AI-driven capabilities across financial services – spanning the sector from banking to capital markets to insurance, and extending the AI capabilities of the Accenture Cognitive Insurance Platform – which today leverages AWS technologies including Amazon Textract, Amazon Comprehend, and Amazon SageMaker - to further improve typically labor-intensive tasks for the industry, such as collecting, classifying and extracting data from multiple sources. This will help accelerate claims processing, enhance customer experience, and reduce the risk of fraud.
Multiple applications across the life sciences value chain – to transform work for areas such as lab transformation, speeding up research and discovery, to document generation for regulatory filings. Accenture will use generative AI technologies to help scientists work in a paperless environment without disrupting their scientific processes. The ability to generate regulatory documents in required formats will help save countless hours, accelerate drug approvals, and improve patient outcomes.
Connected customer and employee experiences – to create differentiated customer experiences at scale through AI-powered conversations, predictive insights and omni-channel journeys. Accenture will expand client contact center capabilities, leveraging generative AI. These solutions will take advantage of AWS's services such as Amazon Connect, Amazon Lex, Amazon Kendra and others. This will drive improved customer service experiences, including enhanced agent assistance and call summarization. Accenture and AWS will also focus on additional pre-assembled accelerators, such as employee assistance, for internal users to embrace generative AI in a more secure manner.
A responsible AI blueprint – to help clients navigate and accelerate responsible AI strategy, decisions, practices, and journeys. Accenture and AWS have already developed impactful AI policies to govern the development of AI models using advanced AWS technologies, but this new blueprint will make it easier and faster to navigate and develop AI that minimizes unintended bias, improves transparency, and provides end-to-end governance. Accenture will also work with AWS to provide training for AI-focused managers to adopt responsible AI principles.
Supply chain intelligence – to provide a pre-integrated solution for clients to gain better visibility to their end-to-end supply chain operations, gain actionable data driven insights and execute recommendations for key functions including planning, inventory management, sourcing, procurement, replenishment, logistics and reverse logistics. Within the supply chain function, Accenture is extending its SynOps platform with AWS Supply Chain and generative AI capabilities. This platform has existing integrations with the Amazon Supply Chain, Amazon Business, and key supply chain enterprise and industry ecosystem partners.
Accenture will also use Amazon CodeWhisperer to empower its developers to become more productive and utilize generative AI technologies in all facets of their work. This adds to the recently launched Velocity platform which is already leveraging Amazon CodeWhisperer and driving developer productivity. Clients can now leverage the expanded capabilities and dedicated resources from Accenture and AWS through the Accenture Center for Advanced AI, providing broad access to Accenture's global resources.

About Accenture
Accenture is a leading global professional services company that helps the world's leading businesses, governments and other organizations build their digital core, optimize their operations, accelerate revenue growth and enhance citizen services—creating tangible value at speed and scale. We are a talent and innovation led company with 738,000 people serving clients in more than 120 countries. Technology is at the core of change today, and we are one of the world's leaders in helping drive that change, with strong ecosystem relationships. We combine our strength in technology with unmatched industry experience, functional expertise and global delivery capability. We are uniquely able to deliver tangible outcomes because of our broad range of services, solutions and assets across Strategy & Consulting, Technology, Operations, Industry X and Accenture Song. These capabilities, together with our culture of shared success and commitment to creating 360° value, enable us to help our clients succeed and build trusted, lasting relationships. We measure our success by the 360° value we create for our clients, each other, our shareholders, partners and communities. Visit us at www.accenture.com.
# # #


Contact:

Mylissa Tsai
Accenture
+1 617 488 7932


Copyright © 2023 Accenture. All rights reserved. Accenture and its logo are trademarks of Accenture.