March 21, 2023
Accenture and Adobe Unlock Content Supply Chain Value to Help Enterprise Brands Cut Costs, Increase Efficiencies and Drive Growth

NEW YORK and SAN JOSE, Calif.; March 21, 2023 – Accenture (NYSE: ACN) and Adobe (Nasdaq: ADBE) are collaborating to help enterprise marketers unlock the value of their content supply chains. The companies have worked together to develop new services based on Adobe's integrated Content Supply Chain technologies to help marketers more effectively create and deliver content that provides personalized customer experiences at scale.
Launched at Adobe Summit 2023, the new collaboration combines Accenture's experience in process improvement, change management and marketing with Adobe's comprehensive set of creative and experience applications and integrations to assess the content landscape and identify areas for optimization. By embracing a data-driven approach to uncover new efficiencies and ways of working, marketing organizations can lower costs while enhancing creativity and driving financial growth.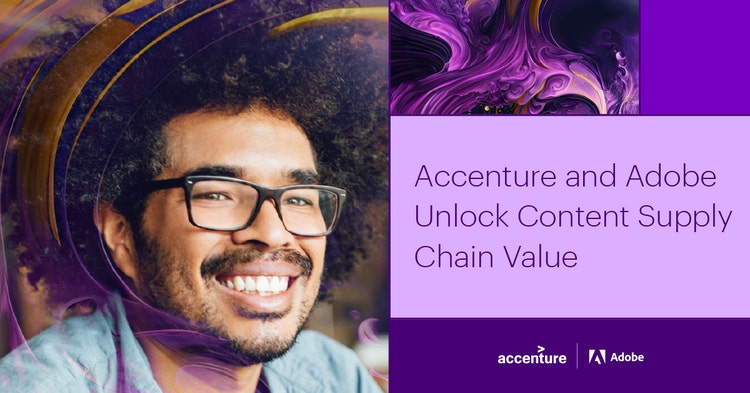 With rapidly evolving customer preferences and an exploding number of channels, markets and formats, marketers are increasingly challenged to efficiently produce personalized, dynamic and optimized content that brings their brands to life. According to Accenture research, 95% of global leaders believe their customers are changing faster than their businesses. Together, Accenture and Adobe can help marketers transform their approach to content to be more agile and remain relevant to customers.

"With the growing velocity of content production comes the need to identify the right content, format and channel for each asset to deliver engaging customer experiences that drive real business impact," said Jim LaLonde, managing director and lead of the Accenture Adobe Business Group. "Leveraging Adobe technology and Accenture capabilities, our new services can bring together the people, tools and workstreams needed for clients to effectively plan, create, manage and deliver content across industries and around the globe."

Justin Merickel, vice president, Business Development and Partners, Adobe, said, "Content fuels the digital economy and together Adobe and Accenture are equipping brands to build high-performing content supply chains that deliver the quantity and variety of effective, personalized content customers now expect. With a majority of brands expecting content demand to increase by at least five times over the next two years, Adobe and Accenture will help marketers transform the content supply chain to drive measurable business outcomes."

To continue to evolve its own content strategy, Accenture is using the content supply chain services and technologies as part of a broader marketing transformation. The capability is providing new insights to align content to relevant campaigns and deliver them through the right channels, based on audience preferences.

"Content is key to our marketing strategy and our brand experience. Working with Adobe, we continue to increase our ability to efficiently and effectively produce the right content, for the right audiences, across the right channels," said Jill Kramer, chief marketing and communications officer at Accenture. "What I love is that it also delivers a great experience for our creatives. Inspiring creatives with information and assets translates to better content reaching our clients. It's a win-win."

Adobe is also collaborating with Accenture to transform its own marketing operations. Accenture is helping Adobe's B2B marketing organization scale the delivery of personalized marketing campaigns through the use of Adobe Real-Time CDP. By unifying data across multiple sources into actionable profiles for use across Adobe Experience Cloud applications, Adobe expects to amplify its impact and reduce operational complexity in delivering high value experiences to customers.

Accenture and Adobe are showcasing the content supply chain offering at Adobe Summit North America in Las Vegas on March 21-23, 2023 in the Accenture booth, #619. To learn more about content supply chain, attend the speaking session S708 "Content Velocity" featuring Accenture's Penelope Prett, CIO; Emma McGuigan, senior managing director and lead of Enterprise & Industry Technologies; and Elise Cornille, managing director, Technology marketing, on March 22 at 2:30 p.m. PDT.

As a testament to its longstanding partnership with Adobe to create unrivalled experiences and accelerate growth for clients, Accenture was recognized at Adobe Summit as the Global Adobe 2023 Digital Experience Partner of the Year. Accenture was also named Adobe 2023 Digital Experience Partner of the Year in Americas, APAC, EMEA and Western Europe.

About Accenture
Accenture is a leading global professional services company that helps the world's leading businesses, governments and other organizations build their digital core, optimize their operations, accelerate revenue growth and enhance citizen services—creating tangible value at speed and scale. We are a talent and innovation led company with 738,000 people serving clients in more than 120 countries. Technology is at the core of change today, and we are one of the world's leaders in helping drive that change, with strong ecosystem relationships. We combine our strength in technology with unmatched industry experience, functional expertise and global delivery capability. We are uniquely able to deliver tangible outcomes because of our broad range of services, solutions and assets across Strategy & Consulting, Technology, Operations, Industry X and Accenture Song. These capabilities, together with our culture of shared success and commitment to creating 360° value, enable us to help our clients succeed and build trusted, lasting relationships. We measure our success by the 360° value we create for our clients, each other, our shareholders, partners and communities. Visit us at www.accenture.com.

About Adobe
Adobe is changing the world through digital experiences. For more information, visit www.adobe.com.

# # #

Contact:

Francine Fiano
Accenture
+1 917 452 7393
francine.fiano@accenture.com

Lisa Davis
Adobe
+1 801 230 9399
davisl@adobe.com

Copyright © 2023 Accenture. All rights reserved. Accenture and its logo are trademarks of Accenture.

© 2023 Adobe. All rights reserved. Adobe and the Adobe logo are either registered trademarks or trademarks of Adobe in the United States and/or other countries. All other trademarks are the property of their respective owners.