March 07, 2022
Vodafone Teams with Accenture to Offer Managed Security Services to Small and Medium-Sized Businesses in Germany

FRANKFURT; March 7, 2022 – Vodafone [Germany] and Accenture (NYSE: ACN) are teaming to provide managed security services to small to medium-sized enterprises (SME) in Germany.
The services will help SMEs be more resilient to cyber threats, providing leading cybersecurity talent and industry expertise to organizations that do not have the capacity, time or resources to keep up with this rapidly evolving space.

Designed to help companies identify security vulnerabilities and detect, respond to and recover from cyberattacks, the services will be integrated with Vodafone's portfolio of mobile, fixed, internet of things and cloud solutions. They complement Vodafone's existing cybersecurity offerings, enabling the company to provide enterprise-grade cybersecurity to businesses of all sizes.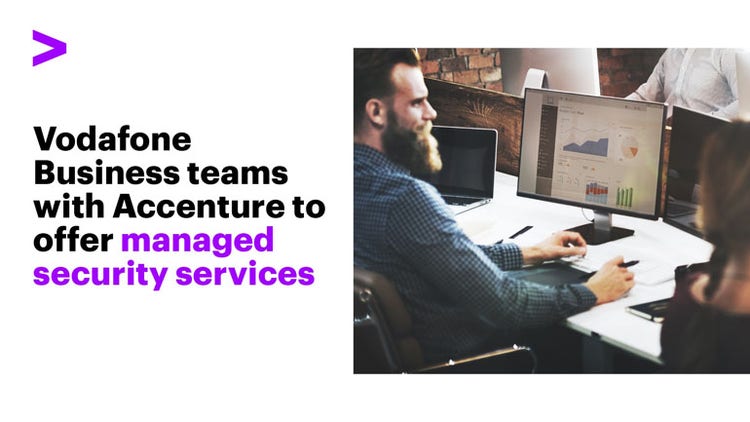 The services — to be managed by Vodafone and delivered by Accenture Security — include:
Penetration Testing — Involves simulating a real cyberattack in order to penetrate the IT systems, with the internal and external tests usually covering all devices connected to the network.
Vulnerability Management — Identifies existing vulnerabilities in the organization's internal and external IT infrastructure.
Phishing Awareness — Realistically simulates an attack test on companies and employees with the help of forged e-mails, helping make employees aware of the dangers of cyberattacks; this is particularly important given that social engineering is often the biggest threat to security systems.
Cyber Exposure Diagnostic — Helps companies identify how well their IT system is protected against cyberattacks.
Managed Detection & Response — Provides around-the-clock security monitoring, analysis and reporting, and a real-time early warning system, focusing on the entire attack surface.
Breach Response & Forensics — Helps organizations respond to a cyberattack with a pre-defined plan of action that includes the appropriate tools, processes and experts— limiting the damage and reducing recovery time by enabling companies to respond quickly and effectively to threats.
Firewall Management — Provides companies with comprehensive and managed protection against IT threats through firewall deployment, management and operation, taking into account the individual security requirements of the existing network structure.
Accenture and Vodafone have since 2020 been jointly investing in security innovation to help keep organizations safe as new threats emerge.

Alexander Saul, managing director of corporate customers at Vodafone Germany, said, "Working with Accenture, we will be able to provide small and medium-sized businesses with the highest level of services to address the growing landscape of cyberthreats, leveraging our combined capabilities and global experience to deliver modular security solutions, offering access to technologies that until now were only available to companies with large IT budgets."

Thomas Schumacher, who leads Accenture Security in Germany, Austria, Switzerland and Russia, said, "The distinct nature of cybercrime makes it borderless and anonymous, posing a significant threat to businesses of all sizes with costly consequences. We are excited to team with Vodafone to make our security services accessible to a diverse group of new customers looking to achieve enterprise-grade security at an affordable cost. Our team of international cybersecurity professionals is ready to create individually tailored, easy-to-deploy solutions to Vodafone's customers."

Studies show: no easing in sight
In the coming months, the threat posed by cyberattacks will become even more serious, according to the dominant opinion in the German business community. According to a bitkom study, 83% of the companies surveyed fear an increase in attacks by the end of 2021. Medium-sized companies with 100 to 499 employees see themselves particularly threatened. "If you don't protect yourself today, you could be the next potential victim of a cyberattack tomorrow," says Saul.

About Vodafone Germany
Vodafone Germany is the largest national company in the Vodafone Group, one of the largest telecommunications groups in the world, accounting for around 30% of total revenue. Vodafone has over 300 million mobile customers worldwide, more than 28 million fixed-network customers, over 22 million TV customers and connects 136 million devices to the Internet of Things.

About Accenture
Accenture is a global professional services company with leading capabilities in digital, cloud and security. Combining unmatched experience and specialized skills across more than 40 industries, we offer Strategy and Consulting, Interactive, Technology and Operations services — all powered by the world's largest network of Advanced Technology and Intelligent Operations centers. Our 674,000 people deliver on the promise of technology and human ingenuity every day, serving clients in more than 120 countries. We embrace the power of change to create value and shared success for our clients, people, shareholders, partners and communities. Visit us at accenture.com.

Accenture Security is a leading provider of end-to-end cybersecurity services, including advanced cyber defense, applied cybersecurity solutions and managed security operations. We bring security innovation, coupled with global scale and a worldwide delivery capability through our network of Advanced Technology and Intelligent Operations centers. Helped by our team of highly skilled professionals, we enable clients to innovate safely, build cyber resilience and grow with confidence. Follow us @AccentureSecure on Twitter, LinkedIn or visit us at accenture.com/security.

# # #

Contact:

Lea Treese
Accenture
+49 175 5768692
lea.treese@accenture.com