June 06, 2022
Providing Advisory Services is Increasingly Critical for Wealth Management Firms Looking to Seize Growth Opportunities in Asia, Accenture Report Finds


Facing heightened market volatility, firms with robust advisory offerings are better positioned to become investors' wealth manager of choice; Investors also show strong demand for digital assets and ESG solutions

SINGAPORE; June 6, 2022 – As wealth management firms target growth opportunities in Asia during a more challenging market environment, investors in the region increasingly want more financial advisory services from their primary wealth manager, according to a new report from Accenture (NYSE: ACN).
"The Future of Asia Wealth Management" report is based on two surveys — one of approximately 3,200 investors and another of more than 500 financial advisors at wealth management firms in Asia — as well as interviews with senior wealth executives.

The report notes that investors are more interested in receiving advisory services from their wealth firm than a self-directed approach, where they make investment decisions themselves and use wealth firms just to execute their trades (40% vs. 33%). This desire for more financial advice could lead investors to move assets, with firms that have robust advice offerings more likely to become investors' primary wealth manager and secure more assets under management.

For instance, while most investors in Asia tend to work with multiple wealth firms, an individual's primary manager holds, on average, twice the amount of assets under management as the next secondary manager (60% versus 29%). Four in 10 investors (41%) who work with multiple wealth firms said they are likely to consolidate their assets with fewer or just a single firm in 2022.

In addition, less than half (46%) of investors are satisfied with their primary wealth manager, even though nine in 10 (91%) said that their investment expectations were met or exceeded last year. With market volatility increasing, the report suggests that delivering investment returns will be more challenging and that offering financial advice and meeting a broader range of investor goals will become important to improve client satisfaction. Investors who are satisfied with their advisory relationship hold, on average, six percentage points more of their assets under management with their primary wealth manager than those who are not satisfied.

"More advanced and accessible advisory services are key to unlocking wealth management growth opportunities in Asia," said David Wilson, who leads Accenture's wealth management practice for Growth Markets. "Investors in the region can no longer be categorized primarily as self-directed; they want advice and to validate their decisions with their wealth manager. Delivering a true advisory proposition that is goals-led, holistic, and digital-first but integrated with financial advisors will be crucial for future competitiveness."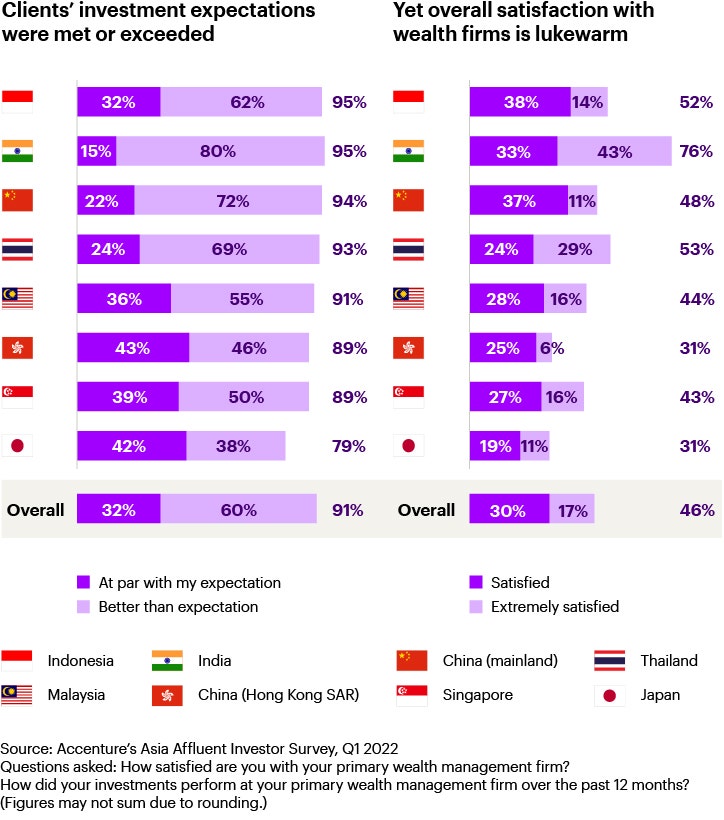 Wealth Management Executives Expect Strong Growth in Asia by 2025
Wealth executives surveyed for the report have bold growth ambitions and expect their firms' assets under management in Asia to nearly double and their revenues to grow 60% by 2025. The potential to capture additional assets is significant, as investors in Asia hold, on average, nearly one-third (32%) of their wealth in retail deposit accounts and physical cash.

The report revealed several key findings that could help firms reach their growth goals in the region:
Investors want digital assets, but wealth managers are hesitant to support them: Half (52%) of investors in Asia already hold digital assets — such as cryptocurrencies, tokenized assets, and crypto investment funds — and a further 21% expect to invest in them by the end of 2022. Digital assets represent 7% of surveyed investors' portfolios — making it the fifth-largest asset class in Asia — more than they allocate to foreign currencies, commodities or collectibles. Yet two-thirds (67%) of wealth management firms have no plans to offer digital assets.
ESG investing is poised to take off: Seven in 10 (70%) Asian investors have invested or plan to invest in products or assets related to ESG (environmental, social and governance) issues this year. To meet this demand, firms will need to equip their advisors with more content, insights and data, which 64% of advisors said would be useful. The top concerns that investors said wealth managers will need to address are the complexity of understanding ESG parameters, insufficient data and information, and the limited selection of available ESG products — cited by 41%, 40% and 38% of investor respondents, respectively.
Wealth managers are overlooking important advisory offerings: Among the services that investors want but that most wealth managers aren't currently focused on developing are: (1) giving clients more input in the financial advisor selection process; (2) leveraging open banking to enable wealth managers and third parties to share data; (3) developing wealth offerings that naturally evolve as clients enter different life stages; and (4) offering more personalized advice, including through insight automation, which uses data and analytics to suggest the next-best investment ideas.
Advisor empowerment through digital hubs is key to improving productivity: Advisors said they spend half of their time on non-revenue-generating activities, such as administration, checking trade status, and non-client meetings, and use as many as four or five applications for each key activity. Nearly eight in 10 advisors (78%) said that using a one-stop platform that brings all these different applications together into a single screen would help improve their efficiency, and the research suggests this could boost advisor productivity three- to seven-fold over three years.
"Investors are looking for new products and advisory services as they grapple with market volatility, longer life expectancies and the plethora of investment information available online," said Nicole Bodack, Accenture's Capital Markets industry group lead for Growth Markets. "To reimagine the client experience and differentiate themselves in key areas, including digital assets and ESG, wealth managers will need to find a balance in their advisory offerings between effective human relationship-management and smart, automated systems that can generate insights for clients and financial advisors."

For more information on the report, visit: www.accenture.com/AsiaWM

Methodology
For the report, Accenture conducted two surveys — one of approximately 3,200 investors and another of more than 550 financial advisors at private banks, captive wealth firms, retail banks and independent wealth firms in Asia — and interviewed 21 C-level executives at wealth firms and private banks operating across the region. The surveys were conducted in December 2021 and January 2022, and the interviews in early 2022. Investor respondents worked with at least one wealth management firm and had investable assets ranging from at least US$100,000 to more than US$5 million. Respondents for both surveys were from the following markets: China (mainland), China (Hong Kong SAR), India, Indonesia, Japan, Malaysia, Singapore and Thailand.

About Accenture
Accenture is a global professional services company with leading capabilities in digital, cloud and security. Combining unmatched experience and specialized skills across more than 40 industries, we offer Strategy and Consulting, Technology and Operations services and Accenture Song — all powered by the world's largest network of Advanced Technology and Intelligent Operations centers. Our 699,000 people deliver on the promise of technology and human ingenuity every day, serving clients in more than 120 countries. We embrace the power of change to create value and shared success for our clients, people, shareholders, partners and communities. Visit us at accenture.com.

Accenture's Capital Markets industry group helps wealth and asset managers, investment banks and exchanges rethink their business models, manage risk, redefine workplace strategies and improve operational efficiency to prepare for the digital future. To learn more, visit https://www.accenture.com/us-en/insights/capital-markets/capital-markets-vision-2025
# # #


Contacts:


Yasmin Quek
Accenture
+65 6410 8216
yasmin.quek@accenture.com

Michael McGinn
Accenture
+1 312 693 5707
m.mcginn@accenture.com

Copyright © 2022 Accenture. All rights reserved. Accenture and its logo are trademarks of Accenture.