June 27, 2022
HFS Ranks Accenture the No. 1 Provider for Employee Experience Services


Accenture recognized as leader in delivering superior employee experience and helping clients drive meaningful organizational transformation

NEW YORK; June 27, 2022 – Accenture (NYSE: ACN) has been recognized as the top service provider for employee experience in the latest report from industry analyst firm HFS Research.
The "HFS Top 10: Employee Experience Services" report assessed 12 service providers, examining how they are evolving their practices to support the rapidly changing dynamics of employee experience and HR services within organizations. Rankings were determined based on a comprehensive analysis of employee experience services and solutions, across four criteria.

Accenture ranked #1 overall and led in three of the four evaluation criteria, including execution, innovation and alignment with the HFS OneOffice model, and ranked #2 for voice of the customer. Accenture emerged as a clear industry leader thanks to the depth and breadth of its end-to-end capabilities, coupled with its proven ability to help companies unleash the power of their enterprise by embracing new ways of working that are equally human-centered and tech-enabled.

According to Christie Smith, global lead for Talent & Organization/Human Potential at Accenture, "Our research confirms that people must be at the top of every CEO's agenda. Our practice helps leaders build an end-to-end integrated solution to the employee experience – with people at the center of change. Accenture's recognition by HFS as the leading provider is a testament to our unrivaled expertise in helping organizations design and deliver a personalized work environment that inspires people to be their best, amplifies their human potential and enables the business to flourish."

The HFS Top 10: Employee Experience Services report lists the following strengths for Accenture:
Employee Experience (EX) Strategy and Direction. Grounded in deep research, Accenture's narratives address the need for organizations to drive an expansive approach to business performance by leveraging and sustaining conditions through hyper-relevant, personalized and collaborative environments for individuals and teams to excel.
Key EX Differentiators. Accenture's approaches to innovation, sustainability, inclusion and diversity and behavioral science are embedded across the complete compass of its services.
Ability to Help Clients Drive EX. From developing new learning management systems to support upskilling initiatives for companies' workforces, to driving large-scale transformation of companies' HR platforms to increase efficiency, lower costs and improve employee satisfaction, Accenture designs and delivers innovative, sustainable solutions for clients that enhance the employee experience across the entire workforce and that can be deployed and scaled at speed.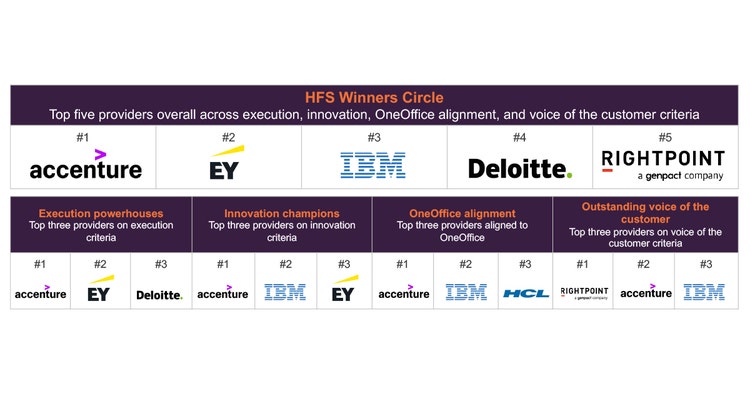 "At a time when industries and business models continue to shape-shift at an extraordinary rate, Accenture's expansive approach to business performance, driven by EX and grounded in research, gives it the competitive advantage necessary to help companies build the core skills and capabilities they need and to quickly adopt new ways of working," said Phil Fersht, CEO & Chief Analyst, HFS Research.

"Accenture's 'Voice of Customer' client attestations provide notable consensus confirming Accenture's diversity of capability and ability to bring perspective and expertise, supported by real use cases, into any scenario," added co-author Sarah Little, Vice President of Content & Strategy, CEO's Office, HFS Research. "Business leaders are well positioned to play a critical role in shaping employee experience for their organizations."

About Accenture
Accenture is a global professional services company with leading capabilities in digital, cloud and security. Combining unmatched experience and specialized skills across more than 40 industries, we offer Strategy and Consulting, Technology and Operations services and Accenture Song — all powered by the world's largest network of Advanced Technology and Intelligent Operations centers. Our 710,000 people deliver on the promise of technology and human ingenuity every day, serving clients in more than 120 countries. We embrace the power of change to create value and shared success for our clients, people, shareholders, partners, and communities. Visit us at accenture.com.

# # #

Contact:

Michelle Schneider
Accenture
+1 412 874 0282
michelle.schneider@accenture.com

Copyright © 2022 Accenture. All rights reserved. Accenture and its logo are trademarks of Accenture. This content is provided for general information purposes and is not intended to be used in place of consultation with our professional advisors. This document refers to marks owned by third parties. All such third-party marks are the property of their respective owners. No sponsorship, endorsement or approval of this content by the owners of such marks is intended, expressed or implied.