June 23, 2022
Accenture Song Wins Cannes Lions Direct Grand Prix for Coinbase
Award recognizes the company's first work out of its new North America brand practice
CANNES, France; 23 June 2022 – At the 2022 Cannes Lions International Festival of Creativity, Accenture Song (formerly Accenture Interactive) took home the top honor for Direct Lions — which celebrates targeted and response-driven creativity — winning a Grand Prix for its Super Bowl spot 'Less Talk, More Bitcoin' for Coinbase.

The company also took home a Gold in the Direct Lions category for its sustainability-led campaign 'IKEA Cirkulär' for IKEA.

David Droga, CEO and creative chairman of Accenture Song said, "20 million hits in 60 seconds and a Grand Prix. As the first piece of work created by our Accenture Song brand agency in North America, they've set the bar high for what's to come."

Created by Accenture Song, the ultra-minimalist QR code campaign 'Less Talk, More Bitcoin' was launched at the Super Bowl in January 2022 and almost instantly became a cultural lightening rod, tapping into consumer behavior and interest in an engaging and playful way. The app quickly reached #2 in the Apple App Store following the spot and 'crashed' the site due to its massive popularity.

"So happy and proud that this weird little idea resonated with the judges. This is exactly the kind of work we came here to do, and we are just getting started. Buckle up for what's next," Jason Kreher, North America chief creative officer of brand at Accenture Song and Ragen Fykes, creative, Accenture Song.

In addition, Accenture Song was also awarded Gold and Silver in the Direct Lions for its sustainability-led campaign 'IKEA Cirkulär' for IKEA. Created by Hjaltelin Stahl, part of Accenture Song, the campaign thrusts the annual Black Friday shopping frenzy that goes against sustainable principles into the spotlight to launch a circular exchange that allows people to sell their used IKEA furniture back to the brand.

Adam Kerj, chief creative officer for Europe, Accenture Song, said: "I'm so happy and excited for IKEA, our client Anne Krogh and our entire team. As with any major global breakthrough creative work, it takes a courageous and dedicated team to bring the ambition to life and scale it. I believe that creativity is the answer to any question, even the most urgent ones facing society and businesses today. Consumers are expecting brands to help them make better, more conscious choices. 'IKEA Cirkulär' is a beautiful example of how creativity has the power to change the world for the better."

More than 155,000 pieces of furniture globally were received in the run up to Black Friday, which were restored and resold at a discounted price via its new Cirkulär hubs. Cirkulär is now a year-round sustainable service in 28 countries worldwide, helping drive significant behavioral change and increasing positive perception of the IKEA brand.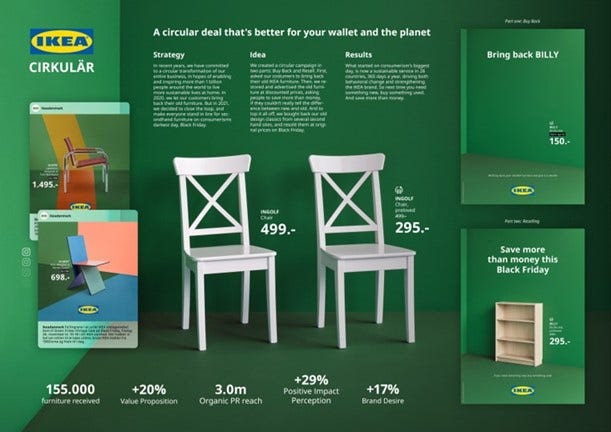 'IKEA Cirkulär' for IKEA, created by Hjaltelin Stahl, part of Accenture Song
These achievements come on the heels of the launch of Accenture Song, a brand evolution that symbolizes Accenture's focus on helping clients accelerate growth through relevance. The company brings together the forces of creativity, technology and intelligence to help clients see problems differently and solve them with simplicity and scale.

Celebrating creativity since 1954, the Cannes Lions Festival of Creativity is considered the most prestigious international advertising and creativity showcase. This year, the awards returned to Cannes, France, as a hybrid festival to celebrate excellence in creativity and effectiveness with more than 25,000 entries from 87 countries.

Notes to Media: Watch the video: Coinbase, 'Less Talk. More Bitcoin': https://www.youtube.com/watch?v=eIUD_NE1BDo

About Accenture
Accenture is a global professional services company with leading capabilities in digital, cloud and security. Combining unmatched experience and specialized skills across more than 40 industries, we offer Strategy and Consulting, Technology and Operations services and Accenture Song — all powered by the world's largest network of Advanced Technology and Intelligent Operations centers. Our 710,000 people deliver on the promise of technology and human ingenuity every day, serving clients in more than 120 countries. We embrace the power of change to create value and shared success for our clients, people, shareholders, partners and communities. Visit us at accenture.com.
# # #
Contact:

Tina Janczura
Accenture
+1 312 719 5608
tina.janczura@accenture.com