February 24, 2022
Accenture Ranks No. 1 in Enterprise Blockchain Services by HFS Research


Accenture recognized for leveraging its full breadth and depth to deliver blockchain solutions at scale

NEW YORK; Feb. 24, 2022 – Accenture (NYSE: ACN) has been recognized as the number one service provider overall for enterprise blockchain services in a recent report from industry analyst firm HFS Research.
The Report, HFS Top 10: Enterprise Blockchain Service Providers, 2021, assessed 12 leading blockchain services providers based on detailed discussions with their leadership teams, inputs from their enterprise clients, and analysis of thousands of blockchain engagements across industries worldwide.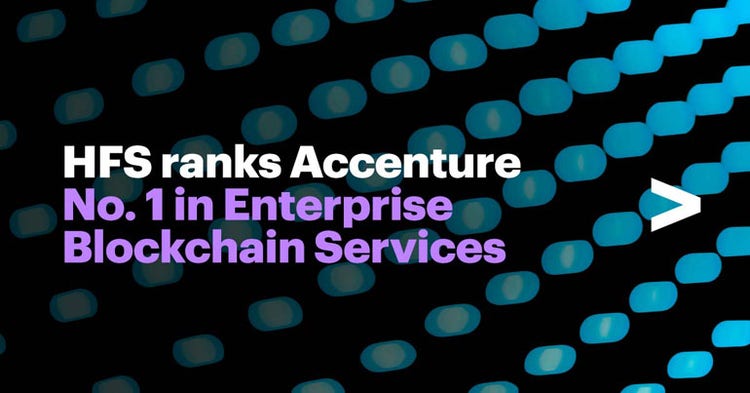 Accenture ranked No. 1 overall as well as in four of the 12 evaluation criteria, including scale and growth, delivery footprint, ecosystem reach and OneOffice alignment.

"Our position in this HFS report reflects the strong combination of Accenture's deep technology expertise coupled with robust ecosystem and industry consortium relationships, along with a top-notch global team dedicated to solving our clients' complex business challenges," said David Treat a senior managing director who leads Accenture's Tech Incubation Group. "Our continued investments in emerging technologies and professional development are critical priorities for us as we strive to create new value for clients worldwide."

Accenture's notable strengths cited in the report are:
Structure and scale: One of the biggest shifts in Accenture's blockchain business this year was its transition from a strategic initiative to a distinct business within Accenture Technology.
Emerging technology strategy: Accenture believes strongly that blockchain alone is not the answer, and as such is weaving a selection of emerging technologies into its blockchain engagements to provide innovative solutions that deliver genuine value.
Ecosystem reach: Accenture has a broad partnership ecosystem that includes IBM, Amazon, and Google, which it leverages throughout its engagements; it also founded and contributed to countless consortiums, generating value across a range of key stakeholders.
Research and development: Accenture invests heavily in research and development across its entire business, and the blockchain space is no different, as it boasts one of the largest spends across its peer group.
Talent investment: Alongside its existing blockchain dedicated and proficient headcount, Accenture has developed its "Technology Quotient" training program, which will see most of its employees receiving training from blockchain subject matter experts and ecosystem partners; alongside its plan to increase their blockchain-focused headcount by 25% in the next 12 months.
"Accenture's clients told us that their ability to bring cross-business processes to support their blockchain engagements was a key strength, demonstrating the positive impact of their operating model," said Sam Duncan, Associate Practice Leader at HFS Research. "This, in combination with their ability to weave a catalogue of emerging technologies into their blockchain engagements, is why they are a leader in Enterprise Blockchain Services." © 2021 HFS Research Ltd.

In addition to being ranked number one overall in the HFS Research report, Accenture was recently positioned as a leader in the IDC MarketScape: Worldwide Blockchain Services 2020 Vendor Assessment and recognized in the HFS Top 10 Enterprise Blockchain Services 2020 Report.

More information about Accenture's Blockchain and Multiparty Systems services can be found here.

About HFS Research
HFS is a unique analyst organization that combines deep visionary expertise with rapid demand side analysis of the Global 2000. Its outlook for the future is admired across the global technology and business operations industries. Its analysts are respected for their no-nonsense insights based on demand side data and engagements with industry practitioners.

HFS Research introduced the world to terms such as "RPA" (Robotic Process Automation) in 2012 and more recently, the HFS OneOffice™. The HFS mission is to provide visionary insight into the major innovations impacting business operations such as Automation, Artificial Intelligence, Blockchain, Internet of Things, Digital Business Models and Smart Analytics.

About Accenture
Accenture is a global professional services company with leading capabilities in digital, cloud and security. Combining unmatched experience and specialized skills across more than 40 industries, we offer Strategy and Consulting, Interactive, Technology and Operations services — all powered by the world's largest network of Advanced Technology and Intelligent Operations centers. Our 674,000 people deliver on the promise of technology and human ingenuity every day, serving clients in more than 120 countries. We embrace the power of change to create value and shared success for our clients, people, shareholders, partners and communities. Visit us at accenture.com.
# # #


Contact:

Alison Geib
Accenture
+1 703 947 4404
alison.geib@accenture.com

Denise Berard
Accenture
+1 617 488 3611
denise.berard@accenture.com


Copyright © 2022 Accenture. All rights reserved. Accenture, and its logo are trademarks of Accenture.