September 20, 2022
Accenture Ranked No. 1 Services Provider to Capital Markets Industry by HFS


Accenture recognized for technology innovation and its end-to-end capabilities across capital markets sub-sectors

NEW YORK; Sept. 20, 2022 – Accenture (NYSE: ACN) has been ranked the No. 1 services provider to the capital markets industry globally in a recent report from industry analyst firm HFS Research.
The report, "HFS Top 10: Capital Markets Services, 2022," assesses and rates 11 leading service providers across a variety of criteria. In addition to achieving the No. 1 position overall, Accenture ranked No. 1 in technology innovation and in alignment with the HFS OneOffice™ vision of digital transformation in action.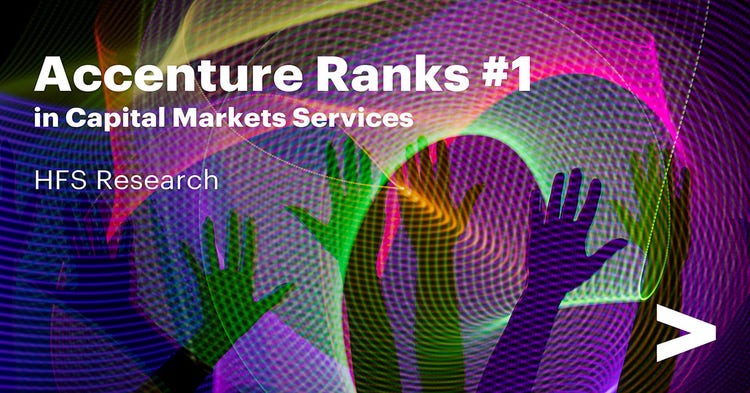 In giving Accenture the top rating, HFS pointed to a variety of factors, including its:
Leadership in end-to-end multi-tower deals, "with proven strength across capital markets sub-sectors", including wealth and asset management, investment banking and market infrastructure;
Significant internal investment in digital and R&D over the past decade, which HFS says helps Accenture "drive innovation into all capital markets deals"; and its
Continued investment in its Applied Technology and Operations for Markets (ATOM) operations solution, which offers a broad range of capabilities, such as trading platforms as a service, transaction processing, regulatory reporting, know your customer and anti-money laundering services, and data management.
"Accenture's No. 1 ranking reflects our commitment to helping capital markets firms transform their technology and operations to improve organizational agility, optimize costs, and reimagine customer relationships," said Matt Long, a senior managing director at Accenture who leads its Capital Markets industry practice. "Our focus on innovation; on cloud, artificial intelligence and machine learning technologies; and on continued investments — including in the wealth and asset management sectors — positions us as the ideal partner for firms' total enterprise reinvention efforts."

Elena Christopher, executive research leader for financial services at HFS Research, said, "Accenture secured the top spot by showcasing its end-to-end capabilities across its service lines globally, with depth across the various capital markets sub-sectors. Its ongoing investment in its capital markets business in terms of technology, talent, and new or refined offerings is helping its clients address critical modernization needs."

Tom Syrett, a managing director who leads Accenture's Capital Markets platform business, said, "We remain laser-focused on helping capital markets players create flexible and efficient operating models, with Accenture's SynOps platform enabling AI-powered insights and new ways of working across our vast network of ecosystem partners and platform providers."

Among the many data sources that HFS considered for the report were detailed quantitative and qualitative information provided by service providers on their operations and strategies; client references; vendor ratings from enterprises using native automation services; and publicly available information regarding and/or published by the service providers.

About Accenture
Accenture is a global professional services company with leading capabilities in digital, cloud and security. Combining unmatched experience and specialized skills across more than 40 industries, we offer Strategy and Consulting, Technology and Operations services and Accenture Song — all powered by the world's largest network of Advanced Technology and Intelligent Operations centers. Our 710,000 people deliver on the promise of technology and human ingenuity every day, serving clients in more than 120 countries. We embrace the power of change to create value and shared success for our clients, people, shareholders, partners and communities. Visit us at accenture.com.
# # #


Contact:

Michael McGinn
Accenture
+1 312 693 5707
m.mcginn@accenture.com

Copyright © 2022 Accenture. All rights reserved. Accenture and its logo are trademarks of Accenture.