September 29, 2022
Accenture Ranked No.1 on Refinitiv Index of World's Most Diverse and Inclusive Companies

NEW YORK; Sept. 29, 2022 – Accenture (NYSE: ACN) has once again been ranked the No. 1 company on Refinitiv's Diversity & Inclusion Index, which identifies the 100 publicly traded companies with the most diverse and inclusive workplaces, based on Refinitiv's environmental, social and governance (ESG) data. This is Accenture's seventh consecutive year on the Index and third time ranking No.1 in the past five years.
"We are honored that Refinitiv has recognized Accenture's unwavering commitment to diversity and inclusion — it is essential to the growth of our business, our continued innovation and our ability to create 360° Value for our clients, our communities and all our stakeholders," said Julie Sweet, chair and chief executive officer, Accenture.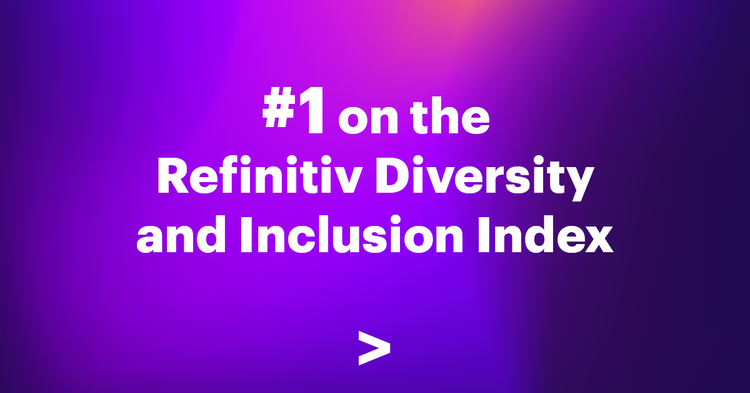 Now produced by Refinitiv, a subsidiary of the London Stock Exchange Group, the Index is designed to transparently and objectively measure the relative performance of companies against factors that define diverse and inclusive workplaces. To compile the Index, Refinitiv assessed publicly available data for more than 11,000 companies globally, measuring them on 24 metrics across four key pillars: Diversity, Inclusion, People Development and News & Controversies.

"It is the richness of the diversity of our people, and our people creating a sense of belonging for each other — for each and every one of us, all 721,000 — that creates the conditions to achieve this prestigious recognition," said Ellyn Shook, Accenture's chief leadership and human resources officer. "Our people are our greatest source of competitive differentiation, and the unique backgrounds, perspectives and experiences they bring fuel our ability to innovate on behalf of clients. Congratulations to all the companies recognized by Refinitiv this year."

Among the areas that Refinitiv considered in its evaluation and top ranking of Accenture are:
Taking flexibility further : Accenture has long offered its people formal flexible working arrangements, such as part-time schedules and job shares. As flexibility has moved beyond space and place, the company is introducing new ways to connect, including its enterprise metaverse, the Nth Floor.
Talent development : Continuing its strong commitment to helping people build their skills and stay competitive for the future, Accenture invested $1.1B in learning and development opportunities for its people in FY22.
Equity and inclusion : Accenture has 120,000 Pride allies across all countries where it operates, and more than 90 Pride networks across the globe. The company continues to chart progress toward its goal of a gender-balanced workforce; currently, 47% of the company's workforce is female, as are 47% of new hires.
Increasing accessibility : The company has 32 Accessibility Centers globally, where persons with disabilities can get tools, technology and support to be successful in their roles. Accenture's global Disability Champions network has increased its membership to 35,000 people.
Diversity among the Board of Directors : Accenture's Board of Directors is gender-balanced, led by a female Chair, and diverse in geographic makeup, with members from four continents.
Accenture's commitment to and focus on its people has generated significant recognition, including being named a Top 10 Great Place to Work® for 2022 in nine countries, representing 76% of its people; No. 1 in its industry among Fortune's World's Most Admired Companies; the highest-scoring company on the Bloomberg Gender-Equality Index; No. 1 on DiversityInc's Top 50 Companies for Diversity and named to the DiversityInc Hall of Fame for 2023; recognized among Stonewall Top Global Employers for seven years; and 15 consecutive years on both Ethisphere's World's Most Ethical Companies and the Human Rights Campaign's Corporate Equality Index.

For more about inclusion and diversity at Accenture, visit accenture.com/diversity.

About Accenture
Accenture is a global professional services company with leading capabilities in digital, cloud and security. Combining unmatched experience and specialized skills across more than 40 industries, we offer Strategy and Consulting, Technology and Operations services and Accenture Song — all powered by the world's largest network of Advanced Technology and Intelligent Operations centers. Our 721,000 people deliver on the promise of technology and human ingenuity every day, serving clients in more than 120 countries. We embrace the power of change to create value and shared success for our clients, people, shareholders, partners and communities. Visit us at www.accenture.com.

# # #

Contact:


Peter Y. Soh
Accenture
+1 703 947 2571
peter.y.soh@accenture.com

Copyright © 2022 Accenture. All rights reserved. Accenture and its logo are trademarks of Accenture.