December 01, 2022
Accenture Promotes 1,214 New Managing Directors and Appoints 119 New Senior Managing Directors


Company reaches 29% women at managing director level toward 2025 goal of 30%;
reports progress on race and ethnicity representation of managing directors in the US, the UK and South Africa
NEW YORK; Dec. 1, 2022 – Accenture (NYSE: ACN) today announced the promotion of 1,214 people to managing director, and the appointment by Julie Sweet, Accenture chair and chief executive officer, of 119 people to senior managing director. The company also reported its progress on increasing gender representation globally, as well as race and ethnicity representation in the US, the UK and South Africa at the managing director and senior managing director levels.
"Every day, these leaders make outstanding contributions to our business, creating 360° value for our clients, people, shareholders, partners and communities," said Sweet. "We congratulate them on their accomplishments and celebrate their commitment to living our Leadership Essentials — and we look forward to the continued innovation and impact they will bring to our clients."

A record 454, or 37%, of all promotions to managing director are women. Additionally, 33 women were appointed senior managing director, making up 28% of those appointments, up from 24% in 2021.

Overall, the percentage of women managing directors and above at Accenture, which includes managing directors, senior managing directors and members of the Global Management Committee, increased to 29% from 27% in 2021, demonstrating continued momentum towards the company's goal of 30% women managing directors and above globally by 2025.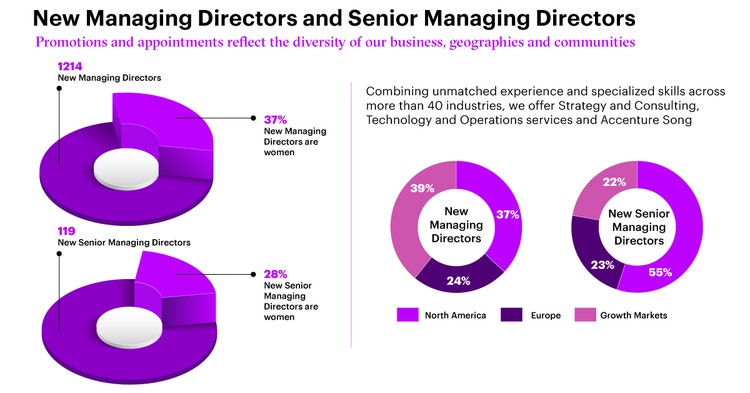 Managing Director promotions and Senior Managing Director appointments drive an increase
in diversity across markets at senior levels of Accenture

The company also reported progress towards its goals to increase the race and ethnicity representation of managing directors in the US, the UK and South Africa by 2025. Full details are here on the outcomes of these promotions and appointments, which are effective December 1.

"We celebrate these individuals not only for the extraordinary results they deliver, but because of how they lead every day," said Ellyn Shook, chief leadership and human resources officer at Accenture. "Their compassion, creativity and commitment to inclusion and diversity sets them apart, which in turn, strengthens our culture, inspires our people and positively impacts our clients, partners, communities and shareholders."

About Accenture
Accenture is a global professional services company with leading capabilities in digital, cloud and security. Combining unmatched experience and specialized skills across more than 40 industries, we offer Strategy and Consulting, Technology and Operations services and Accenture Song — all powered by the world's largest network of Advanced Technology and Intelligent Operations centers. Our 721,000 people deliver on the promise of technology and human ingenuity every day, serving clients in more than 120 countries. We embrace the power of change to create value and shared success for our clients, people, shareholders, partners and communities. Visit us at www.accenture.com.

# # #

Contacts:

Peter Y. Soh
Accenture
+1 703 947 2571
peter.y.soh@accenture.com

Kathryn Rosati
Accenture
+ 1 917 452 6662
kathryn.rosati@accenture.com

Copyright © 2022 Accenture. All rights reserved. Accenture and its logo are trademarks of Accenture.