November 17, 2022
Accenture Positioned as a Leader in IDC MarketScape for EMEA Service Providers for Energy Transition Services and New Business Models for Oil and Gas Companies

NEW YORK; Nov. 17, 2022 – Accenture (NYSE: ACN) has been positioned as a leader in the inaugural "IDC MarketScape: Europe, Middle East and Africa (EMEA) Service Providers for Energy Transition and New Business Models for Oil and Gas Companies 2022 Vendor Assessment."1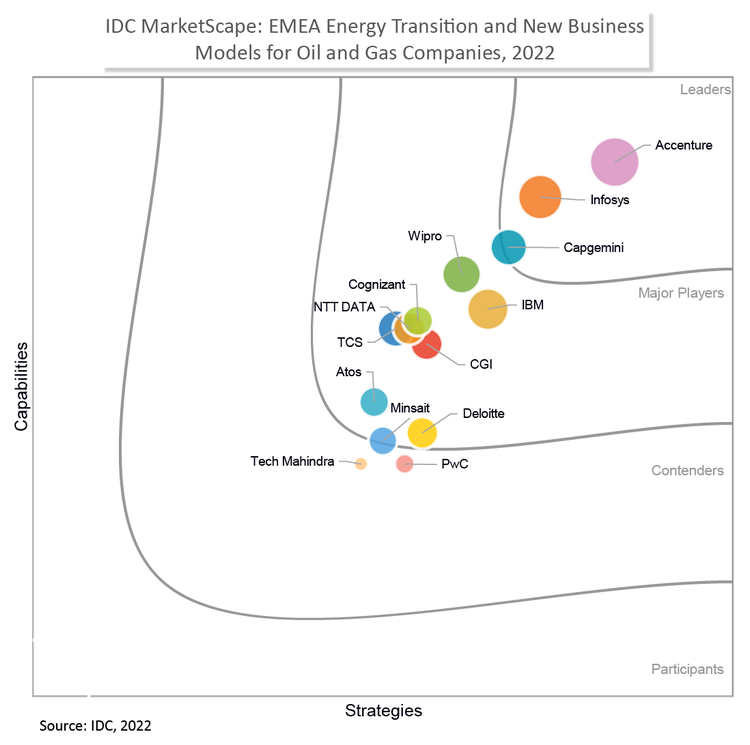 See Footnote No. 2

Several of Accenture's key strengths were highlighted, including its end-to-end services — spanning strategy, consulting, digital, technology, and operations — and its integrated service portfolio, supported by new energy research, innovation capabilities and energy-focused digital labs.

The MarketScape also recognized Accenture's ability to develop new service capabilities supporting energy transition initiatives, leveraging its broad partner ecosystem and cross-industry expertise. These capabilities include emobility, industrial decarbonization, carbon intelligence, carbon capture, utilization and storage, renewables, and hydrogen, which oil and gas companies need as they pivot to greener and more sustainable business models.

Accenture was one of 14 companies the report evaluated with an established reputation for providing services to the oil and gas industry in the EMEA region. Vendors had to offer a variety of services that support oil and gas companies' energy transition, net-zero programs and business model innovation across all industry segments.

The IDC MarketScape assessed the capabilities and strategies of service providers, examined their comparative success in the marketplace, and how their offerings will evolve, providing context for oil and gas firms evaluating and choosing vendors on their path toward net zero and beyond.

"This outcome highlights our ability to help clients successfully navigate the energy transition and pivot to make the most of new sustainable opportunities," said Andrew Smart, a senior managing director who leads Accenture's Energy practice in Europe. "We work with them to develop new business models, incorporate decarbonization and operational sustainability plays, and build on existing capabilities like carbon tracking."

"While investing in sustainable energy has gained steam to help drive long-term growth, many oil and gas firms are understandably shifting focus to energy security in the short and medium term," added Muqsit Ashraf, a senior managing director who leads Accenture's Strategy and Energy practices globally. "We're collaborating closely with our clients to ensure this doesn't erode the necessary work on sustainability with a more diversified mix of future energy sources."

Additionally, the report highlighted Accenture's significant presence across EMEA, as well as its expertise throughout the oil value chain, its segment dedicated to services focused on the energy transition and its innovation assets, including multiple digital studios and innovation hubs dedicated to the oil and gas industry.

"Oil and gas companies recognize Accenture is a key partner on their net zero journey as they navigate the myriad of challenges the industry is currently facing," said Gaurav Verma, research manager, IDC Energy Insights. "With its integrated, end-to-end services offering, Accenture has helped a very diverse range of energy clients successfully develop sustainable business models to support their energy transition efforts. Bolstered by multiple focused partnerships, Accenture also evolves and expands its capabilities on an ongoing basis to better serve those clients."

The report is based on interviews with the end users (oil and gas companies in EMEA), detailed surveys and briefings with the vendors and publicly available information.

An excerpt of the "IDC MarketScape: EMEA Service Providers for Energy Transition and New Business Models for Oil and Gas Companies 2022 Vendor Assessment." can be found here.

More information about Accenture's services to the oil and gas industry can be accessed here.

About IDC MarketScape
IDC MarketScape vendor assessment model is designed to provide an overview of the competitive fitness of ICT (information and communications technology) suppliers in a given market. The research methodology utilizes a rigorous scoring methodology based on both qualitative and quantitative criteria that results in a single graphical illustration of each vendor's position within a given market. IDC MarketScape provides a clear framework in which the product and service offerings, capabilities and strategies, and current and future market success factors of IT and telecommunications vendors can be meaningfully compared. The framework also provides technology buyers with a 360-degree assessment of the strengths and weaknesses of current and prospective vendors.

About Accenture
Accenture is a global professional services company with leading capabilities in digital, cloud and security. Combining unmatched experience and specialized skills across more than 40 industries, we offer Strategy and Consulting, Technology and Operations services and Accenture Song — all powered by the world's largest network of Advanced Technology and Intelligent Operations centers. Our 721,000 people deliver on the promise of technology and human ingenuity every day, serving clients in more than 120 countries. We embrace the power of change to create value and shared success for our clients, people, shareholders, partners and communities. Visit us at accenture.com.
\
IDC # EUR147587021, Sept 2022
\
IDC MarketScape vendor analysis model is designed to provide an overview of the competitive fitness of ICT suppliers in a given market. The research methodology utilizes a rigorous scoring methodology based on both qualitative and quantitative criteria that results in a single graphical illustration of each vendor's position within a given market. The Capabilities score measures vendor product, go-to-market and business execution in the short-term. The Strategy score measures alignment of vendor strategies with customer requirements in a 3-5-year timeframe. Vendor market share is represented by the size of the circles.
# # #


Contacts:

Guy Cantwell
Accenture
+1 281 900 9089
guy.cantwell@accenture.com

Matt Corser
Accenture
+44 755 784 9009
matthew.corser@accenture.com

Copyright © 2022 Accenture. All rights reserved. Accenture and its logo are trademarks of Accenture.