For this report, IDC assessed 17 Adobe Experience Cloud professional services providers through the IDC MarketScape model, providing a quantitative and qualitative analysis of the characteristics that highlight each vendor's success in the marketplace. The evaluation is based on a comprehensive framework and set of parameters expected to be most conducive to success in providing cloud professional services in both the short term and the long term.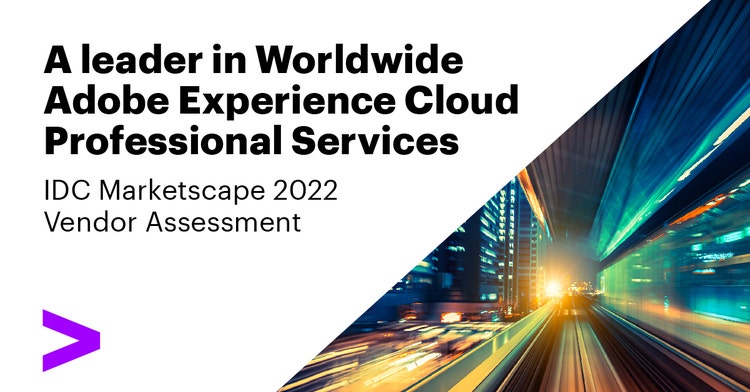 Accenture was recognized for Adobe-specific thought leadership, people quality and industry knowledge and expertise. The report notes that Accenture is a good choice for organizations "wanting complex business and technology transformation services from a tier 1 partner with some of the broadest and deepest capabilities available." According to one Accenture client cited by IDC, "Accenture's sweet spot is enablement and business transformation. That requires a comprehensive understanding of Adobe technology, and the business best practices to leverage that technology. That's how Accenture makes a difference, and that's where it is has very few competitors - or is even unique."

"Accenture has an immense depth and breadth of resources globally, with a comprehensive range of Adobe specializations, and it brings its client deep industry expertise. Clients love the way Accenture combines ground-level technology skills with both strategic insight and the ability to drive business transformation. These factors have made Accenture a powerhouse in Adobe Experience Cloud related professional services, and positioned the company for even further growth moving forward," said Douglas Hayward, research director for digital strategy and customer experience services at IDC.

Jim LaLonde, global Accenture Adobe Business Group lead, said, "Accenture's relationship with Adobe is built on a common mission to unleash the powers of emotion, empathy and excitement at an enterprise scale to create unrivalled experiences – ultimately helping clients realize the full potential of the cloud with Adobe technologies. Our positioning in the recent IDC MarketScape report reflects our leading capabilities and joint successes to date, while signaling a strong outlook on our future trajectory."

Accenture has been an Adobe partner since 2002 and has more than 3,500 Adobe experts around the globe leveraging Adobe Experience Cloud applications to solve business challenges for clients. Accenture has been recognized two years running as a Global Digital Experience Solution Partner of the Year by Adobe. For more information on Accenture and Adobe, visit https://www.accenture.com/us-en/services/alliances/adobe.

About IDC MarketScape
IDC MarketScape vendor assessment model is designed to provide an overview of the competitive fitness of ICT (information and communications technology) suppliers in a given market. The research methodology utilizes a rigorous scoring methodology based on both qualitative and quantitative criteria that results in a single graphical illustration of each vendor's position within a given market. IDC MarketScape provides a clear framework in which the product and service offerings, capabilities and strategies, and current and future market success factors of IT and telecommunications vendors can be meaningfully compared. The framework also provides technology buyers with a 360-degree assessment of the strengths and weaknesses of current and prospective vendors.

About Accenture
Accenture is a global professional services company with leading capabilities in digital, cloud and security. Combining unmatched experience and specialized skills across more than 40 industries, we offer Strategy and Consulting, Technology and Operations services and Accenture Song — all powered by the world's largest network of Advanced Technology and Intelligent Operations centers. Our 710,000 people deliver on the promise of technology and human ingenuity every day, serving clients in more than 120 countries. We embrace the power of change to create value and shared success for our clients, people, shareholders, partners and communities. Visit us at accenture.com.

# # #

Contact

Christina McDonald
Accenture
+1 415 537 7997
christina.mcdonald@accenture.com

Copyright © 2022 Accenture. All rights reserved. Accenture and its logo are trademarks of Accenture.