September 12, 2022
Accenture Named a Leader in ServiceNow Services by Analyst Firm Everest Group


Accenture positioned as a Leader in both Market Impact and Vision & Capabilities

NEW YORK; Sept. 12, 2022 – Accenture (NYSE: ACN) has been named a Leader in Everest Group's report, "PEAK Matrix® for ServiceNow Services 2022." This is the second consecutive year that Accenture has been named a Leader in this report.
The report used Everest Group's PEAK Matrix framework to assess 25 established ServiceNow service providers. Accenture is positioned as Leader in both the Market Impact and Vision & Capabilities categories. The report qualifies that Leaders, "have invested heavily in solutions that expedite time to market" and that "buyers attest to their domain and technical expertise."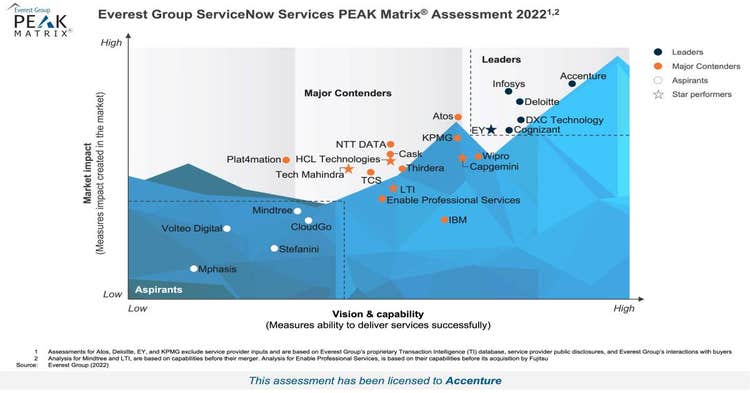 The report highlights several strengths unique to Accenture, including:
Accenture has one of the highest numbers of ServiceNow-certified talent and its total workforce of ServiceNow-ready professionals is higher than its peers
It has invested heavily in building frameworks and accelerators, such as Telco, ACP4Gov, ASIM and Continuum Control Plane, which expedite time to market
Clients have highlighted Accenture's capabilities in Customer Service Management and UX Design as one of its key strengths
"Accenture continues to differentiate itself as a leading provider of ServiceNow Services across all solutions and industries, helping our clients thrive in the cloud continuum, reimagine service and modernize work," said Dave Kanter, senior managing director and Global Lead, Accenture ServiceNow Business Group. "We believe that our position in this year's report is a testimony to the strength of our joint Accenture ServiceNow Business Group, the deep expertise of our people and our platform-led approach to reimagine workflows and experiences."

"Enterprises are deriving higher business value by reimagining processes and integrating ServiceNow with existing enterprise applications," said Abhishek Mundra, Practice Director, Everest Group. "Accenture has invested in building a robust suite of IP tools and industry-specific solutions for ServiceNow. The company has also expanded its capabilities in non-ITSM areas such as CSM and UX design, which is highly valued by its clients."

In addition, the report notes that Accenture has won multiple ServiceNow global and regional partner awards, which "attest to its deep industry knowledge, digital transformation initiatives, and global delivery capabilities." Accenture has been recognized with ServiceNow Partner of the Year awards across multiple product lines, including Creator Workflows, Customer Workflows, Employee Workflows and IT Workflows. Accenture and ServiceNow also launched a joint business group in 2020, to help clients transform the way they work.

Everest Group's assessment is based on its annual Request for Information process for the calendar year 2022, interactions with leading ServiceNow service providers, client reference checks and ongoing analysis of the Enterprise Platform Services market. An excerpt of this report can be viewed here.

About Accenture
Accenture is a global professional services company with leading capabilities in digital, cloud and security. Combining unmatched experience and specialized skills across more than 40 industries, we offer Strategy and Consulting, Technology and Operations services an Accenture Song—all powered by the world's largest network of Advanced Technology and Intelligent Operations centers. Our 710,000 people deliver on the promise of technology and human ingenuity every day, serving clients in more than 120 countries. We embrace the power of change to create value and shared success for our clients, people, shareholders, partners and communities. Visit us at accenture.com.

# # #

Contact:

Julie Bennink
Accenture
+1 312 693 7301
julie.l.bennink@accenture.com

Copyright © 2022 Accenture. All rights reserved. Accenture and its logo are trademarks of Accenture.