September 13, 2022
Accenture Named a Leader in European Managed Security Service Providers by Independent Analyst Firm

NEW YORK; Sept. 13, 2022 – Accenture (NYSE: ACN) has been named a Leader in the latest Forrester Research report on European managed security service (MSS) providers, which notes that Accenture sets itself apart from the rest of the market by the way in which it develops assets that are embedded in its services for the benefit of clients.
The report — "The Forrester Wave™: European Managed Security Service Providers, Q3 2022" — includes a comprehensive 39-criteria assessment of the top 10 cybersecurity consulting providers across three high-level categories: "Current Offering"; "Strategy"; and "Market Presence." Client references and buyer feedback were also factored into each criterion evaluated in the report.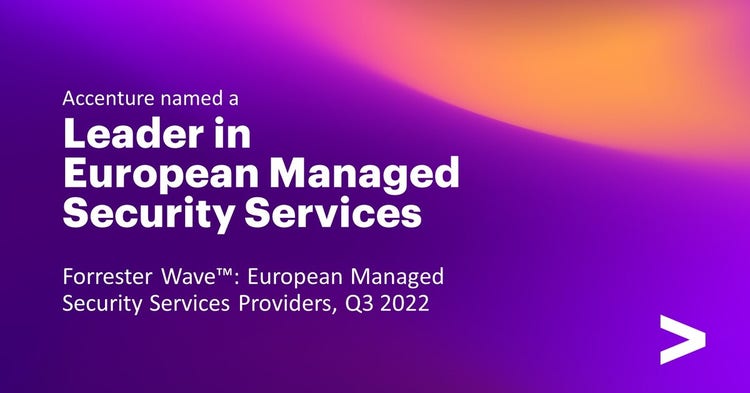 Accenture received the highest score in the Current Offering category among competitors evaluated, with the highest possible score in twelve criteria, including: data sovereignty and European service delivery; managed application security; business and technical value; product vision; execution roadmap; innovation roadmap; and partner ecosystem.

The report says that:
Accenture stands out for its vision roadmap, with several planned items focusing on emerging CISO [chief information service officer] needs for managed services providers.
Accenture also continues to set the standard for strong partnerships to drive unique technology and services IP.
When noting how Accenture sets itself apart by developing assets that are embedded in services for clients, the report said that one particularly strong example of this was its Intelligent Application Security Platform (IASP), which delivers significant value for developers within its application security services.
Reference customers praise the flexible personnel, highly competent technical staff, and strong partnership approach.
Accenture is a good match for customers who want end-to-end security capabilities that deliver a wide array of managed services.
"We're on a mission to make cybersecurity a priority for business leaders in Europe, and our managed security services team can help clients navigate the challenges," said Jacky Fox, who leads Accenture Security in Europe. "It's an honor to be recognized for our work helping clients build better defenses and strengthen their cybersecurity capabilities. Because cyber risk is a constantly moving target, we help our clients identify not only existing threats but also emerging threats to their enterprises."

In addition to being named a Leader among European MSS providers by Forrester, Accenture was recently named the No. 1 cybersecurity service provider by HFS Research and positioned as a Leader in the latest IDC MarketScape analysis of managed security services (MSS) providers in Europe. In 2021, Accenture was positioned as a Leader in two Forrester reports on cybersecurity: The Forrester Wave™: Global Cybersecurity Consulting Providers, Q4 2021 and The Forrester Wave™: European Cybersecurity Consulting Providers, Q3 2021.

More information on Accenture in "The Forrester Wave™: European Managed Security Service Providers, Q3 2022" report can be found here.

About Accenture
Accenture is a global professional services company with leading capabilities in digital, cloud and security. Combining unmatched experience and specialized skills across more than 40 industries, we offer Strategy and Consulting, Technology and Operations services and Accenture Song — all powered by the world's largest network of Advanced Technology and Intelligent Operations centers. Our 710,000 people deliver on the promise of technology and human ingenuity every day, serving clients in more than 120 countries. We embrace the power of change to create value and shared success for our clients, people, shareholders, partners and communities. Visit us at accenture.com.
# # #


Contacts:

Alison Geib
Accenture
+1 703 947 4404
alison.geib@accenture.com

Denise Berard
Accenture
+1 617 488 3611
denise.berard@accenture.com

Copyright © 2022 Accenture. All rights reserved. Accenture and its logo are trademarks of Accenture. This content is provided for general information purposes and is not intended to be used in place of consultation with our professional advisors. This document refers to marks owned by third parties. All such third-party marks are the property of their respective owners. No sponsorship, endorsement or approval of this content by the owners of such marks is intended, expressed or implied.