March 31, 2022
Accenture Named a Leader in Enterprise Blockchain Services by Everest Group


Accenture's depth of technical expertise and leadership in blockchain highlighted as key strengths

NEW YORK; March 31, 2022 – Accenture (NYSE: ACN) has been recognized as a Leader in enterprise blockchain services for the second consecutive time by industry analyst firm Everest Group.
The report, "Enterprise Blockchain Services PEAK Matrix® Assessment 2022," analyzed 23 blockchain service providers in global enterprise blockchain services, including blockchain ecosystem management services, application and business logic services, middleware services, protocol services, and infrastructure services.

According to the report, Accenture is positioned as a Leader in both Market Impact, which measures impact created in the market through market adoption, portfolio mix and value delivered to clients; and Vision & Capability, which measures a firm's ability to deliver blockchain services successfully through roadmap and strategy, scope of services, innovation & investments, and delivery.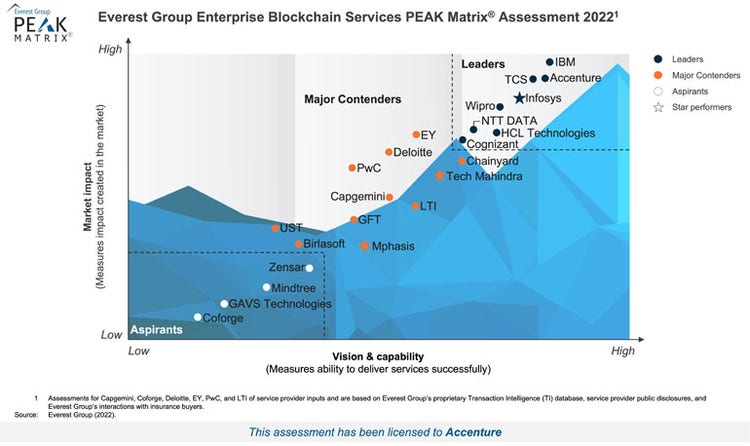 The report notes that blockchain can help businesses break traditional industry boundaries and unlock shared value and that, alongside emerging technology themes such as multiparty systems and confidential computing, it has the capability to create new ecosystems and subsequent business.

According to Everest Group, Accenture continues to demonstrate leadership in key areas of blockchain such as central bank digital currency (CBDC), decentralized finance, digital identity and supply chain solutions. In 2020, Accenture partnered with the Digital Dollar Foundation to form the Digital Dollar Project, a non-profit organization focused on advancing exploration of a United States CBDC, or "digital dollar."

"In the past few years, clients have been faced with reinventing their supply chains and business models," said David Treat, a senior managing director at Accenture who leads its Technology Incubation Group. "Applying blockchain technology to specific areas of clients' businesses has become a reality, along with researching and experimenting with other beneficial emerging technologies. When applied appropriately, blockchain technologies have played a pivotal role in our clients' journeys to modernize the global financial ecosystem, decentralize identity applications and bring together one connected supply chain."

Ronak Doshi, a partner at Everest Group, said, "The frenzy of blockchain proof-of-concept launches and the debate on moving away from proof-of-concept to production has radically subsided in the last 18 months, as the industry made great progress on pragmatic blockchain use cases focused on immediate value generation potential. The market has shifted toward using a combination of emerging technologies, including distributed ledger technology, to build inter-enterprise and, in some cases, inter-industry networks. Accenture has an executive-level focus on building ecosystems and investing in accelerators, partnerships, and thought leadership assets to drive faster value realization for clients. Accenture's focus on expanding its blockchain talent pool, its initiatives in key use cases, and its emphasis on exploring emerging themes such as CBDC, decentralized finance, and digital identity has led it to secure a Leader position on Everest Group's Enterprise Blockchain Services PEAK Matrix® 2022."

In addition to being recognized as a Leader in the Everest Group Enterprise Blockchain Services PEAK Matrix® Assessment 2022, Accenture was recently ranked No. 1 in the HFS Top 10: Enterprise Blockchain Service Providers, 2021 report and also positioned a leader in the IDC MarketScape: Worldwide Blockchain Services 2020 Vendor Assessment. More information about Accenture's Blockchain Consulting Services can be found here.

About Accenture
Accenture is a global professional services company with leading capabilities in digital, cloud and security. Combining unmatched experience and specialized skills across more than 40 industries, we offer Strategy and Consulting, Interactive, Technology and Operations services — all powered by the world's largest network of Advanced Technology and Intelligent Operations centers. Our 699,000 people deliver on the promise of technology and human ingenuity every day, serving clients in more than 120 countries. We embrace the power of change to create value and shared success for our clients, people, shareholders, partners and communities. Visit us at accenture.com.
# # #


Contacts:

Alison Geib
Accenture
+1 703 947 4404
alison.geib@accenture.com

Denise Berard
Accenture
+1 617 488 3611
denise.berard@accenture.com

Copyright © 2022 Accenture. All rights reserved. Accenture, and its logo are trademarks of Accenture.