February 08, 2022
Accenture Invests in Multicultural Media Technology Platform SwayBrand Through Accenture Ventures' Black Founders Development Program

NEW YORK; Feb. 8, 2022 – Accenture (NYSE: ACN) has invested in Los Angeles-based SwayBrand, a multicultural media technology platform that helps brands connect with diverse influencers. This marks the first startup investment in North America made through the company's Black Founders Development Program.
Founded in 2018, SwayBrand is focused on disrupting how brands and influencers interact by bringing equity to culture and authenticity to brand content. Its platform enables brands to connect and collaborate with multicultural creators to develop content that resonates with diverse audiences. Conversely, it also provides the opportunity for BIPOC (Black, Indigenous, People of Color) influencers to pitch and connect with brands directly for content partnerships.

Led by Accenture Ventures, and part of its broader Project Spotlight initiative, the Black Founders Development Program helps Black technology startup founders and entrepreneurs advance and grow their businesses through greater, more direct access to venture capital, corporate mentorship and strategic connections with Accenture business partners and clients. The program makes strategic investments in early-stage, Black-founded and -run software startups and other market development initiatives, applying Accenture's vast technology, innovation and investment expertise and powerful network of technology ecosystem partners.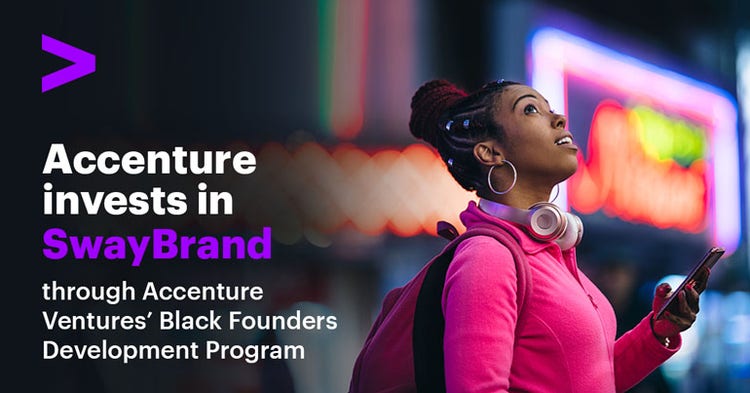 "By creating new opportunities for Black business owners and leaders, and leveraging the full power of Accenture's global technology business, the Black Founders Development Program is seeking to help correct the imbalance between Black entrepreneurs, who too often face a lack of access to capital, and their counterparts," said Kathryn Ross, global Open Innovation lead and the Black Founders Development Program lead for Accenture Ventures. "We look forward to continuing to collaborate with SwayBrand on in-house and other client projects, while also helping the company's leadership accelerate the growth and expansion of the business."

Accenture's investment in SwayBrand builds on past and current collaborations between the two companies. For example, SwayBrand is currently working with Droga5, part of Accenture Interactive, to source authentic brand ambassadors for clients. Accenture also engaged SwayBrand for work on Accenture's Juneteenth 2021 Commemoration event, "Meet Me at the Apollo," honoring the contributions of African American and Black icons in music, art, and technology. SwayBrand social ambassadors amplified the event and conversation around the importance of supporting the next generation of African American and Black creators and technology entrepreneurs.

"Brands need to make emotional connections in pure, authentic ways, that reflect the full spectrum of humanity," said David Droga, CEO and creative chairman, Accenture Interactive. "SwayBrand brings undeniable cultural currency and creativity through its work, and I couldn't be prouder to share the same table as we help our clients define genuine brand communications."

As part of Project Spotlight, SwayBrand will have access to Accenture's global innovation network, and the opportunity to co-innovate with Accenture at its Innovation Hubs, Labs and Liquid Studios, working with subject matter experts to adapt its solutions to the enterprise market and scale faster and more effectively.

"America is becoming increasingly diverse, yet the majority of brands lack the cultural intelligence needed to produce content that reflects this. By bridging the gap between brands and multicultural creators, we are driving more inclusive, authentic connections between companies and their target audiences," said Horace Flournoy, co-founder and CEO of SwayBrand. "The resources, opportunities and strategic guidance provided through the Black Founders Development Program will greatly help us advance our mission."

Launched in 2015, Accenture Ventures makes targeted equity investments in emerging technology startups, matching their capabilities with the business needs and priorities of Accenture's clients. Its Open Innovation arm acts as a bridge to the global innovation ecosystem by bringing Accenture's clients together with best-in-class, enterprise-relevant startups to unlock their growth potential and accelerate digital transformation.

About Accenture
Accenture is a global professional services company with leading capabilities in digital, cloud and security. Combining unmatched experience and specialized skills across more than 40 industries, we offer Strategy and Consulting, Interactive, Technology and Operations services — all powered by the world's largest network of Advanced Technology and Intelligent Operations centers. Our 674,000 people deliver on the promise of technology and human ingenuity every day, serving clients in more than 120 countries. We embrace the power of change to create value and shared success for our clients, people, shareholders, partners and communities. Visit us at accenture.com.

About SwayBrand
SwayBrand is reimagining the influencer marketplace by bringing "cultural intelligence" and authenticity to brand content. We are creating all new Web2 + Web3 channels to help brands develop authentic partnerships with diverse creators that would normally go undiscovered, but define and drive global buying trends. Our tech platform uniquely sources original content from Black, Latino, and Asian influencer experiences. For more information, visit www.swaybrand.com.

# # #

Contact:

Christina McDonald
Accenture
+1 415 537 7997
christina.mcdonald@accenture.com

Copyright © 2022 Accenture. All rights reserved. Accenture and its logo are trademarks of Accenture.