December 15, 2022
Accenture Advances AI Research as Inaugural Member of Corporate Affiliate Program at Stanford Institute for Human-Centered Artificial Intelligence

NEW YORK; Dec. 15, 2022 – Accenture (NYSE: ACN) today announced its membership in the Corporate Affiliate Program of the Stanford Institute for Human-Centered Artificial Intelligence (HAI), an organization dedicated to guiding and building the future of artificial intelligence (AI).
"Serving as an inaugural member of the Stanford HAI Corporate Affiliate Program amplifies our commitment to human-centric responsible AI that aligns with our value system and helps to achieve business and societal outcomes," said Lan Guan, global lead of Cloud First Data & AI at Accenture. "Our collaboration with Stanford HAI is key because it enables Accenture to stay abreast on the latest AI research. Specifically, we can continue to move beyond defining AI principles and to put those principles into practice."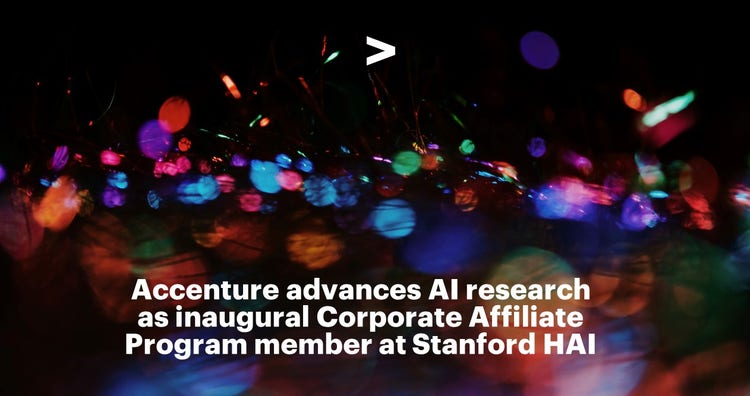 In the first year of the program, Accenture will support a number of faculty research programs around AI safety and AI trust. In addition, Accenture will engage with graduate students who will conduct responsible AI-focused research in January 2023 at the start of Stanford's winter term.

"HAI is excited to welcome Accenture to the HAI Corporate Affiliate Program as our inaugural member. I'm particularly looking forward to seeing the fruit of the AI research projects envisioned, and engaging Accenture's ecosystem in HAI's critical mission relating to education and human-centered AI," said Fei-Fei Li, co-director, Stanford Institute for Human-Centered AI and Sequoia Professor of Computer Science, Stanford University.

About the Corporate Affiliate Program
The HAI Corporate Affiliate Program provides the opportunity for member companies to interact with Stanford faculty and students, as well as other corporate members, coordinated by HAI's dedicated corporate membership team. Relationships between companies, faculty, and graduate students provide all constituents with valuable insights on opportunities, problems, and solutions at the intersections of AI research, policy, and education with industry.

About Accenture
Accenture is a global professional services company with leading capabilities in digital, cloud and security. Combining unmatched experience and specialized skills across more than 40 industries, we offer Strategy and Consulting, Technology and Operations services and Accenture Song — all powered by the world's largest network of Advanced Technology and Intelligent Operations centers. Our 721,000 people deliver on the promise of technology and human ingenuity every day, serving clients in more than 120 countries. We embrace the power of change to create value and shared success for our clients, people, shareholders, partners and communities. Visit us at www.accenture.com.

# # #

Contact:

Mylissa Tsai
Accenture
+1 617 488 7932
mylissa.tsai@accenture.com

Copyright © 2022 Accenture. All rights reserved. Accenture and its logo are trademarks of Accenture.
This content is provided for general information purposes and is not intended to be used in place of consultation with our professional advisors. This document refers to marks owned by third parties. All such third-party marks are the property of their respective owners. No sponsorship, endorsement or approval of this content by the owners of such marks is intended, expressed or implied.