October 13, 2021
The Great Marketing Declutter: New Accenture Research Reveals How a Small Group of Marketers Are Thriving Despite Constant Market Disruption


Research finds certain marketing organizations are outperforming their peers in revenue growth, profitability and customer satisfaction

NEW YORK; Oct. 13, 2021 – Nearly 70% of marketing executives globally say that the past year has completely exhausted their employees, found new research from Accenture (NYSE: ACN). While this comes as no surprise given the heightened levels of employee burnout cited around the world, there is a silver lining.
Produced by Accenture Interactive and titled, "The Great Marketing Declutter," the report identified a small group of marketers — just 17% of more than 1,000 marketing executives surveyed — whose marketing organizations are thriving despite all of the change, uncertainty and complexity from the past 18 months. This group — which the research identifies as "Thrivers" — found the vast majority (86%) of their employees at these organizations have been energized by a new purpose of servicing customers' rapidly changing motivations.

Thrivers are decluttering marketing to manage complexities, with 59% of them noting that their marketing organization is much stronger today than last year because they've been pushed to think about marketing entirely differently. Thrivers have zeroed in on their customers' evolving motivations and what's needed to serve them in smarter, better ways. They've focused on what matters, discarded what doesn't, and rewired the rest. As a result, they find greater meaning in their work, which is critical to serving the business and its customers and to retaining and attracting employees.

The report breaks the remaining respondents down into two other groups, based on specific aspects of their customer relationships: "Strivers" — accounting for two-thirds (66%) of the executives surveyed — who have some autonomy to meet customer needs but have limited awareness of customer changes; and "Survivors" — accounting for the remaining 17% — who are burnt out and not in tune with the pulse of customer change, assuming that such change is only temporary.

"Marketers who have seized the pandemic as a forcing function to redefine what they do, how they do it, and the overall role of marketing in business are the ones who have become successful and are driving business growth," said Jeannine Falcone, global marketing services lead, Accenture Interactive. "In-the-moment relevancy is critical for today's brands, and you can't do that if you're operating from the same old playbook."

Thrivers Cut Through the Clutter and Outperform Survivors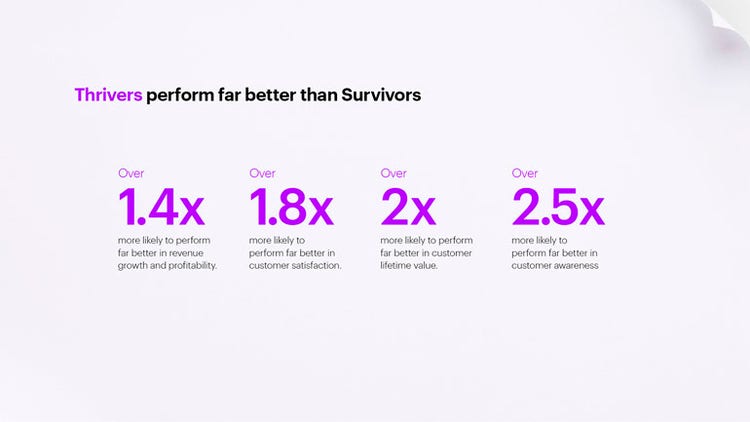 The research found that Thrivers are orienting their marketing organization around three important guiding principles: aligning with their [company's] purpose; helping their customers; and improving how their marketing organization works. The research further pinpoints how Thrivers are leading the way in both their thinking and actions, which can be boiled down to the following five guidelines.
Get reacquainted with your customer: Accepting that the customers they once knew have changed, Thrivers have tossed out their old beliefs about customer preferences and know that assumptions can be dangerous. They listen to customers and rewire marketing around who customers are at a moment in time and rank customer satisfaction as their top measure of success.
Find your collective difference: Knowing that delivering differentiation on customer experience takes unity and collaboration, Thrivers are 60% more likely than Survivors to report that customer input is highly critical to key business decisions on customer experience. They recognize that synching all functions — product development, commerce, sales, service and marketing — is necessary to unleash differentiation.
Move at the pace of change: The overwhelming majority of Thrivers (91%) believe that customers' behaviors are changing faster than ever. As a result, they aim to deliver messages, content and experiences that are relevant to customers' real-time needs. In addition, they're nearly 50% more likely than Survivors (95% vs. 65%) to have increased their investments to scale at speed.
Figure out what no one wants to do: The marketing ecosystem has become exponentially more complex due to an explosion of touchpoints, technologies, regulatory issues and partners. Thrivers have outwitted complexity by leaning into process automation and industrializing operations, and they are significantly more likely than Survivors to invest more to improve the ways of working with ecosystem partners (91% vs. 56%). They are equally thoughtful about discarding tasks as they are about completing them, giving their marketing organization the edge needed to succeed.
Own what you want to stand for: Thrivers own their brand purpose, empathetically and authentically connecting with customers and delivering on what customers value. They are five times more likely than Survivors to view the shifts in pandemic-fueled customer values as an opportunity to rethink marketing's role and reimagine their brand purpose.
The report also provides examples of how some leading organizations — including Blue Buffalo, Diageo, Direct Line Group and NRMA Insurance — have decluttered their marketing models for success. The full report can be found here.

About the Research
From June to July 2021, Accenture Research and Accenture Interactive surveyed 1,022 marketing executives worldwide, across 19 countries and 19 industries to study the way that marketing leaders felt and reacted to the changes they perceived in their customers/consumers over the past year (2020) and how that contributed to their marketing organizations' resilience.

About Accenture
Accenture is a global professional services company with leading capabilities in digital, cloud and security. Combining unmatched experience and specialized skills across more than 40 industries, we offer Strategy and Consulting, Interactive, Technology and Operations services — all powered by the world's largest network of Advanced Technology and Intelligent Operations centers. Our 624,000 people deliver on the promise of technology and human ingenuity every day, serving clients in more than 120 countries. We embrace the power of change to create value and shared success for our clients, people, shareholders, partners and communities. Visit us at www.accenture.com.

Accenture Interactive is reimagining business through experience. We drive sustainable growth by creating meaningful experiences that live at the intersection of purpose and innovation. By connecting deep human and business insights with the possibilities of technology, we design, build, communicate and run experiences that make lives easier, more productive and rewarding. Accenture Interactive is ranked the world's largest digital agency by Ad Age and has been named a Most Innovative Company by Fast Company. To learn more, follow us @AccentureSong visit www.accentureinteractive.com

This content is provided for general information purposes and is not intended to be used in place of consultation with our professional advisors.

This document refers to marks owned by third parties. All such third-party marks are the property of their respective owners. No sponsorship, endorsement or approval of this content by the owners of such marks is intended, expressed or implied.

Copyright © 2021 Accenture. All rights reserved. Accenture and its logo are trademarks of Accenture.

# # #

Contacts:

Kelly Coffed
Accenture
+1 404 219 3100
kelly.coffed@accenture.com