September 22, 2021
Research from Accenture Finds Chinese Companies are Advancing Digital Capabilities to Grow Revenue at Nearly Four Times the Rate of Peers


Decisive digital strategy and action required to achieve sustainable growth and stay competitive

BEIJING; Sept.22, 2021 – Chinese companies with a digital advantage outperformed their peers by growing revenue 3.7 times the rate over peers from 2019-2020, widening the performance gap from 1.4 times several years ago, according to new research from Accenture (NYSE: ACN).
In its fourth year, the China Digital Transformation Index research is conducted by Accenture in collaboration with the China Industrial Control Systems Cyber Emergency Response Team (CICS-CERT). More than 560 Chinese companies across nine industries were surveyed. The research reports a significant acceleration of digital transformation across the country in 2021, with 16% of Chinese companies achieving "Champion" status compared to 11% in 2020.

"Champions" are companies that invest decisively in scaling up new and digital technologies that can drive continuous transformation of their business operations. These Champions are also generating more than 50% of their current revenues from business activities that were implemented in the last three years.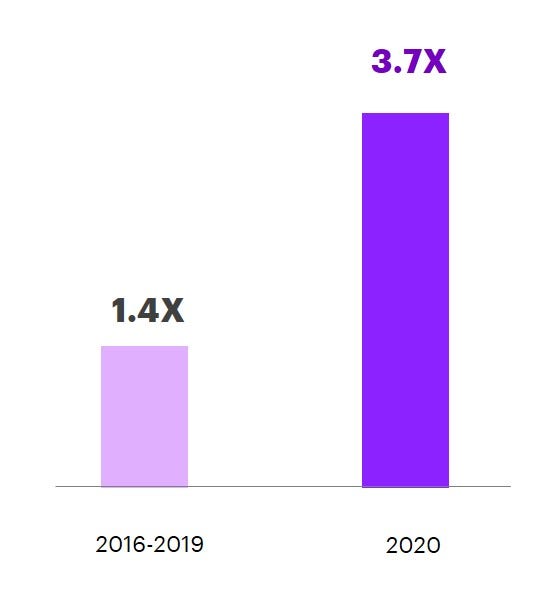 Figure: The Champions have translated digital advantage into performance advantage
Source: Accenture Research based on the analysis of the listed companies within the surveyed group

For the first time, companies' scores for digital proficiency passed the halfway mark to hit 54 out of a possible 100, showing that more Chinese companies are making steady progress in their digital transformation journeys. Additionally, Accenture's CXO Pulse Survey found that more than 90% of Chinese executives believed their organization would achieve its growth goal by the end of 2021, compared to 60% of executives in APAC, and 47% and 45% in North America and Europe, respectively.

"Businesses in China have proven their ability to remain competitive on a global scale, and an overwhelming majority of executives in China — 91% — are confident about achieving their growth targets. However, within the country, the performance gap between digital Champions and others is widening each year," said Samantha Zhu, chairperson of Accenture Greater China and a member of Accenture's Global Management Committee. "This puts digital transformation at the forefront as companies realize how technology investment and implementation can accelerate industry upgrades and continue to drive sustainable growth amid the profound and prolonged impacts of the pandemic and disruption."

The research also showed that for companies that continue to lag in expanding their digital capabilities, fewer than half were satisfied with the integration and collaboration of their supply chain. Furthermore, just 52% have launched new products and services in response to new demands, compared with 83% of the Champions.

"We expect the pace of transformation to speed up across all sectors under the 14th Five-Year Plan for National Economic and Social Development, and for this to propel a change in how we work, live and govern. However, to further unlock the multi-value of technology, organization, talent, ecosystem and society, companies must set a clear digital transformation strategy that solidifies a digital core and continuously and accurately evaluate their performance to find areas for new innovations," added Ms. Zhu.

The research listed seven imperatives that allow companies to close the gap and keep pace with Champions:
Ensure strategic commitment: Envision and design digital transformation across the enterprise, based on business goals and strategy. For the best value, ensure end-to-end implementation from strategy, management and execution, to operation and evaluation.
Adopt cloud and innovate with cloud: Cloud technology is the starting point of digital transformation and can improve agility and resilience and encourage innovation at scale in combination with other emerging technologies.
Establish data strength: Establish and execute robust data strategies and data governance, turning the data assets into insights that can help drive initiatives that differentiate the company.
Enhance experiences across the value chain: Deploy digital technologies and connected platforms to achieve industrial integration, drive collaboration across functions, departments and the company, upgrade customer experience, and transform the business model.
Build future-ready operations: Achieve high-quality growth by enhancing automation and intelligent operations, using data to optimize decision making, and strengthening human-machine collaboration.
Harness the power of the ecosystem: Leverage ecosystem capabilities in areas such as R&D, manufacturing and marketing through digital collaboration platforms.
Embrace a broader value agenda: Align business goals with Environment, Social and Governance goals to drive 360-degree value for multiple stakeholders and address various agendas.
About Accenture China Digital Transformation Index
The Accenture China Digital Transformation Index is a cross-industry framework that assesses a company's rotation progress based on 52 key metrics of four-level indicators. The study surveyed 563 Chinese companies in nine industries, including electronic components and materials, high-tech electronic manufacturing, automotive and engineering machinery, medical and pharmaceutical, fast-moving consumer goods, logistics and aviation, traditional retail, chemicals/building material and metallurgy.

About Accenture
Accenture is a global professional services company with leading capabilities in digital, cloud and security. Combining unmatched experience and specialized skills across more than 40 industries, we offer Strategy and Consulting, Interactive, Technology and Operations services — all powered by the world's largest network of Advanced Technology and Intelligent Operations centers. Our 569,000 people deliver on the promise of technology and human ingenuity every day, serving clients in more than 120 countries. We embrace the power of change to create value and shared success for our clients, people, shareholders, partners and communities. Visit us at www.accenture.com

# # #

Contact:

Minjie Zha
Accenture Greater China
+86 135 6438 2350
minjie.zha@accenture.com