December 07, 2021
Efma and Accenture Launch 7th Annual Innovation in Insurance Awards


Applications now open for global competition celebrating the best innovations in insurance

PARIS, NEW YORK and HONG KONG; Dec. 7, 2021 – Efma and Accenture (NYSE: ACN) are now accepting applications for the seventh annual Innovation in Insurance Awards, which recognizes the insurers and insurtechs that are transforming the industry.
Established in 2016, the program rewards the best new innovative ideas and projects in insurance and provides a forum for organizations to share best practices. Last year, 460 submissions from 289 institutions in 55 countries were received.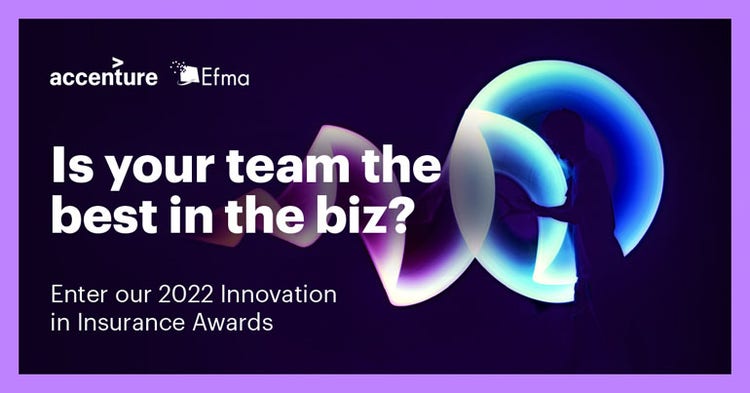 Companies can submit their entries online until April 8, 2022 within the following seven categories:
Global Innovator (overall winner) – the entrant that commits to continuous innovation and transformation, the development and leadership of a broad ecosystem of partners extending beyond insurance, and the use of emerging technologies for improved customer experiences and business performance. To qualify for this category, the entrant must have submitted at least three innovations across the other six categories.
Connected Ecosystems & Marketplaces – new business models and scalable end-to-end value propositions that capitalize on the power of partnerships, platforms and the Internet of Things.
Insurtech – reserved for the insurance start-ups, spin-offs and technology firms that are harnessing technology to reinvent the customer experience whilst driving new value for insurers.
Product & Service Innovation – innovations that extend or replace the traditional insurance offering, creating new revenue pools through expansion into new and existing customer segments and markets.
Re-imagining the Customer Experience – innovations that enhance the way companies engage with customers via physical and/or digital channels.
Social, Sustainable & Responsible – advances in social purpose, and in the insurer's commitment to being a good corporate citizen and a true ally of its customers.
Workforce Transformation – bringing together people, culture, leadership, organization and technology, enabling the insurer to realize the full potential of the human and machine workplace.
Each entry will be assessed using three criteria: originality; strategic capacity to generate long-term competitive edge and return on investment; and adaptability for use in other markets and countries.

"Innovation in insurance has been dramatically shaped by changes to customer preferences and needs in recent years, which have been accelerated by the pandemic," said Jean Marc Pailhol, Efma chairman. "Now, it is a matter of capitalizing on those fundamental shifts, with technology at the core. Insurers must also embrace collaboration, co-creation, and digital platforms, both within the industry as well as externally. We look forward to yet another year of these successful awards with Accenture."

Silvia Milian, a managing director in Accenture's Insurance industry group and its lead for the awards, said, "The rise in entries over the past few years highlights the importance of innovation in building resilience, as demonstrated during the pandemic. We encourage insurers and insurtechs from across the globe to submit their ideas and best practices to help further transform their organizations and the industry; as well as bring new value to customers and the broader ecosystem."

Winners will be selected by a panel of judges comprising senior insurance executives from around the world, and an online vote by Efma members and non-members from insurance institutions. The winners will be announced at an awards ceremony on June 15, 2022.

To find out more about the awards and how to submit an entry, visit innovationininsurance.efma.com or follow the conversation on Twitter at #InsAwards22.

About Efma
A non-profit organization created in 1971 by leading banks and insurance companies, Efma is celebrating this year its 50th anniversary. Counting now a network of 120 financial groups in 133 countries all around the world, Efma facilitates networking between decision-makers. It provides quality insights to help banks and insurance companies make the right decisions to foster innovation and drive their transformation. Headquartered in Paris. Offices in London, Brussels, Barcelona, Stockholm, Bratislava, Dubai, Milan, Montreal, Istanbul, Beijing, Tokyo and Singapore. Learn more at www.efma.com.

About Accenture
Accenture is a global professional services company with leading capabilities in digital, cloud and security. Combining unmatched experience and specialized skills across more than 40 industries, we offer Strategy and Consulting, Interactive, Technology and Operations services — all powered by the world's largest network of Advanced Technology and Intelligent Operations centers. Our 624,000 people deliver on the promise of technology and human ingenuity every day, serving clients in more than 120 countries. We embrace the power of change to create value and shared success for our clients, people, shareholders, partners and communities. Visit us at www.accenture.com.

Accenture's Insurance practice helps P&C insurers, life carriers and reinsurers to redefine their business and operating models, enhance the digital experience for customers, and position themselves for growth in a digital economy. To learn more, visit: www.accenture.com/Insurance.
# # #


Contacts:

Victoria Ancell
Accenture
+44 7446 277759
v.ancell@accenture.com

Jana Lednarova
Efma
+421 915 225 611
jana@efma.com

Copyright © 2021 Accenture. All rights reserved. Accenture and its logo are trademarks of Accenture.

This content is provided for general information purposes and is not intended to be used in place of consultation with our professional advisors. This document refers to marks owned by third parties. All such third-party marks are the property of their respective owners. No sponsorship, endorsement or approval of this content by the owners of such marks is intended, expressed or implied.